July 4th Memories: Military policeman proud, grateful for getting drafted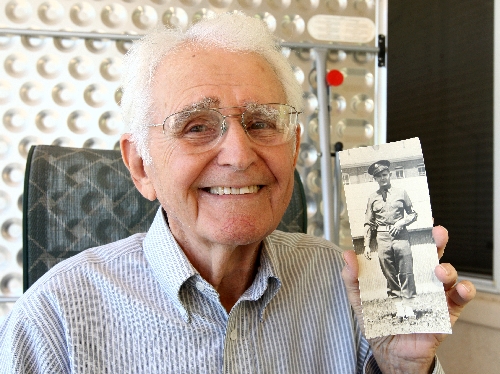 As a military policeman in World War II, circumstances allowed Gene Stephens to see more pomp than many soldiers who served in Rome, London and North Africa.
Flipping through a scrapbook last week filled with black-and-white photographs jogged the memory of the spry 93-year-old Las Vegas man. He took them as company photographer for the motorcycle soldiers in the 281st MP company.
Riding Harley-Davidsons and packing pistols and submachine guns, they whizzed through city streets with sirens wailing, escorting the sedans of generals Dwight Eisenhower, George S. Patton and George C. Marshall.
The specially trained unit out of Sault Ste. Marie, Mich., at first was assigned to Eisenhower's Bushy Park camp in London in 1942 as the 888th MP Company of the Army's Eighth Air Force.
"When Eisenhower wanted to go somewhere, he'd whistle for us and we'd lead him wherever he wanted to go. We were his personal company," said Stephens, a sergeant in the company's traffic section. "There were 150 men, five officers. And, the best we can understand, I'm the only living member of that company."
In London they rode Model 74 Harleys, "the big one."
"When we got to Africa, they issued us brand new 45 Harley-Davidsons, which was a lot easier to handle and lots peppier," he said.
As the 281st MP Company, they even pulled crowd-control details for celebrities on USO tours, including Frank Sinatra when he came to cheer on troops in Algiers for three days in 1943.
"He was pretty cheerful and would talk to everybody. He appreciated what we were doing and what we had to do."
Stephens sat on the back porch of his home along a golf course fairway in northwest Las Vegas as he reminisced.
"We directed all the convoy landings," he said. "One of the main things I did there was when they got ready to invade Sicily, Patton came up with his troops from Casablanca. He stopped by my office and wanted to make sure his troops got on right.
"He was tough and short-tempered and everything. But when you did a job right, he appreciated it. I got along with him fine."
In Algiers, Stephens' company was called to capture German and Italian soldiers who were surrendering as U.S. and British forces swept the North Africa coast.
"We were picking up enemy soldiers all the time. They were coming in and surrendering, but not everyone wanted to surrender. Some did and some didn't."
Once in 1943, Stephens' company provided a nighttime motorcade escort for President Franklin D. Roosevelt, who had arrived in North Africa to travel to the Tehran Conference to meet with United Kingdom Prime Minister Winston Churchill and Soviet Premier Joseph Stalin.
"We picked him up in Oran at the seaport there, and late at night we took him to the airport in Algiers. No one was allowed to take any pictures."
One of their most unusual jobs, according to the June 16, 1945, edition of The Stars and Stripes Weekly, was escorting 800 airplanes on the ground during the African campaign
"No wings were required for the motorcycles, however, since the P-38s, P-51s and P-47s were wingless when unloaded (from ships) at Oran and Algiers," according to the Stars and Stripes article that mentions Stephens and features a photograph he took of 20 MPs on their motorcycles in Rome.
Liberty days for the soldiers in North Africa and later during the 14 months he served in Rome meant that Stephens and his band of MPs would have their hands full.
"Some of these soldiers were really rough," he said. "They'd come back and they wanted to beat up on every MP they could. So we had to protect ourselves."
Stephens, known as "Tex" because he was raised in Edinburg, Texas, had been a salesman working in Battle Creek, Mich., before the war. He entered the Army on Jan. 21, 1941, "because Uncle Sam wanted me. I was drafted."
Later, during the Vietnam War, his oldest son, Craig, was drafted and fought with an air cavalry unit.
"He came back with all his marbles, and I was pleased," he said. "The draft, I think, was great for the United States. Nobody really liked it, but where would we be without it?"
Today's all-volunteer military gives soldiers an advantage later in life, he said, but the draft helped young men mature from a cross-section of society and prepared them for life's ups and downs.
"These young kids, they're going wild," he said. "I think they need a little discipline. It would be good for a lot of them. Regardless if they are poverty stricken or semi-rich. Some of the richer kids need discipline more than the poorer ones."
Stephens said he is proud to have served as a draftee, because after the war a lot of opportunities opened up for him.
He made a career as a real estate manager for a Minneapolis-based retail chain store conglomerate, Gamble-Skogmo Inc. He retired in 1971 and went into business as a consultant and a developer of nursing homes and retirement centers across the country. He moved to Las Vegas from Clearwater, Fla., in 1992.
Of all the Fourth of Julys, the one he that he is most fond of was July 4, 1944, in Rome, less than a month after the D-Day invasion and a year after the allied Soviet Union's tank battle against Germany that had marked a turning point in the war in east Europe.
"We had quite a celebration," he said. "That was the highlight of my Fourth of Julys, because we were winning. All the previous years we were always trailing. One of our corporals got a case of tuna fish from one the boats, some wine and Italian bread, and we really celebrated."
Stephens said he looks forward to Independence Day every year because it's a time for Americans to shine for "the freedom we have that other countries do not have."
"We've got a good country we're really proud of, and that's a good way of showing it on the Fourth."
Today, he plans to be a spectator at the 17th annual Summerlin Council Patriotic Parade, a tradition he has enjoyed since retiring in Las Vegas.
Contact reporter Keith Rogers at krogers@reviewjournal.com or 702-383-0308.