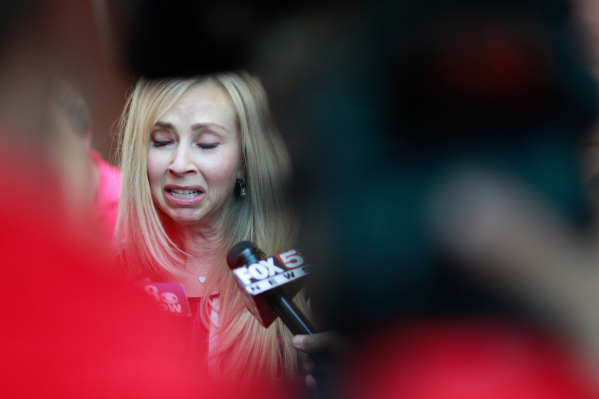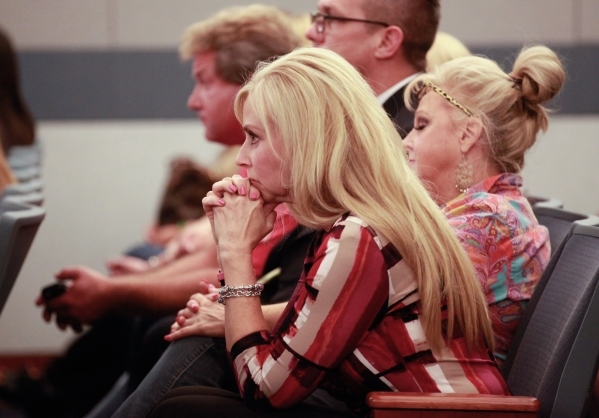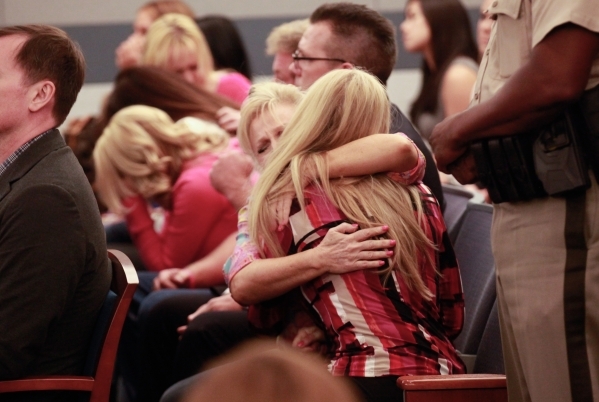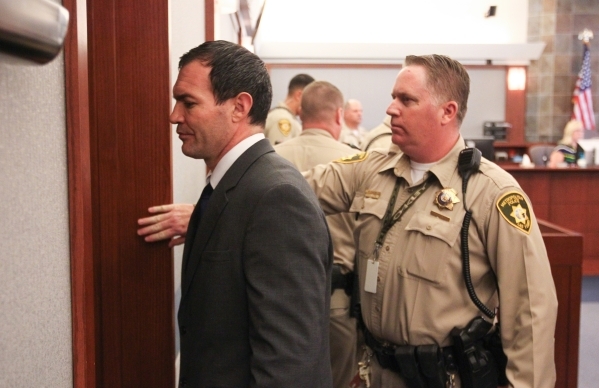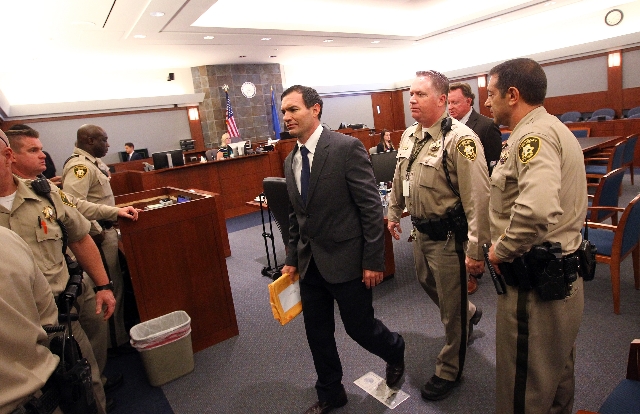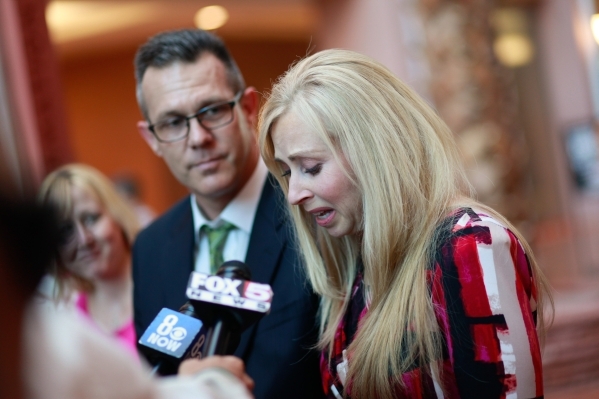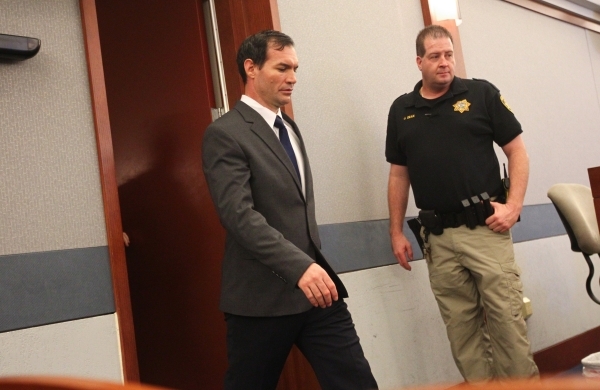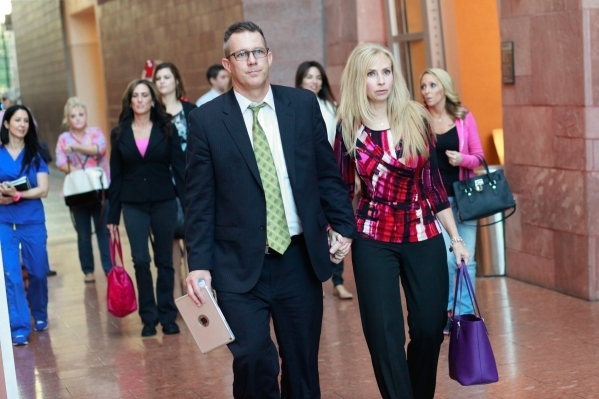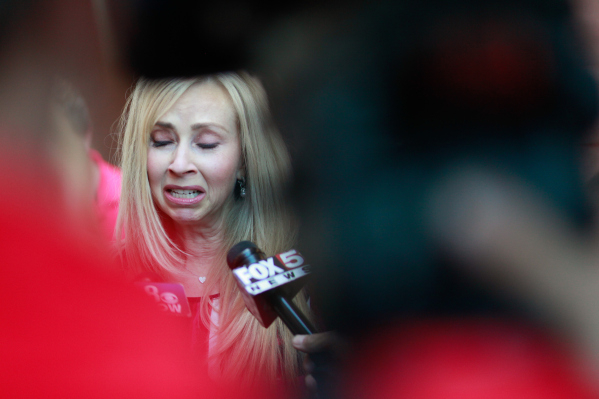 Throughout the weeklong trial, Shauna Tiaffay's family and friends packed the gallery with pink as they listened to details of the 46-year-old mother's horrific murder and her estranged husband's planning of it.
Women in pink dresses and blouses. Men in pink golf shirts and T-shirts. Pink plastic wristbands.
Prosecutors described how the Palms cocktail waitress was bludgeoned to death with a hammer in September 2012 as she returned to her Summerlin apartment. Her husband, George Tiaffay, a former Las Vegas firefighter, graduate of the U.S. Military Academy at West Point and high school valedictorian, had plotted with a homeless man he hired to carry out the attack, prosecutors said.
Even as she tried to escape an abusive spouse, in the weeks leading up to her death, Shauna Tiaffay would often make pink cupcakes for friends, sharing her favorite color with them.
"She just had so many pink things around her," said her sister, Paula Stokes, who had stripes of pink on her dress Thursday. "We wanted to represent her in the courtroom in some way. We wanted to come together as a group in a sea of pink."
They carried her presence in the courtroom with them. And on Thursday, when a clerk read the verdict — guilty on all seven counts, including first-degree murder — those in pink embraced and cried.
"I see pink everywhere now," Stokes said.
George Tiaffay stood silent, with the same emotionless stare he wore throughout the trial, and was soon escorted from the courtroom by a pair of the dozen marshals standing watch.
NO GOING BACK
Before she died, Shauna Tiaffay spoke with her friends and family about the verbal abuse and manipulation, Stokes said, and ultimately worked up enough courage to move out of the home she shared with her husband. She told him that living apart would likely end their marriage.
"Once we live separate, I don't think there's any going back," she wrote in a Sept. 13, 2012, text message. The couple had been married for about eight years.
She was dead 16 days later.
Prosecutors said that after he received that message, George Tiaffay turned to Noel "Greyhound" Stevens, a man who lived in a tent in the mountains and had a violent past, and offered $5,000 for the killing.
Stevens, who had been friends with the former firefighter for years, would later admit to tracing Shauna Tiaffay's steps, burglarizing her apartment, and then waiting inside on Sept. 29, 2012, before beating her to death with a hammer.
Defense lawyer Robert Langford tried to paint Stevens as a psychotic liar. Even his friends testified Stevens couldn't always be trusted. But prosecutors said George Tiaffay — who had given Stevens a key to his wife's apartment, and bought him dark clothing weeks before the slaying — was the only one with a reason to want Shauna Tiaffay dead.
He had lost his grip on her, prosecutors said, and his finances were at risk in their divorce.
'WE WILL SEE HER AGAIN'
In perhaps one of the most damning moments of the trial, jurors watched surveillance video from a Walmart that showed Stevens and George Tiaffay buying a knife and a hammer, though the tools were not those used in the slaying.
Stevens said he made several dry runs before he killed Shauna Tiaffay, at one point burglarizing her apartment. He testified that during one of those dry runs, he bumped into police officers who confiscated what they took to be burglary tools.
After hearing five days of testimony and about three hours of closing arguments, the jury of seven men and five women took 15 hours, over the course of three days, to find George Tiaffay guilty of murder, burglary, robbery and conspiracy charges.
"I was afraid that he somehow that they wouldn't be able to see the truth," Stokes said. "I'm so thankful that the jurors were able to read through everything."
The same jury is slated to decide George Tiaffay's prison sentence during a penalty hearing slated for Friday. Now 43, he faces life without the possibility of parole or could be eligible for release as soon as 20 years.
Shauna Tiaffay's family said they hope he is never freed.
"George is a controller, a manipulator," Stokes said. "And I think the worst hell for him would be staying in prison the rest of his life and not being able to control anything."
She added: "Shauna's in a great place. We're going to continue to miss her dearly, but we know we will see her again."
Contact David Ferrara at dferrara@reviewjournal.com or 702-380-1039. Find him on Twitter: @randompoker.