Justices uphold verdict in 'Pacman' Jones strip club melee in Vegas
January 9, 2015 - 3:00 pm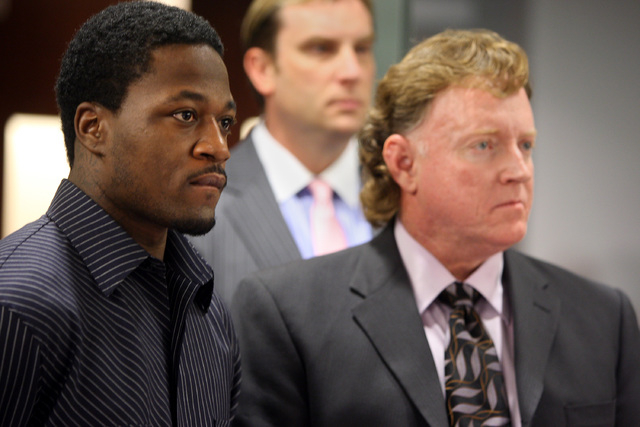 CARSON CITY — A unanimous Nevada Supreme Court has upheld a jury verdict of more than $12 million against Cincinnati Bengals football player Adam "Pacman" Jones for a melee in a Las Vegas strip club in 2007 that led to the shootings of two security officers.
The court also upheld a lower court decision dismissing the National Football League from an action for damages brought by one of the security officers, Thomas Urbanski.
A Clark County jury in 2012 awarded $1.3 million to Aaron Cudworth, the second security officer, for assault, battery and other causes of action.
The jury also awarded Urbanski and his wife nearly $11 million.
Jones appealed the verdicts to the Supreme Court arguing they were inconsistent because they did not correspond to the jury's findings of liability, but the court said Jones failed to preserve the issue on appeal.
"Parties have a duty to object to inconsistent jury verdicts before the jury is dismissed," the court said. "Here, Jones failed to object to the alleged inconsistent jury verdicts prior to the jury's dismissal."
The incident occurred when Jones was in Las Vegas during the NBA All-Star weekend in February 2007. Jones and a group of friends were invited to a local strip club. Jones had a bag of money he was using for tipping.
Two female dancers began fighting over the tip money, giving rise to a melee, the court said.
Jones and his entourage were then removed from the club and later, Cudworth and Urbanski were shot by Arvin Edwards. Both men survived.
The court said the relationship between Edwards and Jones is unclear.
Jones maintained that he had never met Edwards, who was later arrested by Las Vegas police with cooperation from Jones.
Jones received probation for his role in the incident.
Authorities said the Minxx strip club fracas was triggered by Jones, who showered strippers with hundreds of dollar bills as they danced. The act, known as "making it rain," was intended as a visual effect. The fight erupted when strippers began grabbing the cash for themselves.
The shootings occurred minutes later. Three people were wounded, including Urbanski, who was paralyzed from the waist down.
Edwards later pleaded guilty via an Alford plea to one count of attempted murder with use of a deadly weapon. An Alford plea means Edwards didn't admit guilt but acknowledged prosecutors could prove their case against him.
In his action against the NFL, Urbanski argued negligent hiring, among other causes of action. The District Court dismissed the claim against the NFL, citing a lack of jurisdiction.
On appeal Urbanski said Nevada courts did have general jurisdiction over the NFL because it has several operations in Nevada, including its recruiting of Nevada players and the NFL's "Punt, Pass and Kick" competition, among others, but the court disagreed. It also rejected a claim of specific jurisdiction, saying Jones' action could not be "imputed upon the NFL."
Contact Sean Whaley at swhaley@reviewjournal.com or 775-687-3900. Find him on Twitter: @seanw801.
Related
'Pacman' Jones owes millions to victims in strip club shooting
Washington man sentenced in 2007 Minxx strip club melee
A bad night at the Minxx during NBA weekend