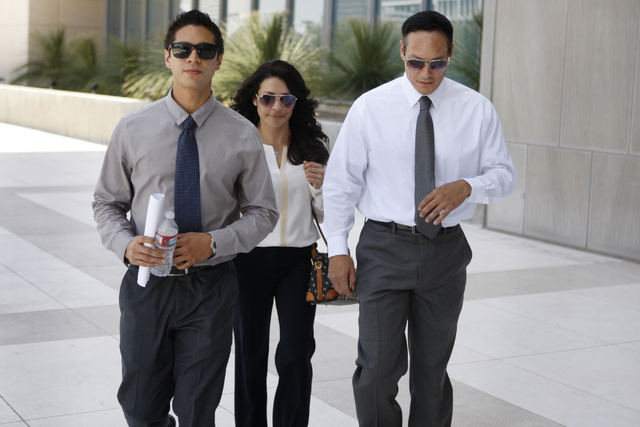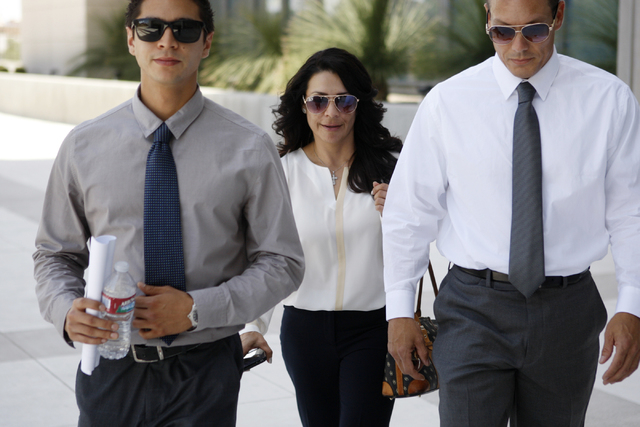 A major cooperating defendant in the long-running investigation into the scheme to take over and defraud homeowners associations, was sentenced to four months in federal prison on Wednesday.
Marcella Triana, whose former boyfriend, Leon Benzer, was central in the scheme, was also ordered to serve two years of supervised release and 120 hours of community service after prison. She pleaded guilty in September 2011 to conspiracy to commit mail and wire fraud.
Triana, 39, worked at Benzer's Silver Lining Construction Company and was a "puppet" board member for Benzer at Chateau Versailles, one of a dozen condominium developments federal prosecutors contend were victims of the massive scheme between 2003 and 2009.
In all, 38 defendants pleaded guilty in the investigation, which became public in September 2008 with FBI-led raids across the valley. Four more defendants were convicted by a federal jury in March.
Prosecutors said in court papers that Triana was "near the top" of the multimillion-dollar conspiracy and provided valuable information during the investigation, mostly while still in a relationship with Benzer.
In court Wednesday, lead Justice Department prosecutor Charles La Bella told U.S. District Judge Richard Boulware that Triana was one of the government's best cooperators, identifying key players and providing insight into how the elaborate scheme worked. But he asked for 10 months behind bars for her, arguing she should be held accountable.
Defense lawyer Todd Leventhal sought no prison time, arguing in court papers that Triana "incurred a significant risk of danger" working with the government.
Leventhal said in court that he received frantic calls from investigators in March 2012 after the bodies of two lawyers prosecutors alleged were intimately involved in the scheme were discovered within days of each other.
"They were at that point not sure what was going on," Leventhal told Boulware.
The lawyers, Nancy Quon and David Amesbury, had committed suicide. Quon, a specialist in construction defect litigation, was regarded as one of the leading conspirators but was not charged at the time. Amesbury had pleaded guilty in October 2011.
Leventhal said Triana made amends by cooperating with the government for more than six years and has become a productive member of the community.
Triana read a statement apologizing for her "careless" decisions that had a profound impact on homeowners and the community. "I have learned from my mistakes," she said.
Boulware said he was impressed with the letters of support he received from Triana's family and friends but was obligated to give her prison time because of the harm the scheme caused to people.
"There were serious violations of the law in this case," he said, ordering Triana to surrender to federal authorities on Sept. 1.
Several other cooperating defendants were sentenced Monday, including longtime political strategist Steve Wark, who received a federal prison term of 366 days. Wark, a former Nevada Republican Party chairman, was president of the Vistana HOA board when it unlawfully awarded a $7 million contract to Benzer's company in 2007 to do construction defect repairs.
Also sentenced on Monday were Edward Lugo, Daniel Solomon and Deborah Genato.
Lugo, who ran a crucial bill payment program for straw buyers under Benzer's direction, was sentenced to 21 months in prison. Solomon, a Benzer-controlled HOA member at Vistana, was given a 15-month prison term, and Genato, a former community management employee, was placed on three years of supervised release with three months of home confinement.
Benzer, who pleaded guilty and is to be sentenced later this year, targeted HOAs through a network of straw buyers and systematically took control of several boards through fraud and deceit, including the rigging of board elections, prosecutors alleged.
More defendants are to be sentenced next week.
RELATED
Witness: HOA fraud scheme drove Leon Benzer to desperate measures
Las Vegas HOA corruption trial stays in Las Vegas