Kihuen campaign faces scrutiny from GOP opposition over friendship with Barlow
September 29, 2016 - 10:39 pm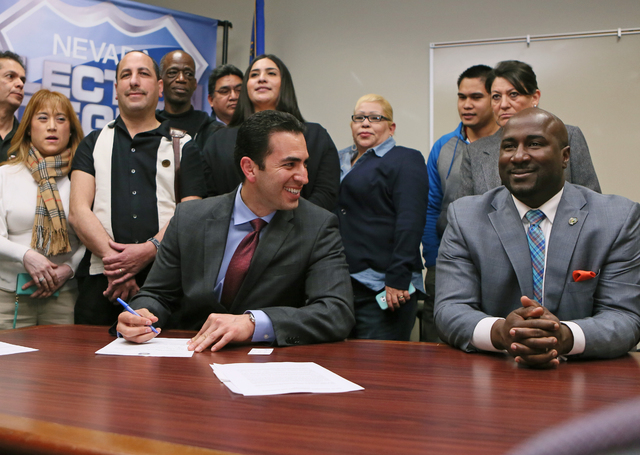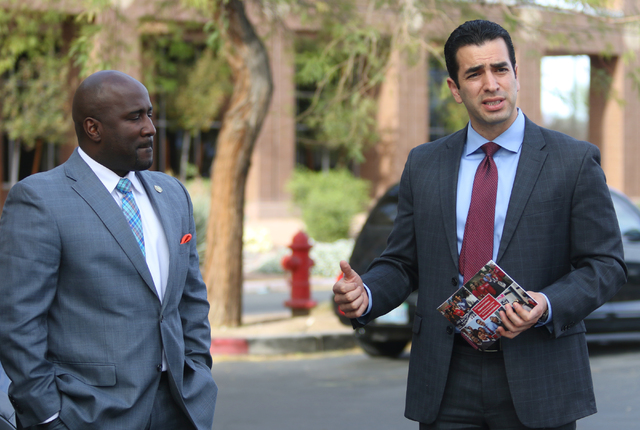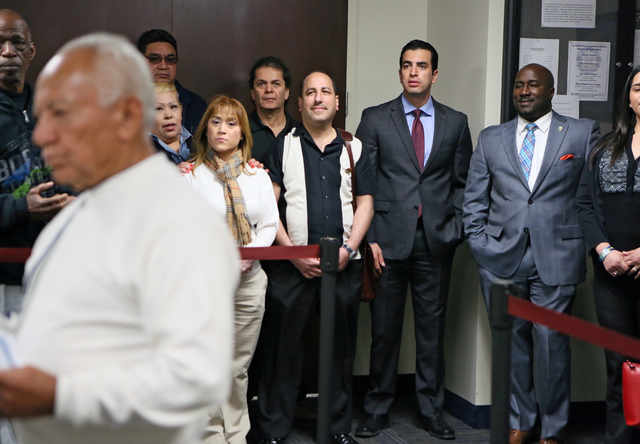 On a March day earlier this year, state Sen. Ruben Kihuen stepped into the Nevada Secretary of State's office to file paperwork to run in the Democratic primary for the 4th Congressional District.
It was a moment that unfolded with Las Vegas City Councilman Ricki Barlow at his side. When Kihuen's campaign announced his filing later that day, the press release featured an endorsement from Barlow, whom Kihuen called a "good friend."
It's imagery that Republican operatives are salivating over.
U.S. Rep. Cresent Hardy, R-Nev., faces a tough challenge in his bid for re-election to a second term from Kihuen in the heavily Democratic district. A corruption investigation into Las Vegas City Councilman Ricki Barlow is underway, and FBI agents have subpoenaed records from Barlow concerning the councilman's campaign and business dealings with the Ramirez Group and its owners in 2015 and 2016. The firm is run by Jacki Ramirez, its CEO, and her husband, Andres Ramirez, the company president.
Kihuen became a principal in 2014 at the Ramirez Group, a firm that does a variety of public relations and political work. For Kihuen, it's a connection that GOP-leaning super PACs will try to exploit to their advantage, possibly even through attack ads, in the campaign's final weeks.
After the story broke this week, email blasts went out to reporters Thursday from outside groups, including the National Republican Congressional Committee, America Rising PAC and the Congressional Leadership Fund. An operative with the NRCC, which is already spending heavily in the race, said it's now monitoring developments and didn't rule out ads on the matter.
The Congressional Leadership Fund is planning to put $2 million into the Las Vegas market in October, though it's looking at two competitive races: the 4th Congressional District and the 3rd Congressional District race between Republican Danny Tarkanian and Democrat Jacky Rosen. The super PAC isn't taking anything off the table as it plans how to spend its money, a spokeswoman said.
"He's going to have some questions to answer for the people of Nevada," said Jeff Bechdel, a spokesman for America Rising PAC, which does opposition research.
In a statement, Kihuen campaign manager Dave Chase said: "It's no surprise that Washington Republican super PACs are riding to Hardy's rescue to distract from his shameful Tea Party record. The NRCC has already spent nearly $2 million smearing Ruben's record of making corporations pay their fair share to adequately fund Nevada schools."
That's a reference to Kihuen's support of a $1.3 billion tax package for public education that passed the Nevada Legislature in 2015.
In a Facebook statement, the Ramirez Group has said it's not the subject of the investigation and has received a request for records.
CAMPAIGNS REACT
Hardy's campaign criticized Kihuen's choice of company.
"Political corruption investigations like the one facing Ruben Kihuen's cronies are exactly why Nevadans don't trust career politicians," Hardy campaign manager Ross Hemminger said. "For far too long, Southern Nevada professional politicians have engaged in pay-to-play behavior that has only been encouraged by professional politicians like Ruben Kihuen. Ruben should be judged by the company he keeps because birds of a feather flock together. If voters can't trust Ruben Kihuen here at home, how could they ever trust him in Washington?"
In a statement, Kihuen campaign manager Chase tied Hardy to a variety of figures and issues, including GOP presidential nominee Donald Trump and Cliven Bundy, a Bunkerville rancher now under indictment in connection with an armed standoff with federal agents in 2014. Kihuen's statement included a link to a 2015 Review-Journal account, published before Bundy's indictment, in which Hardy called Bundy a "friend" and said he had told Bundy he should pay his grazing fees, an issue which precipitated the standoff.
"If Congressman Hardy wants to have this discussion, then we agree it's past time for Hardy to renounce his longtime friendship with racist rancher Cliven Bundy and his 100 percent support for Donald Trump," Chase said.
LONG RELATIONSHIPS
Barlow has a history of supporting Kihuen, including in 2011 when Kihuen began a run for the 1st Congressional District.
Amid the investigation, Kihuen's campaign is distancing itself from Barlow.
In a statement, Chase said: "Ruben has zero tolerance for corruption. The allegations against Councilman Barlow are serious, and the FBI needs to run a thorough investigation into any wrongdoing on his part."
Barlow's attorney, Richard Wright, has said Barlow "doesn't believe he's done anything wrong."
Since news of the investigation broke, Kihuen's campaign has scrubbed a reference to Barlow's endorsement from its website and given a $1,000 campaign contribution from Barlow to a charity.
Kihuen's relationship with the Ramirez Group started before he became a principal at the firm.
He hired the Ramirez Group's services for consulting in his first congressional campaign, paying the firm at least $9,000 for strategic consulting and rent in late 2011 and early 2012, Federal Election Commission filings show. Kihuen dropped out of that race before the Democratic primary.
Kihuen's campaign said he wasn't involved in his firm's work on Barlow's re-election campaign.
Kihuen was on leave from the firm from February through June 2015 to be in Carson City during the legislative session, a campaign spokesman said. During that time frame, Barlow's campaign paid $70,000 in consulting fees to Ramirez Group in March and May 2015.
Kihuen is now on leave from the firm while he campaigns.
The current Kihuen campaign paid the Ramirez Group $2,340 in 2015 for services that include rent, catering, postage and software rental reimbursement.
Andres Ramirez, who couldn't be reached for comment Thursday, donated $2,700 to Kihuen's congressional campaign in 2015.
In December 2014, Kihuen's state Senate campaign fund donated $5,000 to the Ramirez Group PAC, which lists Andres Ramirez as the registered agent. In January 2015, the state political action committee reported $10,000 in contributions for 2014, half of them from Kihuen, and no expenditures.
In April 2016, Andres Ramirez filed paperwork with the Federal Election Commission to create the Ramirez Group Federal PAC. Unlike the state PAC, there's no indication that Kihuen gave to this group, which hasn't filed any reports showing donations or expenditures.
In August 2016, the FEC notified Ramirez that the federal PAC had failed to file a report detailing its receipts, as required by federal law.
Contact Ben Botkin at bbotkin@reviewjournal.com or 702-387-2904. Follow @BenBotkin1 on Twitter.
RELATED
Political firm tied to corruption investigation of Las Vegas Councilman Ricki Barlow
Informant's name surfaces in Ricki Barlow corruption probe
FBI's public corruption squad investigating Las Vegas Councilman Ricki Barlow