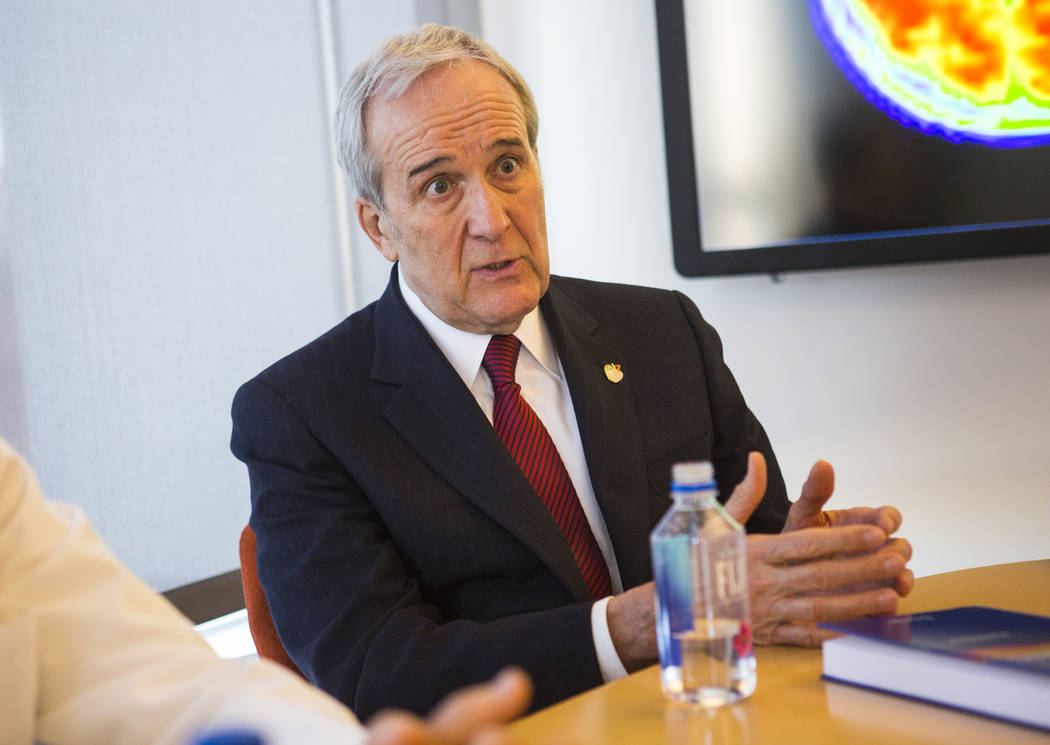 Larry Ruvo is a natural born storyteller. The fact that he grew up in a Las Vegas landmark, the Venetian Ristorante, has given him decades of material.
"It was an iconic time in Vegas when I came of age," he begins, spinning a tale of Sin City in the '50s. "Take the night when I came in and my father Lou said, 'You have to see this.' I walked in the restaurant and there was Oscar Goodman — the mob lawyer — and our sheriff. The mayor was at another table. My father said, 'I don't even know how many FBI people are around. I guarantee they're in the parking lot."
Lou and Angie Ruvo operated the Venetian for decades, even as Lou struggled with what the family would eventually learn was Alzheimer's disease. After his beloved father passed away in 1994, Larry Ruvo, their only son, vowed to keep his memory alive.
One of the ways that promise is visible is the annual Power of Love Gala, which will be Saturday night at the MGM Grand Garden arena. The all-star lineup for the Keep Memory Alive fundraiser includes Michael Bublé and food prepared by celebrity chefs Wolfgang Puck and Jean-Georges Vongerichten.
The event is the primary fundraiser for the Cleveland Clinic Lou Ruvo Center for Brain Health in downtown's Symphony Park. The research and treatment facility focuses on Alzheimer's, Parkinson's, Huntington's and other brain-related health issues. Larry Ruvo, philanthropist and senior managing director at Southern Glazer's Wine and Spirits of Nevada, founded the center.
Review-Journal: What is your typical Sunday?
Larry Ruvo: I'm very blessed to have my 94-year-old mother, her 101-year-old sister and my wife's 94-year-old grandmother with us. Sundays are when we really enjoy the whole family. My wife, Camille, will cook. Earlier in the day, we'll go to Mass and then invite our priest over to the house. We love to listen to the older ladies in our family talk about their experiences. There are so many Sundays where I think we should have a videographer capturing these stories. I love sitting with the grandmas on a Sunday. It all begins at the family table.
How does the town come together for your annual gala?
It takes a village, and we have a big village in Las Vegas that attends this extraordinary event that raises much needed funds. It's one of the premier charity events and we're really excited to have Michael Bublé, remarkable champagnes, wine and spirits, plus amazing auction items.
The money we raise (assures) the quality and dignity of our patients' experiences and helps the caregivers. Without philanthropy, what we provide couldn't exist. The Lou Ruvo Center is 24-7 for me, my wife and our team. The gala is very exciting and needed. It's not only Vegas, but our friends from around the world who come to help establish this beacon of hope.
I'm grateful, appreciative and thankful for the support. It's remarkable how many people believe in our dream and tell others about it. This time what happens in Vegas doesn't stay in Vegas.
When your father was diagnosed with Alzheimer's, it was tough going for your family.
Lou was my best friend. I grew up in Vegas as an only child and saw my father every single day at the Venetian restaurant. We ate dinner together five or six nights a week. When this disease began to affect my father, there wasn't proper care at the time in Vegas. We had to take him out of state for the final diagnosis. You make lemonade out of lemons. The lemonade turned into Keep Memory Alive. I've been told by many experts that we now have one of the premier brain centers in the world with the Lou Ruvo Center for Brain Health.
Part of the work you do is research. Are you seeing any concrete hope for brain diseases?
Most definitely. We've made great strides, but as we live longer it seems there are more terrible brain health diseases. What started out as helping Alzheimer's patients has progressed into a very vibrant program for (multiple sclerosis) and Parkinson's disease. Then we added ALS and Huntington's disease. We also work with the families and have established caregiver programs.
Caregivers are often overlooked. Why is supporting them so crucial?
I promised that after my experience with my father that we would give dignity to the patients. We've gone beyond that dream. The second thing I promised is that we would help the caregivers who are often sleep deprived and malnourished. They need all the support they can get.
You grew up in Las Vegas. What are a few of your favorite memories of Sin City in the '50s and '60s?
I remember when Disneyland opened in 1955, Mom, Dad and I took the one-lane highway to Anaheim. Anytime we saw a Nevada license plate, one of the three of us knew who was in that car and who was driving. … It was a lot of fun growing up in Vegas. I remember Sahara was called San Francisco Avenue. The Venetian was on Fremont Street in the beginning. Every time there was a bad rain, the floods would come down the street. People loved the food so much that they still showed up with the water flowing down the streets. You swore you were in Venice, Italy. Vegas was definitely a different city in those days, but a wonderful city.
How did the Ruvos end up in Vegas?
I was 9 years old when my father was stationed at McCarran Airfield, which is now Nellis (Air Force Base). My mother's sister came here in the '40s. We moved to Nevada from Niagara Falls to be with family. Then the Venetian Ristorante opened with my mom and co-owner Angie Ruvo baking daily and making the sauces and famous veal dishes and homemade sausages. That was the start of the Ruvo history in Vegas.
Did Frank Sinatra come into your parents' restaurant?
Once, Frank had been traveling through Europe and his confidante and dear friend Jilly Rizzo came in to see my mom. He gave her the recipe for neck bones that Frank found in Italy during the tour and said, "This is the recipe Frank wants you to make him for after his Vegas show." Mom said, "But this is not the recipe we use here." Jilly said, "Please, this is how Frank likes it." No one knew what would happen. That night Frank sat down and my mom came out of the kitchen with two plates. She said, "This is your recipe and this is my recipe." He ate them both and said he liked my mom's recipe better.
That's a great story.
When Frank played Caesars, he was always calling us for food. I was summoned by the then-president of the hotel who said, "Frank loves going to your mom and dad's restaurant. He's sending our bellman there to get him food. We need to have him actually eat at the hotel!" … If Frank was your friend, there was nothing he wouldn't do for you. And he wasn't the only one. This legacy my father left with the restaurant is why so many of his friends support the Lou Ruvo Center in his memory.
What do you see as the future of the Lou Ruvo Center?
We have several centers including Vegas, Ohio and Florida. We're going to take this into London. It's a magical carpet ride and a blessing knowing we've helped over 27,000 patients. Whoever reads this article probably knows someone dealing with brain health. If they don't know a caregiver then chances are they're going to become one. These diseases are terrible. A gala like Power of Love is what is going to help us fund the research and provide the dignity that every human being deserves.
Do you think your Dad would be proud of you?
I believe that he would. … I believe it in my heart.
On a much lighter note and I have to ask you this because it's in the air these days: Are you a Golden Knights fan?
(Laughing) I don't know if they have a bigger fan than my wife. The truth is I love this city. I love that the city has evolved. As great as my memories are growing up here, I'm so proud of what this city is now. It's a much bigger experience. Just as I wouldn't trade those old moments for anything, I wouldn't trade today for anything. I just love the circle of life. So, Go Knights Go!