Las Vegas-based rescue team returns from Hurricane Florence duty
Updated September 24, 2018 - 9:15 pm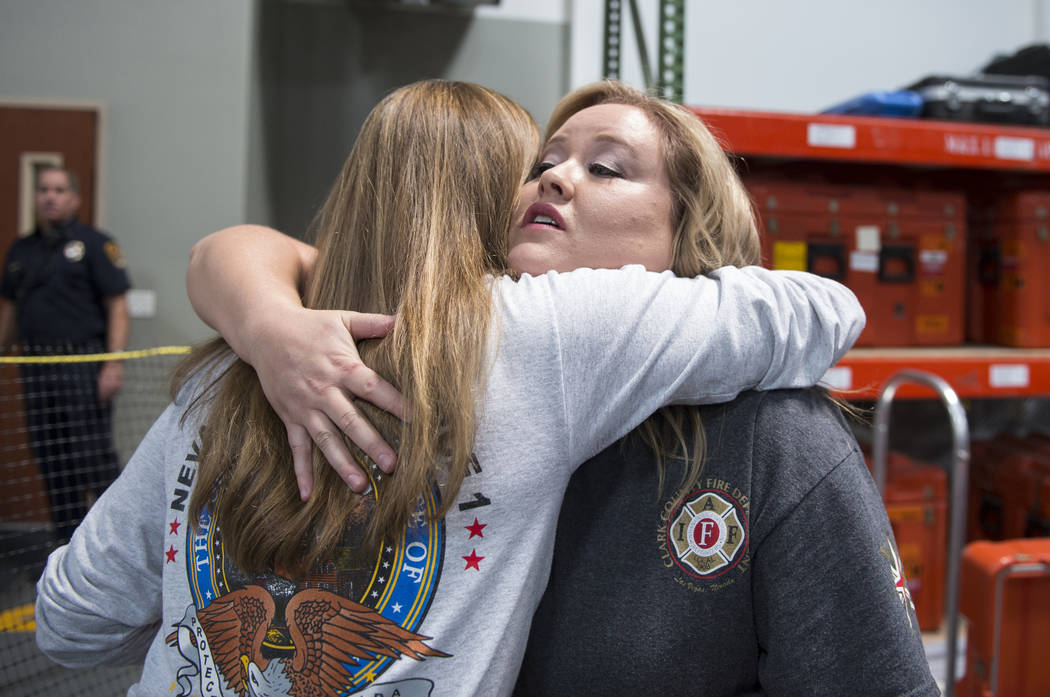 Members of the Nevada Task Force One water rescue team returned home Monday afternoon to hugs and kisses after providing aid for nearly two weeks during and after Hurricane Florence.
The 16 members of the team waved Vegas Golden Knights flags out of their vehicles as they pulled into their northeast valley headquarters, where they were warmly welcomed by family members and colleagues.
The team, which includes firefighters from the Las Vegas, North Las Vegas, Clark County and Henderson fire departments, was deployed Sept. 11. It primarily conducted rescue operations in Beaufort and Moorehead City, North Carolina, helping rescue about 40 people and 20 animals, according to Clark County Deputy Fire Chief John Steinbeck.
NVTF-1 also assisted in removing trees and debris blocking access to homes and organized and planned a food station that helped feed around 300 people.
Dina Dalessio, task force leader and Las Vegas Fire and Rescue Department battalion chief, said the deployment was a success.
"The tireless effort by this team was extraordinary," Dalessio said. "I'm so humbled to just be in this group."
Clark County firefighter Jason Ritz — who's served during other destructive storms, including Hurricanes Katrina and Harvey — said he can't imagine not being involved in the team.
"I've been doing this for 15 years, and I just can't see not being on this task force," he said.
Ritz recalled an especially heartwarming moment during the recent deployment when the task force was awarded the key to Beaufort for service to the city.
But he said he and the other task force members don't serve for recognition.
"We're not there for the rewards or the accolades," Ritz said.
Ritz was greeted by his wife, Rebecca, and 2-year-old nephew, Range. He and other members of the task force said they were excited to be back home.
"That was probably the longest period of time that we've ever had," said Ritz, who presented his young nephew with a stuffed squirrel he brought back with him.
Rebecca Ritz noted that it's difficult when her husband is away for long periods, but she said she and their son, Grayson, a student at Leavitt Middle School who was in class during the homecoming, have become accustomed to the periodic trips to assist in hard-hit areas.
"It feels good (that he's back), but we're used to it," she said.
The couple said they were looking forward to attending the Knights' game Monday night.
Las Vegas Deputy Fire Chief Willie McDonald expressed pride in the team after greeting them at their headquarters.
"To me, it's a very proud time," he said. "I could just not be more proud."
Contact Jacob Lasky at 702-383-0219 or jlasky@reviewjournal.com. Follow @Jtlasky on Twitter.
Nevada Task Force One
— Formed in 1991.
— Has 180 members.
— Can dispatch two teams of up to 70 each if needed.
— Deployments typically last 10-14 days.
— One of the first teams formed as part of FEMA's National Urban Search and Rescue Response System.
— Supported by about $1.1 million in annual federal funding.
— Participated in responses after Oklahoma City bombing, Sept. 11 terrorist attacks and Hurricanes Katrina, Rita, Harvey and Irma.