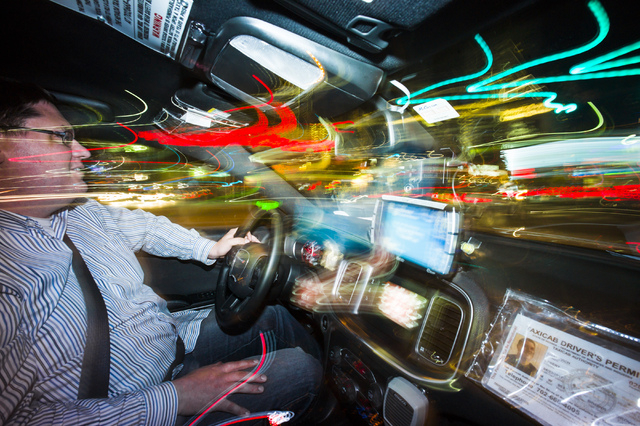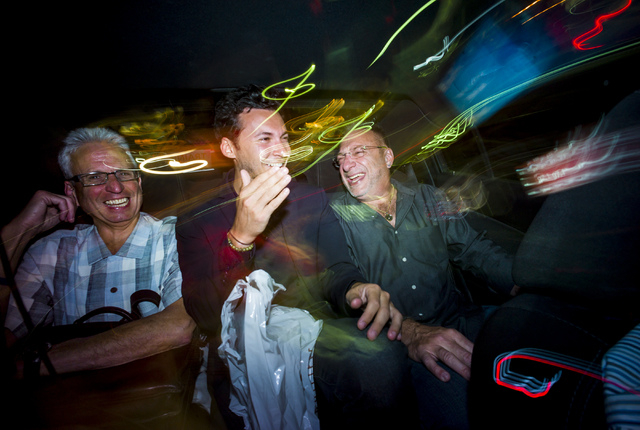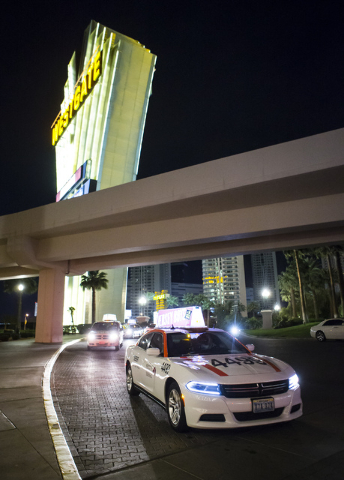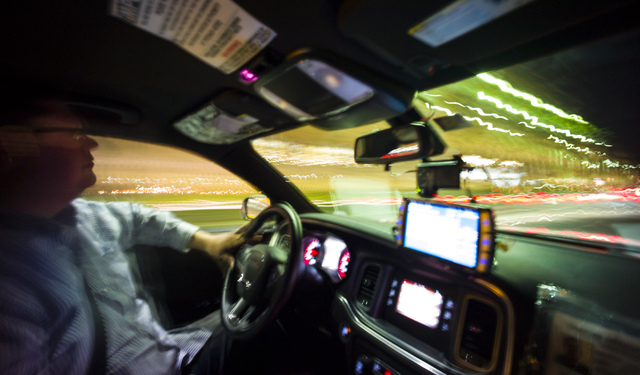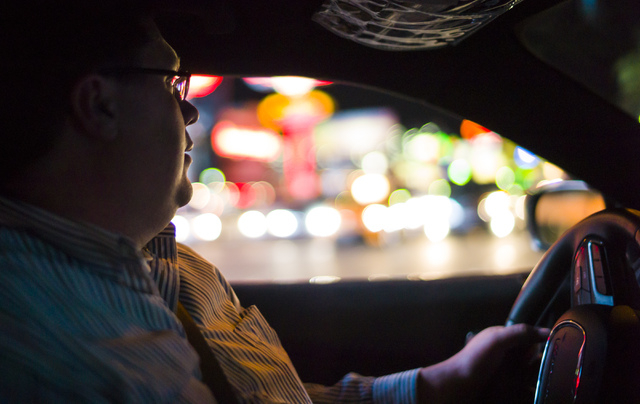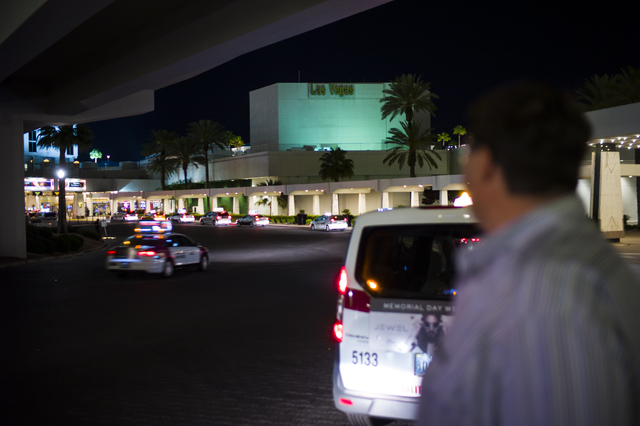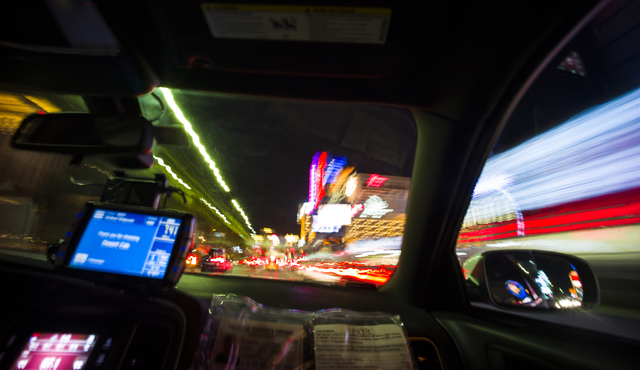 Las Vegas, as they say, features both winners and losers. Many of the losers catch a ride in the back of Andrew Gnatovich's taxicab.
They flag him down on street corners or slide onto the grimy black leather seat at some hotel's cab stand: the sick-to-their-stomach and the simply clueless, minor celebrities who want to be stars, skinflints, creepy night crawlers and angry drunks no adult baby sitter could control.
And even if this is Las Vegas, what happens inside Gnatovich's cab does not stay in his cab. Oh no, far from it. The worst ones, mainly the stupidest and most arrogant but sometimes the sweet, often end up with cameo appearances on social media, compliments of Gnatovich, moments after they slam the door of the cab.
Some are pilloried; others celebrated, in pithy 140-character bursts.
Gnatovich is the city's tweeting cabdriver, and his @LVCabChronicles is eyeballed by more than 8,000 Twitter followers nationwide; netizens with a morbid curiosity about just what precisely goes on inside a Las Vegas cab.
Gnatovich rarely disappoints.
There was the imbecile who hailed Gnatovich's cab to the airport, but who, once there, refused to pay him.
"I got something to tell you; I hate cabdrivers," the guy says. "I don't pay any of you guys, and I'm not paying you. What do you think about that?"
The cabby thought a lot of things — such as he'd picked the guy up at home, so he knew where he lived. Also, he had the man's luggage in the truck. And he wasn't returning it without his fare.
"You want to play hardball?" Gnatovich said. "You just lost."
The guy paid. The cabby tweeted about that.
At times, his tweets can be telltale:
"Picked up lady who said she cheated on her fiancé w/an old fling tonight (and) hit on me all the way to Henderson."
He can also be snarky:
Guy: "Where you from?"
Me: "I'm from Iowa."
Guy: "How'd you get out here?"
Me: "I took Interstate 80 and went west …"
Guy: "Where you from?"
Me: "I'm from Iowa."
Guy: "How'd you get out here?"
Me: "I took interstate 80 and went west…"

— LV Cabbie Chronicles (@LVCabChronicles) May 3, 2016
And snarkier.
En route to (Planet Hollywood).
Me: "So you guys going to Britney tonight?"
Guys: "No. Do we look like the kinda guys who would go to Britney?"
Me: "Yeah."
And this telltale cabby can also be a thrill-seeker.
"4 guys said they'd give me $100 if I drove through the In-n-Out drive-thru in reverse. So, that just happened."
The post included the hashtag "#ChallengeAccepted."
On a recent weeknight, Gnatovich guides his cab northbound along the Strip, talking about his life behind the wheel and online.
"One could say I've made a name for myself with the idiots in my back seat and the things they say," he says. "Twitter is the perfect medium. Someone says something stupid and minutes later it's online so other people can enjoy it."
Gnatovich didn't start out so succinct. Now 37, the Iowa-bred son of a dentist came to town to study music at UNLV. His instrument quickly became his cab and he's crawled the city since 2004, now for Desert Cab.
Eventually, he began writing a blog about driving 150 miles on his 4 p.m. to 4 a.m. shift, elbowing aside 2,500 other hacks, learning to despise greedy doormen and learning the hard way that it's safer to wait in hotel cab lines than risk picking up "flags" on the street.
But those posts took time. Like the rest of America, he soon found a more fluid form of expression through Twitter, whether he wrote while paused at a stoplights or once he got home.
He soon began breaking stories about Strip explosions and police shootings. Some of these tales of the city at night are told in installments, like some Charles Dickens of a new century.
Gnatovich is telling a story about a local woman who threw up twice in his cab and then refused to tip him, calling him a jerk because he asked for a deposit upfront for a ride out to Summerlin. Then he slides into the Monte Carlo; two tourists hop in, both Denver women attending a local convention.
When told by a front-seat passenger that Gnatovich is a tweeting cabby, one woman gushes.
"Oh, WE want to be on Twitter!"
4 drunk guys said they'd give me $100 if I drove through the In n Out drive thru in reverse. So, that just happened. #ChallengeAccepted

— LV Cabbie Chronicles (@LVCabChronicles) April 24, 2016
Gnatovich might be able to arrange that. A self-professed introvert, he rises to the occasion each time he hops inside his cab; like a curious talk-show host holding court with his guests as the vehicle eases along at 35 mph.
One of the two woman suddenly asks "Has anyone ever thrown up inside your cab?"
"No, that's never happened," Gnatovich deadpans.
The woman then complains about a cabby who kicked her out of his vehicle before she was sick. Gnatovich listens, a hint of a frown on his face. The pair jump out at The Venetian, handing him a $20 bill on a $14 ride, telling him to keep the tip. He likes them better now, but so far, nothing to tweet about.
What he does not like are cheapskates. Like the burn doctor he picked up earlier that night who suggested a 50-cent tip. Gnatovich called him on it. Embarrassed, the guy gave him $6.
"He was a smart guy," the cabby says, "but apparently the everyday escapes him."
En route to PH…
Me: "So you guys going go Britney tonight?"
Guys: "No. Do we look like the kinda guys who would go to Britney?"
Me: "Yeah"

— LV Cabbie Chronicles (@LVCabChronicles) April 23, 2016
Sometimes, he admits, his tweets are rants, often about hotel doormen who take money out of his pocket and hand it to limo drivers who offer kickbacks for fares.
"They make ends meet by stealing from me," he says. "And that's just not cool."
He talks about what he considers the stupidest thing a passenger ever said inside his cab: a woman who wanted to know how they pushed the mountains back so far to fit in all the houses between the Strip and the horizon.
The woman's husband, also baffled, called her out on her comment.
"C'mon honey," he said. "You're a teacher."
"But I didn't teach geography," the fare said.
The cabby tweeted about that ride, as well as his pat responses to what he considers to be numbskull questions such as "So, do you live here?"
"No," the cabby has written of his response. "I commute here on my private jet from the Cayman Islands just to give you a ride downtown."
The night is still young and no memorable rides. Then Gnatovich hits a blackjack.
A couple from Arkansas hops into the cab. The wife immediately announces that her husband is famous back in Little Rock; the owner of a lighting company.
"But I'm famous, too," she laughs. "I once danced with Donald Trump at a wedding."
She goes on. Gnatovich eyes her in the rear-view mirror.
"He was all over me. It made my husband really mad."
"I already hated him anyway," the husband said. "He's thinks he's special because he's got a bigger plane, a bigger house."
"Well, I shouldn't have danced with him," the wife says. "But that's all in the past now."
"That's OK," the man says, talking to Gnatovich now. "I still beat her for it."
The couple soon jumps out, offering a the cabby a quick $7 tip. The moment has ended too soon, but such is the luck of the draw for the tweeting taxi man.
"The bad rides last far too long," he says. "But the good ones always end too soon."