Las Vegas City Hall plaza named for Oscar Goodman
October 5, 2016 - 9:39 pm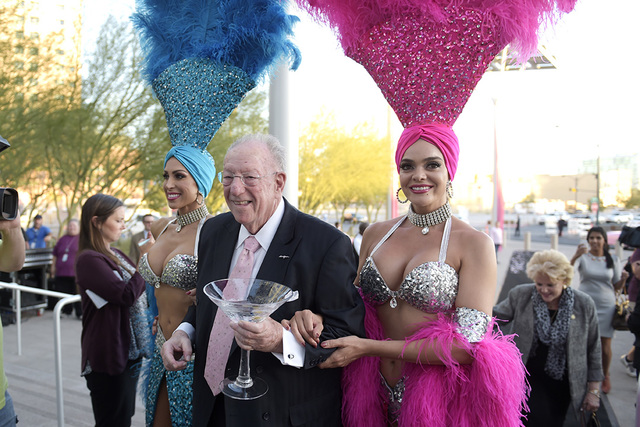 What do the plaza in front of Las Vegas City Hall and a downtown steakhouse that boasts "beef, booze and broads" have in common?
As of Wednesday, they're both namesakes for the popular former Las Vegas Mayor Oscar Goodman.
In a flashy entrance fit for the current and former mayor of the city that bills itself as the entertainment capital, Oscar and Carolyn Goodman were chauffered to City Hall by an Elvis impersonator in a pink convertible Wednesday night. Two showgirls handed Oscar Goodman an oversized martini glass and flanked him in his walk to the stage for the dedication ceremony in front of the building he pushed for during his tenure leading the city.
Goodman was told he could have had a street or City Hall named after him instead of the plaza, all he had to do "was die."
"Well, I opted out for the plaza," he said.
Goodman's storied past figured prominently in Wednesday's event, with former Nevada Gov. and U.S. Sen. Richard Bryan noting his past skepticism of the Mob Museum, the former mayor's push for revitalizing downtown and even his viability as a candidate.
When Goodman ran for mayor in 1999, Bryan thought there was "no way the citizens of Las Vegas are going to elect a mob lawyer," he said.
Don Snyder, chairman of The Smith Center for the Performing Arts Board of Directors, said he didn't vote for Goodman at first, but he did the second time around. He and Larry Ruvo characterized Goodman as instrumental in getting the Lou Ruvo Center for Brain Health and the Smith Center into Symphony Park.
Under Oscar Goodman, city staff often got their instructions from the mayor by opening the newspaper, City Manager Betsy Fretwell said.
"We could not keep a secret in the city of Las Vegas," Fretwell said.
Goodman was the mayor of Las Vegas from 1999 to 2011, and left office due to term limits, not a lost election. He was succeeded by his wife, who earned her second term in 2015.
The Goodmans held hands at times during the ceremony. When Carolyn corrected Oscar on the number of years the pair has been married — 54 — he called her an "aggravating son of a gun."
While others highlighted her husband's mayoral antics, she smiled and shook her head.
Carolyn Goodman recalled stories of Oscar, whom she called her "darling husband" and "a fabulous guy," telling a fourth-grade class the item he would take to a deserted island is a bottle of Bombay Sapphire gin, and when he said he'd lie down on U.S. Highway 95 before he'd allow nuclear waste to be transported through the city.
He may have relinquished the title of mayor several years ago, but Goodman couldn't stop from delving into one of the current issues of the day — the future of Cashman Field. He started the drive for a major-league sports franchise in the city during his time in office, a cause Carolyn Goodman picked up and continues to push. Anyone who can't see the strengths of the Cashman site "is a moron," Oscar Goodman said.
"Everyone gives him a hard time because he loves the limelight and all that," Fretwell said, "but his heart is in this city and it shows."
Contact Jamie Munks at jmunks@reviewjournal.com or 702-383-0340. Find @JamieMunksRJ on Twitter.