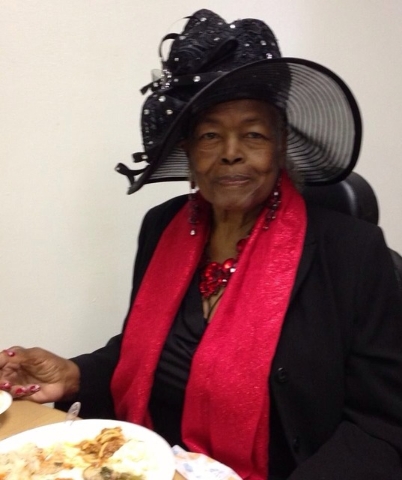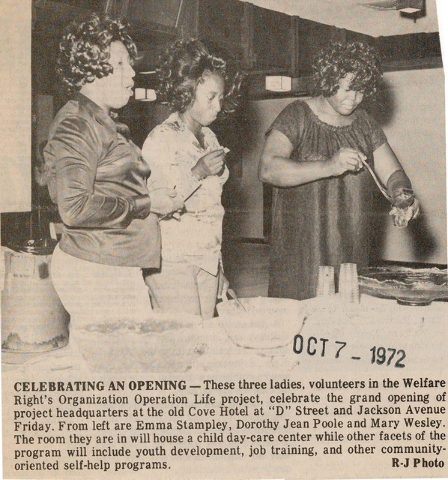 Mary Wesley, who helped lead a movement by Las Vegas welfare mothers in the 1970s to fight a war against poverty in their community, died Sept. 13. She was 79.
The movement's seminal moment came March 6, 1971, when the mothers and their children, along with entertainers, civil rights leaders, film stars and welfare activists from across the country, organized a march along the Strip. They had one goal in mind — to shut down tourism and gambling and force the state to hear their voices.
Wesley was one of the marchers that day along with fellow movement leader Ruby Duncan, actress Jane Fonda, entertainer Sammy Davis Jr. and Rev. Ralph Abernathy, leader of the Southern Christian Leadership Conference, according to Annelise Orleck's book, "The Politics of Motherhood: Activist Voices from Left to Right."
At the time, Nevada had slashed the amount of welfare given to women with children, a move that incensed Las Vegas mothers, including Wesley and Duncan.
Wesley hadn't sought an activist role in the community; it came out of necessity. "They were poor, black and hungry," and the government was threatening to shut down the minimal welfare assistance available to families, her granddaughter Sha'Londa Adams said.
A proud, hardworking woman, Wesley initially did not want public assistance, her granddaughter said. After a divorce, she worked two jobs to take care of her family, but with eight mouths to feed, it was hard to make ends meet. So she accepted the help.
Wesley, Duncan, Essie Henderson, Alversa Beals and others banded together to form what was called the Operation Life movement after they learned how other states handled their welfare programs.
"California, for example, was one of the great states that looked out for the whole family group. They didn't discriminate against mother and father or whole family households," Duncan said. "Nevada at that time made sure no one had income; fathers could not be in the household or involved with the children."
The group held protests to urge further enhancement and protection of welfare programs in Nevada.
"We wanted to make sure that our children would receive proper nutrition to grow strong and healthy," Duncan said, noting families were receiving only basics such as flour, cornmeal and cheese at the time.
"We were foot soldiers — something to be reckoned with throughout this country," said Duncan, 84. "Every state had its welfare mothers."
Adams is well aware of the tremendous change achieved through the efforts of Wesley and other women. "I'm very proud of her and what she accomplished."
The movement, which at one point offered child care, job training and other community-oriented self-help programs, also helped open up more work opportunities for women, Duncan said.
"Lots of those women went on to became nurses working in health care, construction and putting on their own businesses," Duncan said. Before, "none of these opportunities were available. We weren't thinking about doing this type of stuff."
Duncan remembers her friend for much more than her activism.
"She was funny, she was warm, she was brave, she was strong, she was sweet. She was such a great woman," Duncan said.
Wesley, the second of 11 children, was born Jan. 31, 1937, in Quintan, Mississippi. When she was 16, Wesley and some of her family, like many others at that time, moved west to Las Vegas in search of better opportunities.
Wesley never got to finish high school; instead, she quickly began working to earn money. By 23, Wesley was married and had birthed seven children, including two sets of twins, Adams said.
Later, Wesley became the family's unselfish matriarch, the glue that held the family together, her granddaughter said.
She put aside her own goals in order to keep her grandchildren together. As her own children moved on to "sow their oats," Wesley took on the job of raising 17 grandchildren, Adams said.
While she achieved her big dream to open a restaurant, Mary's Diner, in the historic black Westside neighborhood, she soon gave it up in in order to raise her 14th grandchild, Adams said.
One of the chief constants in the grandchildren's upbringing was Wesley's insistence that education be paramount.
"Education was so important to her. It was ingrained — go to school," Adams said.
Adams said she was the first person in her family to attend and graduate college, earning bachelor's and master's degrees in business administration from the University of Phoenix. Her grandmother was her inspiration.
"She was my everything," Adams said. "The most selfless woman I will ever have the pleasure of knowing."
Wesley leaves behind seven grown children, 27 grandchildren and 47 great-grandchildren.
A viewing will begin at 9 a.m. Saturday at Greater Evergreen Missionary Baptist Church, 1915 Lexington St. Services will follow from 10 a.m. to noon. Space is limited.
Contact Raven Jackson at rjackson@reviewjournal.com or 702-383-0283. Follow @ravenmjackson on Twitter.