Las Vegas corrections officer died after 'incident' with inmate, city says
Updated July 30, 2018 - 7:41 pm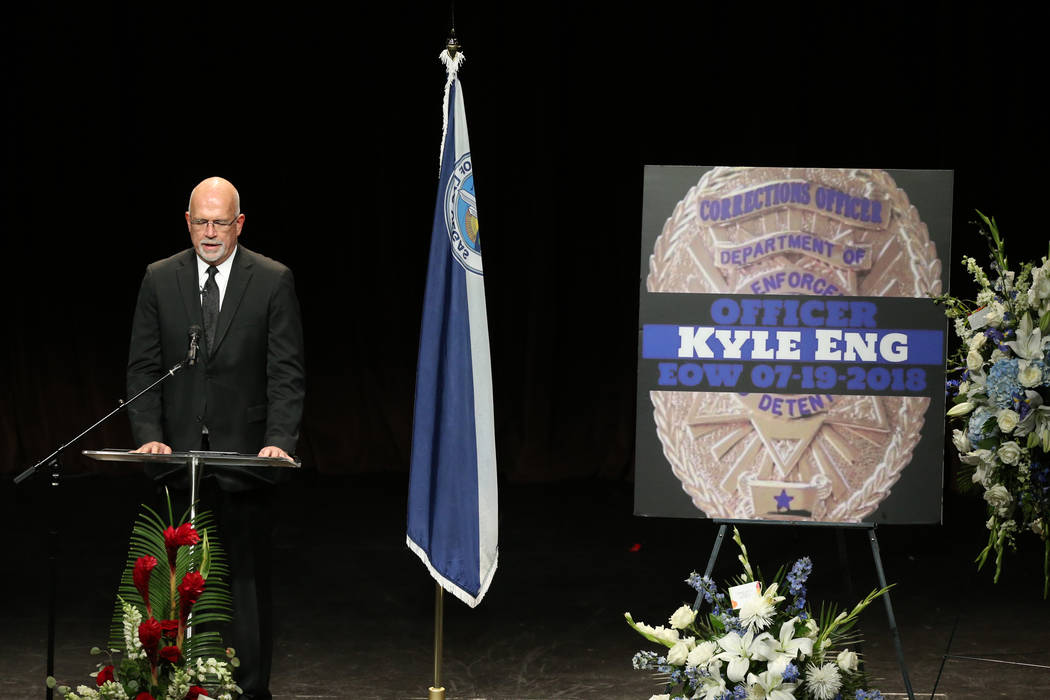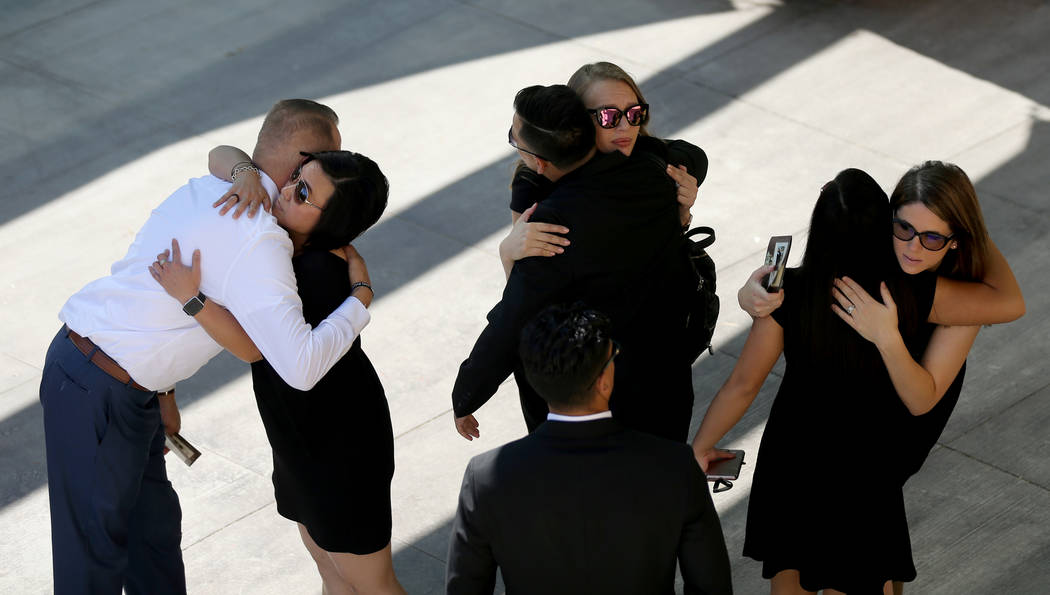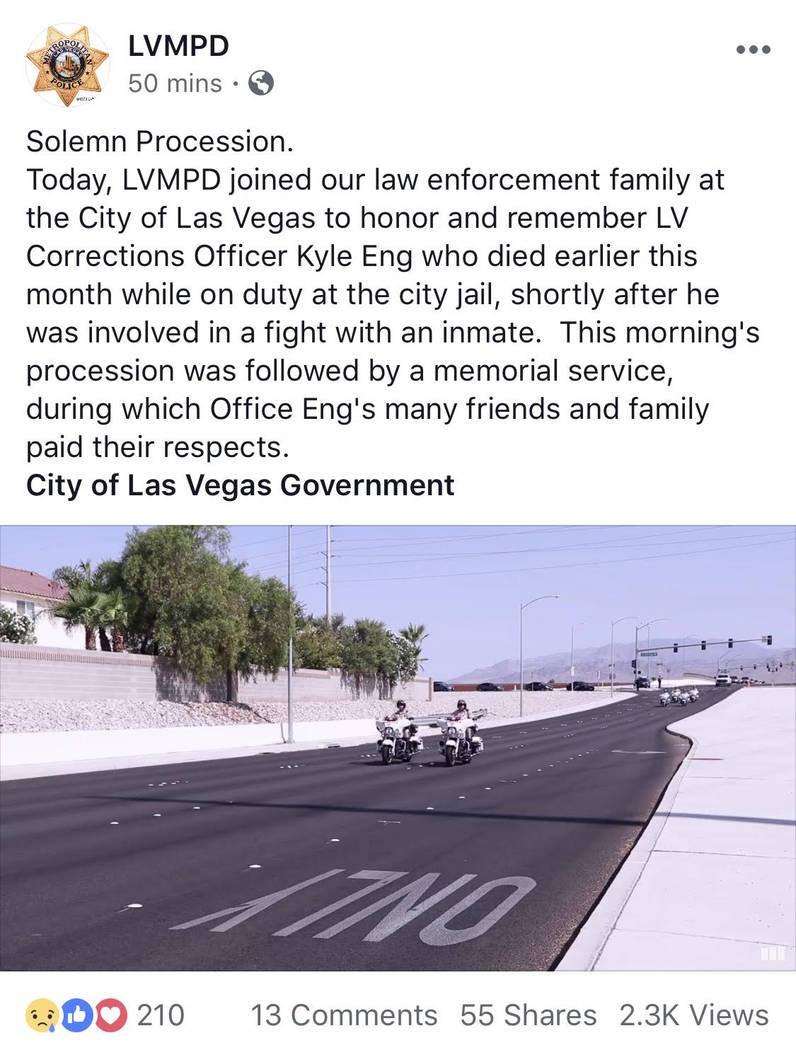 Kyle Eng's dream was to be a police officer.
But on July 19, about a month after officially starting a second career in law enforcement as a Las Vegas corrections officer, Eng died after a fight with an inmate at the city jail, police said Monday.
According to a Facebook post from the Las Vegas Metropolitan Police Department, Eng, 51, was found unconscious at the Las Vegas jail on July 19 shortly after he was "involved in a fight with an inmate." He was taken to University Medical Center, where he was pronounced dead.
The post was later edited to remove the reference to a fight, and a Metro spokeswoman declined to comment on Eng's death, referring questions to the city.
City of Las Vegas spokesman Jace Radke would not confirm that a fight occurred. But the city said in a statement that Eng was involved in "a minor incident with an inmate in the city jail prior to him being transported to the hospital. However, we cannot confirm whether or not this incident had anything to do with the cause of death, which is yet to be fully determined by the Clark County coroner's office."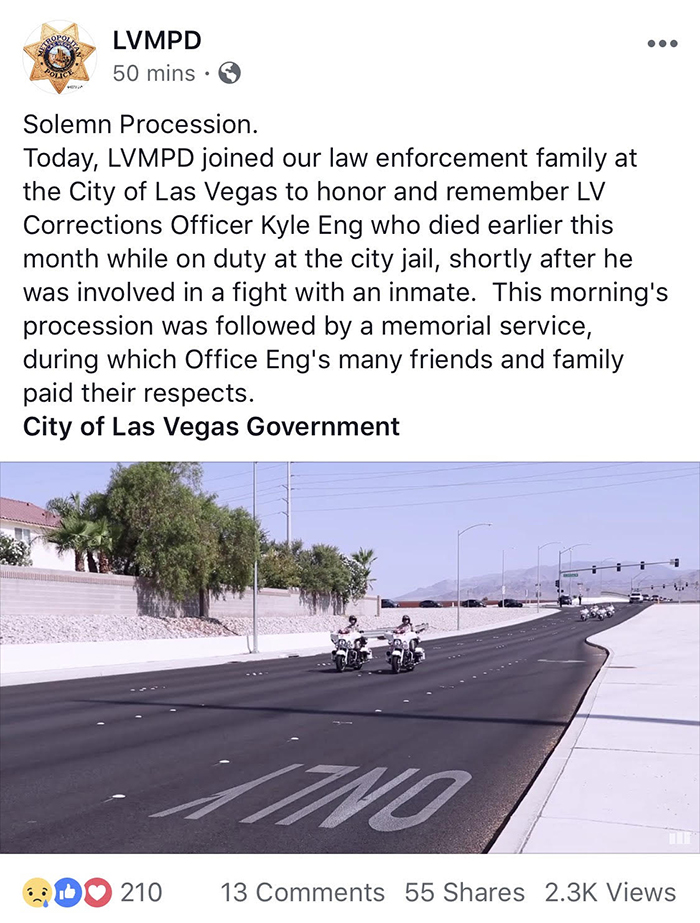 Remembering 'Superman'
Word of the incident with an inmate came as Eng's friends and family gathered for his funeral at the Canyon Ridge Christian Church, 6200 W. Lone Mountain Road.
Eng, who entered training to become a corrections officer in January and only began working at the jail about a month before his death, was described by his family as their personal Superman.
"There's a reason why we call him Superman," his youngest daughter, Alyssa, said at the service. "Whatever situation we were in, we knew our dad was only a phone call away."
Eng had three daughters — Alexa, Kayla and Alyssa— and nine grandchildren, with another on the way. He had been married to his wife, Arlyn, for 27 years and had lived in Las Vegas since moving from his hometown of Poughkeepsie, New York, when he was 22 years old.
Eng loved sports, his family and his new job.
When Eng was applying to become a corrections officer, he wrote in his application that "I've always wanted a career in law enforcement; I'm going to give it all to reach my dream," said Department of Public Safety Chief Michele Freeman.
"Thank you for sharing your Superman with us," Freeman said, speaking to Eng's family.
Eng's funeral was filled with uniformed officers, corrections officers and firefighters, some performing ceremonial duties and others there to pay respects. A group of bagpipe players from the Las Vegas Emerald Society played as pallbearers carried Eng's casket into the church, and performed "Amazing Grace" at the end of the funeral.
Among those attending was Scott Edwards, president of the Las Vegas Peace Officers' Association.
"This is our first line-of-duty death, and hopefully this will be our last," he said.
Before switching careers, Eng worked as a truck driver and manager with Anderson Dairy for 20 years, said Canyon Ridge Christian Church pastor Kevin Odor.
'Never too late' to chase a dream
"Although many question why at the age of 50 would Kyle decide to start a new career with law enforcement, Kyle wanted to prove to his children and grandchildren that it is never too late, and if you have a dream you have to chase it," Odor said.
Las Vegas Mayor Carolyn Goodman said everyone she talked to about Eng had only praise for him and said he stood as a role model.
"We know here in Las Vegas he really did make a difference," Goodman said.
The Injured Police Officers Fund has opened an account at http://ipof.vegas for people to donate to help Eng's family, said Erik Lloyd, the organization's president.
"The family could certainly use any and all assistance that they could get," Lloyd said.
A Wells Fargo account has been set up in honor of Officer Kyle Eng to directly benefit his family. Our thoughts and prayers are with them at this difficult time. #fallenhero #bluelinefamily pic.twitter.com/xUVuWov63F

— IPOF (@IPOFNV) July 20, 2018
Anderson Dairy President Dave Coon said Eng was a friend to everybody at the company where he worked for two decades. He said although he was sad when Eng left to become a corrections officer, he knew his friend was chasing a dream.
"He talked about it a lot; he was determined to do it," Coon said. "We'll miss him; we have missed him in the time that he's been gone."
Vince Kristosik, president of the Southern Nevada Officials Association, said in a statement that Eng has worked for the association officiating basketball games from the 1990s through the mid 2000s. He loved competing, and he played in local recreation basketball and flag football leagues, he said.
"Kyle was a great family man and a great individual," Kristosik said. "Kyle's family would often attend his games while he officiated."
Special gifts and words of love
During Monday's service, Eng's daughters remembered a father who wanted to give them the world. They said he would buy them ice cream and expensive clothes when their mom wasn't looking to make them happy.
Alexa, Eng's eldest daughter, said he would wake her up on her birthday every year with a Starbucks venti caramel frappuccino with extra whip cream and caramel, the same way her dad liked his Starbucks drinks.
"He always wanted us to have the best," Alexa said.
She said during the ceremony that if her father could pass on a message, it would be to embrace every moment of their lives and support one another.
Later on, a recorded voicemail was played over the church speakers. It was Eng leaving a message for his wife while on his way to work, telling Arlyn multiple times that she was beautiful and he loved her.
"I hope you hear this voicemail, 'cause I love you," Eng said, his voice echoing through the church.
Contact Katelyn Newberg at knewberg@reviewjournal.com or 702-383-0240. Follow @k_newberg on Twitter. Review-Journal staff writer Blake Apgar contributed to this report.