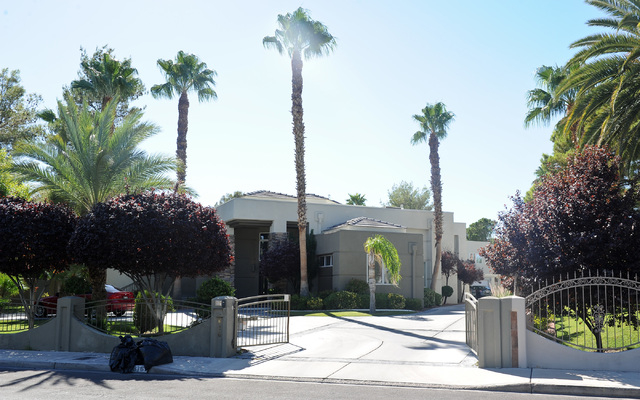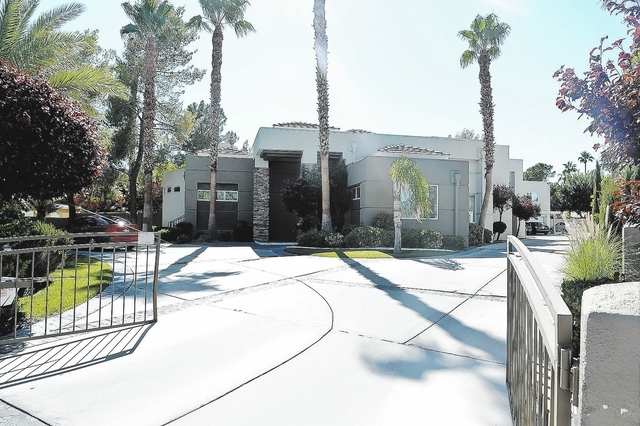 Pat Flick seems upset for a person sharing vacation pictures.
Probably because she didn't take the vacations in the photos, but they did come at her expense.
Flick and her partner Jewel Dixon live on a quiet and pleasant block of Campbell Drive in Las Vegas. Well, sometimes it is quiet and pleasant.
At other times it resembles what might result if the makers of "The Hangover" and "Animal House" films joined forces for the ultimate party movie. Flick documents the madness with her camera and has saved two albums full of photos.
They show piles of post-party garbage, buses and cabs pulling up on the street and large groups entering and exiting the house. They also say partyers have tossed empty beer cans over the fence, pestered neighbors to use the phone and played loud music at all hours of the night and early morning.
"This is ridiculous; it can't go on," Flick recently told a City Council committee. "Give us back our community."
Flick, Dixon and another neighbor attended the most recent meeting of the Recommending Committee — a three-member panel that hears testimony and makes recommendations on issues to the full council — on a proposed ordinance that would put more restrictions on so-called party houses.
Pete Anello, a property manager whose portfolio includes the house next door to Flick and Dixon's, said if the city changes the code it should include provisions to punish tenants who break the rules, not property owners.
"We really have no way to enforce some of these noise and occupancy (rules) that tenants may violate," Anello said. "I would like to make the guilty party accountable and not so much the property owner."
Under current city code, short-term rentals are allowed but need to pay for a license, which can cost $100 to $300 per year, and collect and remit room tax, Planning Director Flinn Fagg said.
The proposed ordinance would have increased the license fee to $500 and imposed more regulations, such as a rule that the houses maintain a guest register like a hotel.
It also would have limited the number of occupants to 12 per night and mandated that guests park vehicles on site instead of the street.
But after hearing testimony, committee members said the ordinance didn't go far enough and called for an outright ban on short-term rentals.
"I don't think we should have short-term rentals in the city of Las Vegas," said Mayor Pro Tem Stavros Anthony. "I wouldn't want one of these next to my house."
The committee voted 3-0 against the bill and told staff members to investigate whether they can create an outright ban on short-term vacation rentals in residential areas.
Councilwoman Lois Tarkanian, who sponsored the ordinance, said she was fine with the committee voting it down if it meant an even more restrictive policy were drawn.
Tarkanian said she's been pushing to ban party houses for years and the existing regulations were the result of a compromise she says didn't work to resolve complaints from people like Flick and Dixon.
"I'm very glad," Tarkanian said. "What this shows is the tenor of the council has moved in the last four years."
While council members cited a Clark County ordinance that bans short-term residential rentals of less than 31 days as an example to follow, it's uncertain that would solve the problem.
The website Airbnb, which people use to market vacation rentals, shows more than 450 listings in the Las Vegas area.
The abundance of listings shows many people with property are willing to rent it out with the hope of, in some cases, fetching hundreds of dollars per night.
Tarkanian said an outright ban, despite the numerous listings online, might be easier to enforce than increased regulations. But it could be awhile before any new rules or a ban is in place. City officials still need to come up with a new proposed ordinance and shepherd it through the process, which could take months.
"There has been no way we have been able to control the use of party houses," Tarkanian said. "If they are not operating at all, we have better control over them."
Contact reporter Benjamin Spillman at bspillman@reviewjournal.com and follow him on Twitter at @BenSpillman702