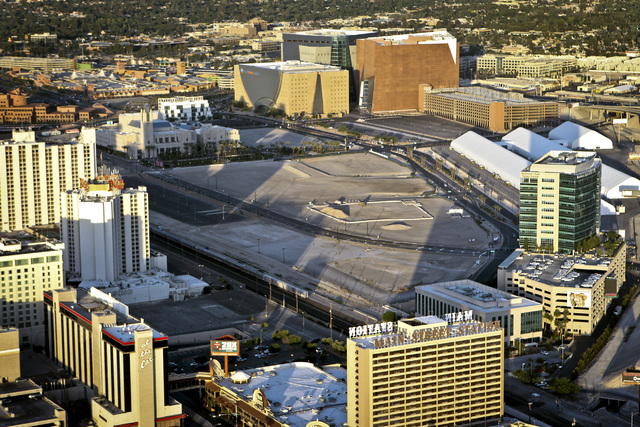 Las Vegas leaders didn't get a downtown soccer stadium, but they will get the parking garage.
A divided City Council on Wednesday approved plans for a tourism improvement district to pay for the garage, which was once meant to support an even more controversial $200 million, 24,000-seat stadium.
The city plans to float $25 million in Sales Tax Anticipation Revenue bonds to build the 1,200-space garage just west of The Smith Center for the Performing Arts on 61 acres of former Union Pacific railroad yard in Symphony Park. It plans to pay off those obligations largely through sales taxes collected at Las Vegas Premium Outlets North — a nearby outlet mall expansion expected to open in mid-May.
Several long-planned Symphony Park retail developments are expected to contribute about one-third of the district's annual tax revenue. Estimates of districtwide tax collections range as high as $66 million over the next four years.
Nevada Tourism Commission members in March determined that purchases made by tourists, not Las Vegas locals, would account for most of those dollars.
That decision was opposed by one tourism board member, two City Council members and all seven Clark County commissioners, who say building the garage — which will be partially funded by the diversion of $1.5 million in county sales tax revenue collected within the district — will hurt their ability to fund crucial county services.
The tourism panel based its decision on a city-commissioned study that projects Symphony Park will see the completion of three casinos, 1,800 residential units and 257,000 square feet of retail space by the start of 2016 — growth projections some City Council members have called "absurd."
Council members Stavros Anthony and Bob Beers, longtime opponents of the garage project, voted against the district's creation Wednesday.
Other parking garage critics said that Las Vegas has long agreed to offer 1,200 parking spaces to The Smith Center for the Performing Arts, one of only two developments that have materialized in Symphony Park since it opened for business in 2005.
They feel that the county and the state — which both stand to lose out on sales tax dollars siphoned off by Las Vegas' new tourism district — should not be subsidizing a garage to benefit a tenant in the city-owned park.
Project defenders have also highlighted the Smith Center deal, though mostly to emphasize the potentially substantial need for additional parking in the area, should Symphony Park grow as projected.
City Manager Betsy Fretwell hopes the garage will provide the final push some park developers need to break ground on their parcels.
Fretwell said the developers of a 400-room boutique hotel and casino and a 265,000-square-foot mixed-use senior living complex have to break ground on their park parcels by June to keep their exclusive negotiating rights in the park. She said California-based Newland Communities is supposed to start work on its long-planned condos by 2017.
Fretwell wasn't aware of any other suitors for those parcels should existing developers fail to perform, though she didn't seem overly concerned about that possibility.
"You're going to have to have parking there: It's not like those parcels are going to remain vacant forever," she said. "There's a series of dominoes that are beginning to move."
Fretwell added the city could use any excess proceeds from parking garage bonds on roads or sewer drainage improvements to help further encourage Symphony Park development.
"If we can make some of those things happen a little bit faster by providing a parking garage — or better infrastructure, better access — then all the better."
Contact James DeHaven at jdehaven@reviewjournal.com or 702-477-3839. Find him on Twitter: @JamesDeHaven