Las Vegas council OKs rules for medical marijuana dispensaries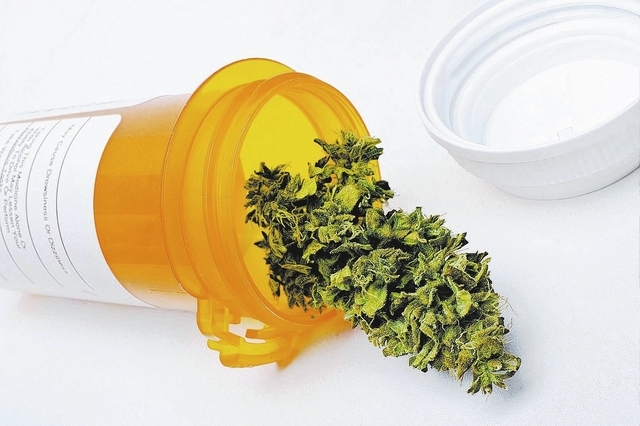 Licensing regulations for medical marijuana establishments were determined Wednesday by the Las Vegas City Council.
Most of the licensing ordinance had been tweaked already and approved by most of the council, but there were eight issues still hanging, and it took the council five hours to decide them.
Among the decisions:
■ Hours of dispensary sales will be 6 a.m. to 10 p.m. as the county allows. The council turned down allowing some dispensaries to remain open for 24 hours with a special use permit.
■ Strict restrictions limiting advertising were eliminated from the ordinance, and instead the advertising plan will be approved by the business license director with the understanding advertising will not be aimed at minors. The state must approve any advertising plan.
■ If a shortage of medical marijuana products exists in Clark County, the products can be obtained anywhere within Nevada. The original language said the products must be produced in the county.
■ Home delivery to Nevadans with medical marijuana cards will be allowed. Delivery to card holders staying at hotels will not be allowed. Originally, no deliveries would have been permitted.
■ Medical marijuana licenses will be reviewed by the council every two years.
■ The idea of funding research grants for drug resistance education and research was dropped, but a portion of the business license fee was increased 1 percentage point. A gross revenue fee of 4 percent from cultivation will increase to 5 percent and a 6 percent fee for cultivation, production and dispensary will increase to 7 percent.
■ Negative language about medical marijuana use was left in the preamble.
■ A required $500,000 surety bond was cut to $250,000.
The entire bill was approved unanimously with many sections taken from state regulations and already approved county regulations.
Public speakers complained the licensing requirements and fees will drive patients away from legal dispensaries and into the arms of street dealers.
Since the first version of the ordinance, fees were cut by 60 percent in reaction to previous complaints. City Manager Betsy Fretwell said the staff started with "the most conservative bill we possibly could as far as fees."
Annual fees for licenses would be $75,000 for a dispensary, $10,000 for a lab and $25,000 for an edible products facility. A cultivation facility starts at $20,000 for the first 5,000 square feet and $10,000 for every additional 5,000 square feet of cultivation space.
Asked for specifics about how the program will affect the city's budget, Fretwell said, "You're going to make big decisions today that will define the program … but at this point it's a lot of supposition. It's too early to project staffing impact, and it's premature to estimate how much it's going to cost and how much it's going to generate."
Contact Jane Ann Morrison at jmorrison@reviewjournal.com or 702-383-0275.