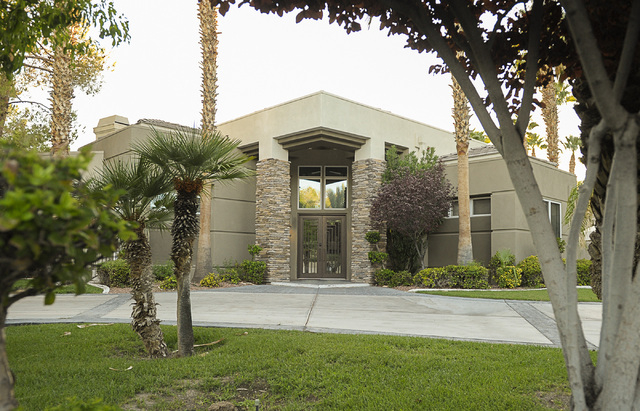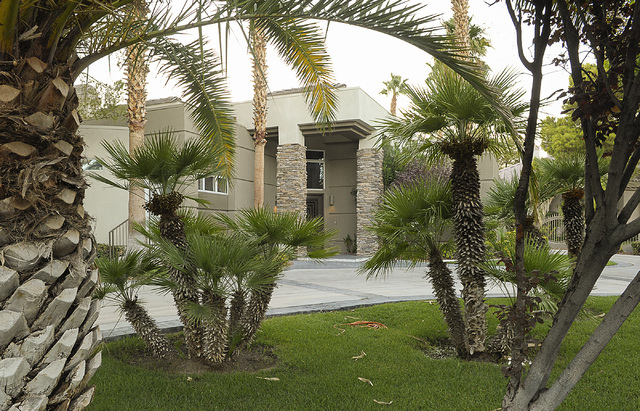 Anne and Nigel Burton live on Lopez Island in Washington state. It's a serene and breathtakingly beautiful spot in the San Juan Islands that's accessible only by ferry. People living there seek a peaceful existence.
Yet each Burton bought a luxury home, one in Las Vegas and one in Henderson, and turned them into party homes that often bring in raucous party-goers who drive neighbors bonkers.
Anne Burton bought 3003 Regency Hill in Henderson in September 2010. In April 2011, Henderson officials told her to quit renting it out as a party house. Yet it took more than a year for the officials to fix the problem.
Nigel Burton bought 616 Campbell Drive in Las Vegas on April 19, 2011, paying $600,000. It was about the same time Anne Burton was being warned she was violating Henderson ordinances.
His party house sparked the latest effort to crack down on people who buy homes in residential areas and rent them out for less than 30 days.
Both of them used property manager and broker Peter Anello to handle the rentals.
None of them responded to requests for comment.
What occurred at their two party houses has renewed a debate over how to handle homeowners and property managers who rent out homes to a steady stream of short-term renters, some considerate, others not.
Las Vegas City Councilwoman Lois Tarkanian is leading the effort to require that short-term vacation rentals, as they are known, be both licensed and have a special use permit within city limits.
There is pushback from businesses that rent out those houses. They've hired attorney Jay Brown to try and weaken the ordinance by removing the need for a special use permit for houses with more than four bedrooms. The councilwoman said their objections are that such a permit would be costly and would require notification of neighbors.
Tarkanian is proposing another ordinance that would penalize unruly gatherings, including party houses. It would make it a misdemeanor for eight or more people to create an "unruly gathering" in a neighborhood.
Both proposed ordinances will be discussed at 10 a.m. today by the council's recommending committee in the clerk's office on the second floor of City Hall.
Tarkanian said the objections by Brown's clients seemed to be from concerns that the county might change its ordinances and make them tougher. "We might set a precedent," she said.
That seems doubtful.
OTHER JURISDICTIONS
In Henderson and Clark County, short-term rentals for less than 30 days are flat out banned from residential neighborhoods. But saying party houses won't be allowed and actually getting them out of residential neighborhoods are not the same thing.
Anne Burton's example in Henderson is a classic case of how difficult the codes are to enforce.
On April 5, 2011, Eddie Dichter, chief planner for the city of Henderson, wrote a letter warning that if the residence was being used as a short-term rental for 30 days or less, it violated the code.
That was followed by a June 6, 2011, notice of violation signed by Stephanie Gracia-Vause, director of community development, advising that a violation could be a misdemeanor and that the owner is liable for any code violations.
Anne Burton created a corporation, Kirrin LLC, which bought the home on April 29, 2011, according to county records.
Then she kept renting it out, according to irate neighbors who kept records of the comings and goings, begging Henderson officials to do something.
The final solution: She sold the house in 2013 for $850,000.
Problem solved.
There's some dispute over how long it took Henderson officials to act despite repeated prodding by neighbor Joe Johnson.
City spokeswoman Kim Becker said she checked with the city's code enforcement division. "They received the case on March 8, 2012, and it was resolved by judicial process on October 11, 2012. Code Enforcement was not subpoenaed due to negotiations between the party's attorney and the City Attorney's office."
According to code enforcement officials, it was a seven-month process.
According to their own letters to Anne Burton, it was far longer.
COMPLAINT FILED
Johnson said he lived with the party house problem at least 18 months. "The city (code enforcement officials) weren't very responsive until I spoke to the mayor," he said Wednesday. He laughed, saying he should have had a clue when he first met Nigel Burton and saw nine mattresses in the garage of the nine-bedroom home.
Johnson hired attorney John Marchiano and brought the problem to the attention of Mayor Andy Hafen and Councilman John Marz. Eventually Johnson hired a private investigator to get evidence the city could use.
He complained to city officials and the Green Valley Country Club Estates Homeowners Association but said the HOA was "powerless." The HOA tried to fine Anne Burton, but she had put the home under the name of the LLC, blocking the HOA action.
Johnson took more than 500 photos to provide evidence to city officials that 3003 Regency Hill was a prohibited short-term rental in clear violation of Henderson's code.
Anello, the property manager who handled both homes, paid a fine to the Nevada Real Estate Division because he had coached the renters of the Henderson home what to say if code enforcement came to the door. He is still licensed despite advising people to deceive regulatory officials about the length of the lease. Since 2005, Anello has resolved four administrative cases by paying fines.
In a Dec. 21, 2011, email to a renter, Anello wrote that to avoid a fine if a code enforcement office comes to the door, "You cannot say 'I'm renting for the weekend' or 'I'm here for a couple of days.' You and the owner will be fined up to 1K per day if you say any of the above responses or anything about staying less than a 31-day period."
He advised them to tell code enforcement officials the lease agreement is for 31 days. But he said that didn't mean they had to stay 31 days.
In his weekly reports to Dichter, Johnson told of buses with 20 or more people pulling up to the house and steady streams of limos and taxis delivering people weekend after weekend.
In an email dated May 2, 2012, Dichter told Johnson to email him if he sees renters, and the planner said he had code enforcement ready to go. This was a year after Dichter advised Anne Burton to cease operating a short-term vacation rental.
Finally, on May 14, 2012, code officials gave a notice of violation to Kirrin LLC explaining that short-term rentals were only allowed in a tourist commercial zone.
Henderson officials said they were unable to say what happened, if anything, to Anne Burton or Anello in time for this story.
BIG PROBLEM OR NOT?
Clark County Commission Chairman Steve Sisolak said the county considered an ordinance dealing specifically with party houses but decided to stick with the ordinance banning short-term vacation rental homes in residential neighborhoods.
The county bans "transient commercial use of residential development" and defines commercial use to include bed and breakfast, hostel, hotel, inn, lodging, motel, resort or other transient lodging used for 30 days or less.
Sisolak's advice to people living near homes which weekend after weekend are rented to raucous party types is simple: "Notify your commissioner or code enforcement."
He recognizes it's difficult to enforce because when the party house is rented for long weekends, the renters are gone by the time code enforcement arrives.
The county receives only a few complaints about the actual party houses operating in neighborhoods, he said. "It's hard to get a grip on them because they use an underground Internet to find the houses," Sisolak said."It's a huge problem if they're next door to you, then it's terrible if you are listening to pool parties and loud music and DJs."
In 2012, Sisolak took the lead in fining a homeowner $29,000, or $1,000 a day, because the owner told county code officials he'd stop renting the home for less than 30 days, but then his son continued to rent it out.
The owner sold the home, solving the problem.
Just like Anne Burton's Henderson home.
Neighbors of Nigel Burton hope he will sell the nine-bedroom home at 616 Campbell Drive, currently advertised for rent on hotpads.com for $15,000 a month.
"That would take care of it," said Jewel Dixon, who has endured the party house for more than three years.
He said repeated calls to police and city officials achieve nothing. Nor does he have faith that Tarkanian's suggested solution will make any difference.
Contact Jane Ann Morrison at jmorrison@reviewjournal.com or 702-383-0275. Find her on Twitter: @janeannmorrison.