Las Vegas embraces niche marketing for same-sex marriage
October 12, 2015 - 5:17 am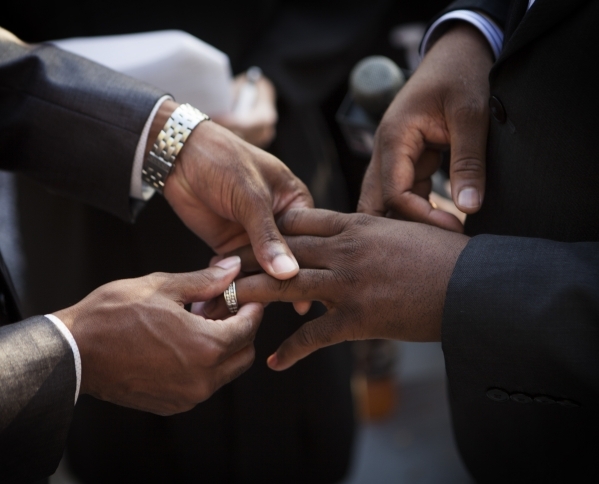 Goodbye, bridal room.
Inside the wedding chapel at the Luxor, it's now referred to as the "pamper room." Gender-neutral paperwork and alternatives to the traditional bouquet and boutonniere accommodate same-sex couples ready to tie the knot.
The number of couples choosing to say "I do" at the resort is up about 10 percent this year, an increase the staff attributes to same-sex weddings, according to MGM Resorts.
The influx of same-sex marriages comes at a time when the marriage rate is declining nationally and number of marriages in Clark County are at their lowest levels in decades. So far, however, the impact has been modest, with same-sex marriages accounting for 4 percent to 6 percent of the total licenses issued since same-sex marriage became legal last year on Oct. 9.
"Ten years ago that four to six percent didn't exist, so that's new business," said David Paisley of Community Marketing Inc., a research firm specializing in lesbian, gay, bisexual and transgender consumers.
In Hawaii, same-sex couples make up 10.5 percent of marriages since the state recognized them in December 2013. Similarly, in Chicago's Cook County, same-sex couples accounted for 13.7 percent of marriages during the first 12 months after the law changed there in February 2014.
So why hasn't there been a larger share of same-sex marriages in Clark County, which issues about 80,000 licenses a year, more than any other county or destination in the U.S.?
Experts say Nevada missed the initial surge because it legalized same-sex marriages months after other states did.
So far, Clark County has issued about 3,700 marriage licenses to same-sex couples, followed by Washoe County with more than 300 and Carson City at about 30.
A study by The Williams Institute at the UCLA School of Law projected $23 million to $52 million in revenue for the wedding and tourism industry if half of Nevada's estimated number of same-sex couples wed in the first three years — about 1,530 to 3,570 based on decennial census figures.
Nevada couples have accounted for about 1,250, or 34 percent, of the marriage licenses issued to same-sex couples by the Clark County clerk's office.
At least 2,038 Nevada couples already had domestic partnerships that gave them all the rights and benefits of marriage, said Christy Mallory, senior counsel for The Williams Institute. Those partnerships can be converted to marriages, but that doesn't mean a wedding will be held.
"It's likely that some couples already celebrated their domestic partnerships and then won't celebrate again to recognize the marriage," said Mallory.
A Nevada wedding for 121 to 131 guests cost about $27,688 last year, according to The Wedding Report.
The institute did not calculate how much legalization might impact wedding and tourism revenue from same-sex couples who come to Clark County to get married. There were just too many variables at play. When the report was released last summer, the U.S. Supreme Court was still considering whether all states should be required to allow same-sex couples to marry, said Mallory. The high court's eventual ruling in favor of same-sex marriage makes it more likely that couples will choose to get married close to home than travel out of state.
Same-sex wedding capital
Las Vegas already ranks third behind New York City and San Francisco as the most popular travel destination among LGBT baby boomers, Gen-Xers and millennials, according to the most recent findings by Community Marketing Inc.
That could be good news for the valley's wedding industry.
We have a greater propensity to want to travel for destination weddings," said Paisley. "Gay and lesbian people are quite mobile and tend not to grow up in the same communities … and tend not to get married in the same communities, making them open to travel."
But what worked for opposite-sex couples might not work for same-sex couples. Experts say that same-sex marriages are a niche market.
Las Vegas-based wedding expo organizer Charlie Polston of Pride's Alive said he screens the businesses featured at his events — do they already have experience with the LGBT market, are their forms gender neutral, are they careful to avoid verbal gaffes like telling a lesbian couple, "Hey guys, come here."
The problem, he said, is that there are businesses out there that aren't educated about LGBT clients that are trying to make a buck without having the community's best interest in mind.
"They're grasping at straws," he said, and there are customers willing to be those straws, setting themselves up for a bad experience, he said.
Marketing to LGBT consumers
The Las Vegas Convention and Visitors Authority has been marketing to lesbian, gay, bisexual, and transgender consumers with an advertising budget of $1.6 million for this fiscal year, said Courtney Fitzgerald, brand public relations manager.
Weddings fall under the LVCVA's leisure sales team, which works with travel agents directly to connect potential visitors with a range of services, from referring them to hotels with in-house wedding planners to helping them select a site, said Fitzgerald.
Although there's no specific budget for LGBT marriages, that could change in the near future.
The cost of marriage licenses in Clark County increased to $77 in August, and $14 from every license goes into a special fund for wedding marketing, said County Clerk Lynn Goya.
Based on current numbers, as much as $1 million a year could be set aside for wedding tourism marketing, of which the LGBT market is a small but important niche, she said.
"They're one of the groups that we're going to target," said Goya. "We still are the wedding capital of the world, and we'd like to be the LGBT wedding capital of the world as well."
As for how the marketing money might be spent, Goya said ideas include an online directory of Las Vegas wedding business providers, as well as media outreach, web advertising with a social media campaign and finding new ways to help the industry promote itself.
The clerk's office will partner with the LVCVA, the Nevada Commission on Tourism, and the local wedding industry. It's too early to say what the structure will look like, Goya said. "We've been meeting and working hard to establish a working relationship that will best use all of our resources. The framework is beginning to jell."
"I think it's going to be a great partnership, but right now we're feeling our way as to how it will all play out," said Goya. "Everybody's excited about it, and we want to move forward with the part we can each play."
Review-Journal writers Wesley Juhl, Michael Lyle and Rick Velotta contributed to this report. Contact Adelaide Chen at achen@reviewjournal.com or 702-383-0281.