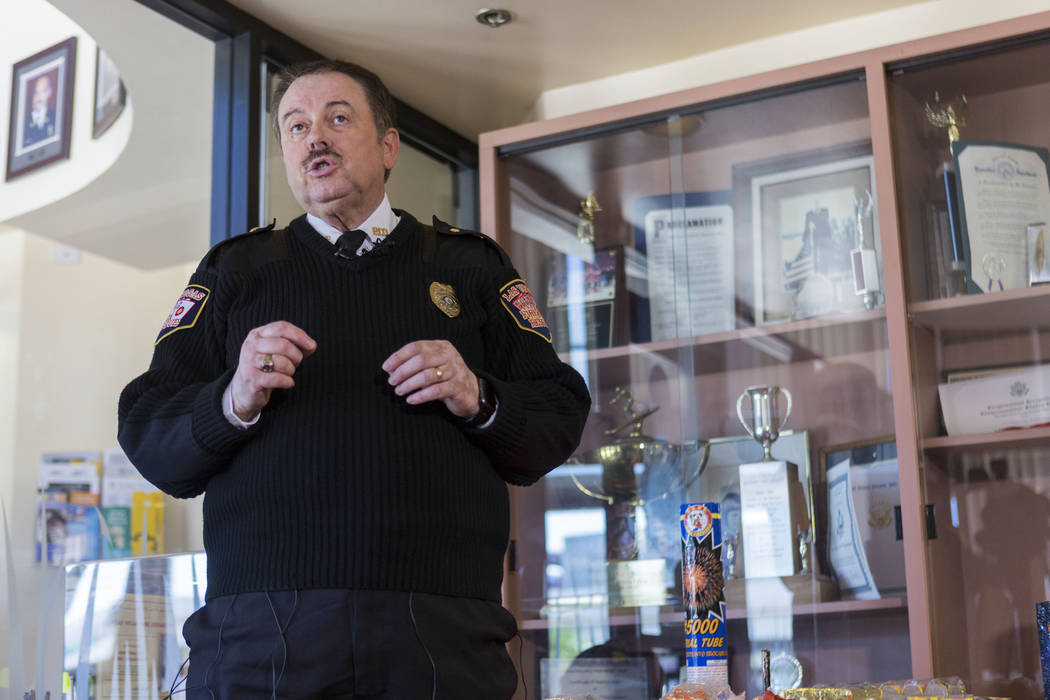 At 11:20 p.m. on the Fourth of July last year, the Las Vegas Fire Department was called to a northwest neighborhood.
Residents had pooled illegal fireworks together and set them off for a grand finale. But the explosion set trees on fire and damaged a house, where one of the rockets flew into a little girl's back. She was hospitalized for two months.
"Fireworks are not worth it," department spokesman Tim Szymanski said. "You could have taken a snowplow through all the residue on the ground."
At a news conference Tuesday, Szymanski stressed the importance of staying safe while having fun on the Fourth of July.
From Wednesday until 11:59 p.m. on July 4, the city-approved "safe and sane" fireworks will be legal to purchase at about 100 booths around the valley. They are legal to be set off only on July 4.
In the last four years, Las Vegas has had no serious building fires during the holiday, Szymanski said. But there were more injuries last year than he remembers in his 21 years at the department.
The "safe and sane" fireworks have been tested in front of and approved by all the fire departments in Southern Nevada, Szymanski said. The fireworks that are sold outside the valley are illegal. That means the ones that "swirl on the ground uncontrollably, explode or fly through the air," he said, "you have no control over those."
Illegal or not, all fireworks should be lit on a flat surface, driveway or in a lot, Szymanski stressed. Though fireworks on sidewalks and streets are technically illegal, he said, they should be cleaned up after use.
Dragging out a blue bucket and a large shovel from behind a table of fireworks, Szymanski explained how used fireworks should be picked up and soaked in water for at least an hour, whether they went off or not.
"And overwater your plants — plants that are green will not burn — so the yard doesn't catch on fire," Szymanski said. "Your best offense is your defense."
Contact Briana Erickson at berickson@reviewjournal.com or 702-387-5244. Follow @brianarerick on Twitter.
Fourth of July safety tips:
— Fireworks should be used on a flat, firm surface such as the ground or a driveway. They are illegal on the street and sidewalk.
— Stay away from bushes, grasses and trees or anything else that might catch fire. Stay away from vehicles.
— Have a bucket of water and/or garden hose available for use in case of fire.
— There should be a responsible adult present when fireworks are being used.
— After fireworks are used, they should be picked up with a shovel and dropped into a bucket of water for several hours before being discarded.
— "Duds," or fireworks that did not go off, should also be soaked in water.
— If a fire does start, use a garden hose or bucket of water on it. Someone should call 911.
— Fireworks are not permitted on federal property, parks, recreational areas, school district or city property.
— Keep pets inside for the evening.
Source: Las Vegas Fire Department
500 N. Casino Center Blvd. Las Vegas, NV 89101