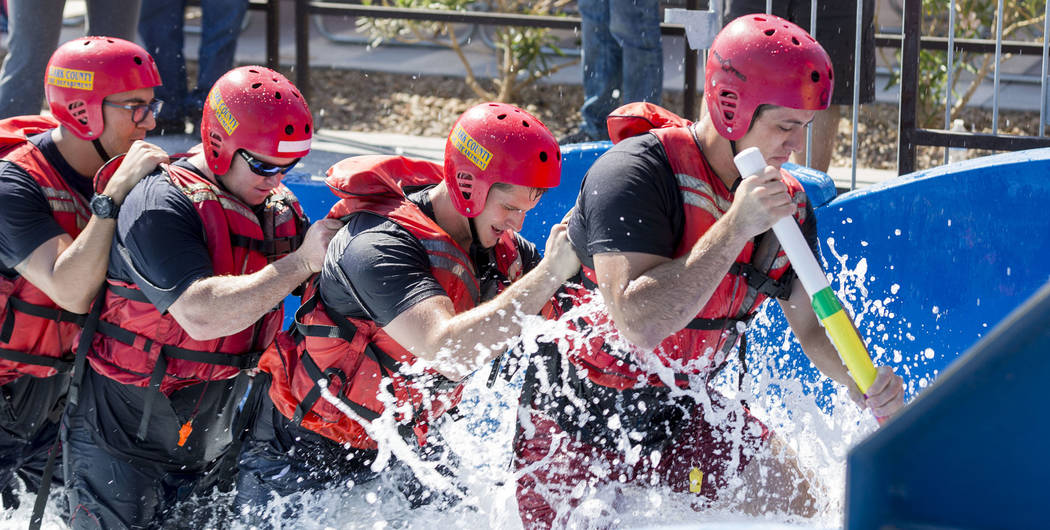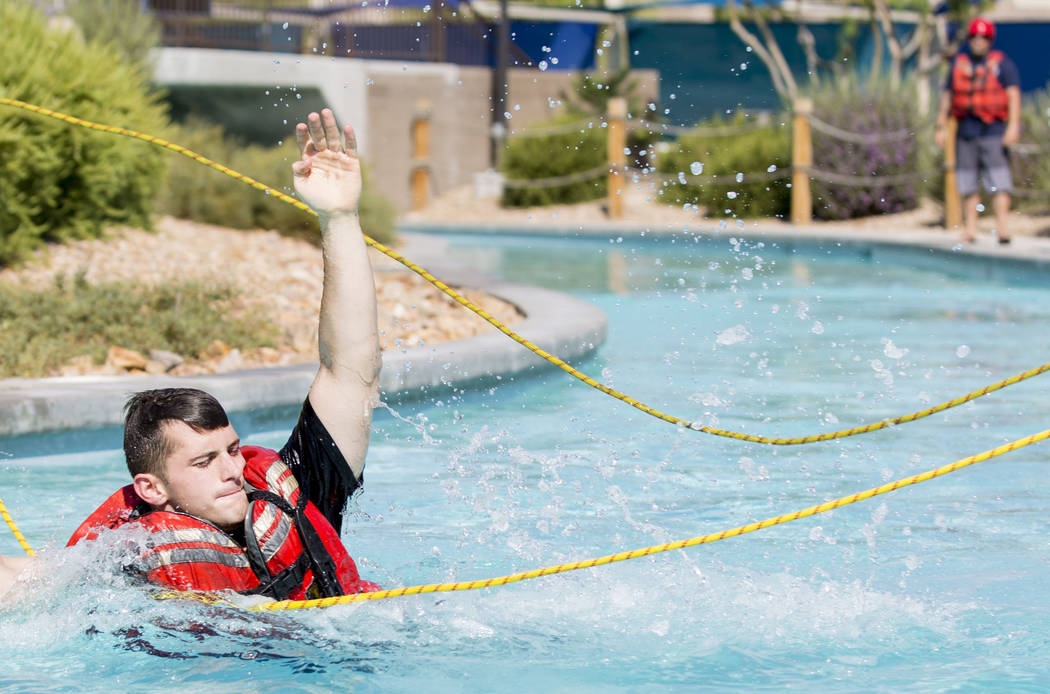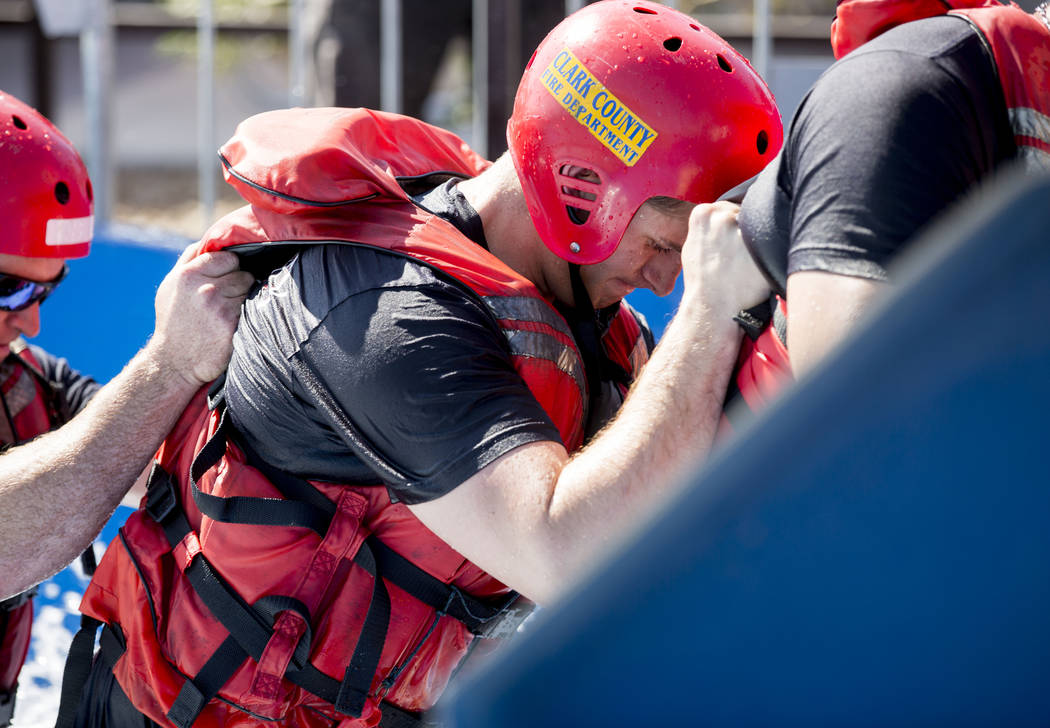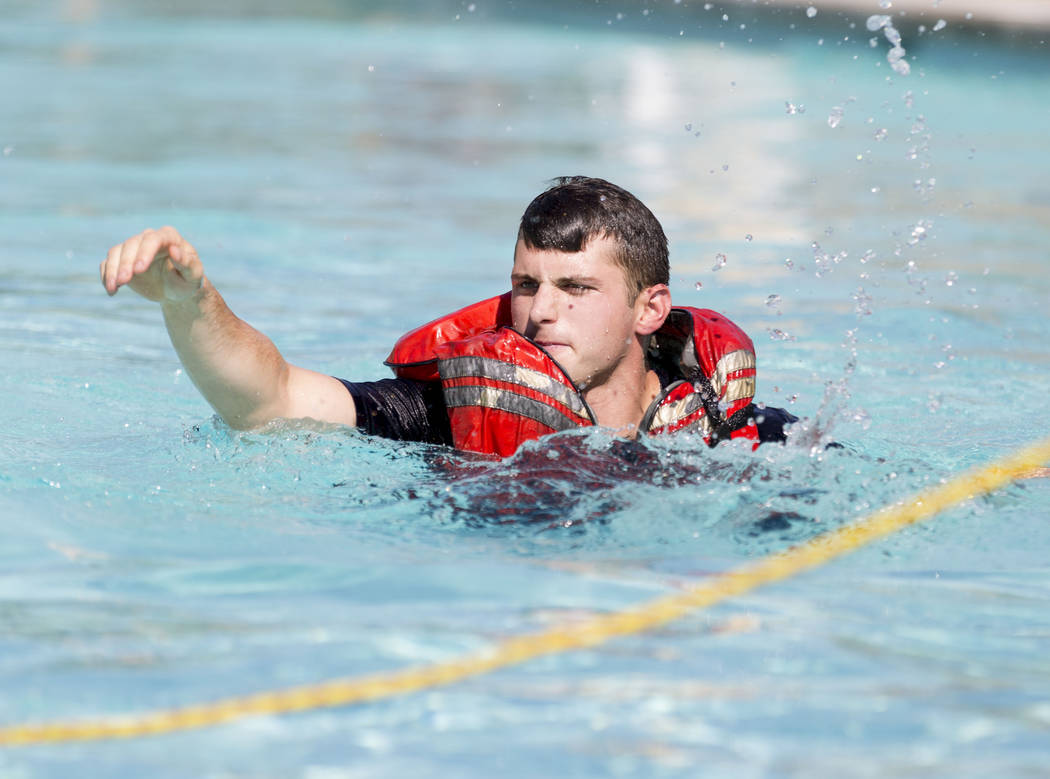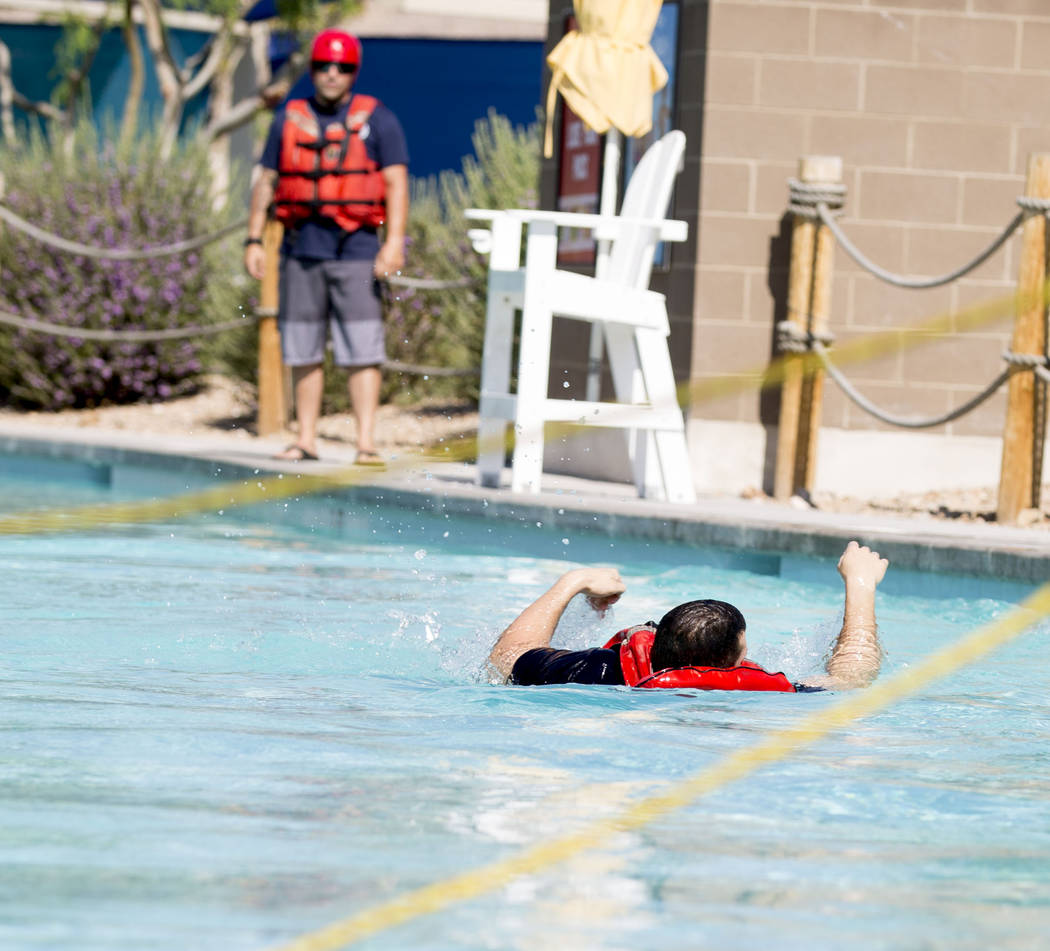 Firefighters yelled "reach for the rope! Reach for the rope!" at a fellow rescuer swimming down the lazy river at Wet'n'Wild Las Vegas Wednesday morning, demonstrating how they save people swept up in a flash flood's current.
The demonstration was part of a Clark County Regional Flood Control District news conference Wednesday, where county officials stressed the importance of steering clear of flood zones during a heavy rain.
"Flash floods are the No. 1 thunderstorm-related hazard in terms of fatalities," Dan Berc, warning coordination meteorologist for the National Weather Service, said at the event. "In the desert, it only takes a few minutes of heavy rain to start a flash flood."
People should avoid storm drains and channels during a flood, and should not drive, especially near a flood zone, said Clark Regional Flood Control District General Manager Steven Parrish.
Children playing in storm water and the homeless who take shelter in channels are at highest risk of drowning, said Clark County Fire Department EMS Coordinator Patrick Foley.
"You've got debris you're wrestling with. It's not like swimming in a pool," he said. "You're literally fighting for your life every second that you're in the water."
If a person is swept up in a storm current, rescuers use two ropes to create a lasso around the person's torso and pull them from the water, firefighters demonstrated Wednesday.
A team of four firefighters also created a diamond formation to walk against the current of the Wet'n'Wild tornado slide, a tactic to teach rescuers how to navigate a forceful current, Foley said.
Monsoon season usually begins in July and runs through September, Berc said.
The district reported two deaths last summer following a storm on June 30. Rescuers found one woman's body covered in debris in a wash near Mandalay Bay Road and Giles Street and rescued another, unresponsive person at the National Golf course, who later died.
There have been 32 flash flood deaths in Clark County since 1960, according to the flood control district. Last year, the county fire department received 56 flood rescue calls.
Contact Jessie Bekker at jbekker@reviewjournal.com or 702-380-4563. Follow @jessiebekks on Twitter.
For flood information, residents can:
— Follow @RegionalFlood on Twitter or visit their website at http://www.ccrfcd.org/
— Download the Flood Spot app