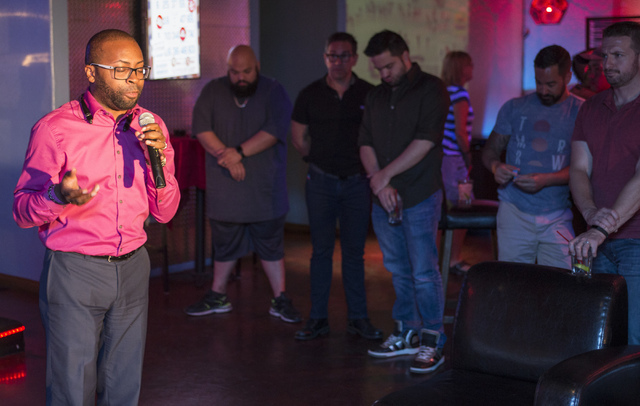 Wednesday nights are usually slow at the Phoenix Bar and Lounge, a gay bar on West Sahara Avenue near Arville Street.
But by 8 p.m. more than 50 people from the LGBT community, as well as many straight allies, had gathered there to raise money for the families of the Orlando, Florida, shooting victims. And the crowd was only expected to grow as the night went on.
The event at the Phoenix included live music, DJs and performances from drag queens across the valley. The bar collected donations, sold raffle tickets and contributed 25 percent of liquor sales to a GoFundMe account created for the victims' loved ones.
News that a lone gunman shot and killed 49 people and wounded 53 others early Sunday morning at an Orlando gay nightclub before he was fatally shot by police hit the LGBT community close to home — even though it occurred on the other side of the country.
On Wednesday, Las Vegas' lesbian, gay, bisexual and transgender community was still grieving. One reason why: The safety and comfort of gay bars make them sacred spaces in the LGBT community.
"I think there may be a perception that, because it happened in Orlando, it doesn't affect the community here," Gay and Lesbian Chamber of Commerce Nevada President Dina Proto said.
Proto said she usually prefers going to gay clubs with her now-wife because men at traditional nightclubs would harass them. And gay clubs also give LGBT people a place to figure out who they are.
"That process to come out to ourselves happens long before we come out to family and friends," she said. "I remember going to — it used to be on Harmon, it was called Girl Bar — and seeing the ladies and wondering if I fit in there."
She said it was even likely that many in the community had been to Pulse, the Orlando bar that was attacked during Latin night. LGBT people seek out those kinds of spaces when they travel, because they offer safety.
"We're a group of people that has that fear wherever we go. I think a lot of people don't realize that," Proto said.
Landon Heins, who co-owns the The Phoenix, said the tragedy in Orlando shocked the bar staff.
"We just figured this was the only way to directly help," he said.
Heins said the tragedy — the deadliest multiple-victim shooting in modern U.S. history — has spurred serious discussions among bar patrons. It also prompted one person to post a picture of a rocket launcher on the event's Facebook page with the message "cleanse the world."
"That was scary," he said. "We're all one human family. Not everyone can relate to being gay, but everyone can relate to wanting to live life and enjoy it."
Vigils for the Orlando victims have been held at the local LGBT center and at UNLV, and another is planned just before midnight Sunday at the "Welcome to Fabulous Las Vegas" sign on Las Vegas Boulevard South, according to social media posts. Attendees were asked to bring their own candles.
At 7 p.m. Monday, hundreds of people are expected to gather on the Strip in front of the Fashion Show mall for a march in solidarity with Orlando. Attendees are asked to wear white.
March organizer Jennifer McHugh said thousands expressed interest on social media the morning the event was announced.
"That really says something," she said.
Contact Wesley Juhl at wjuhl@reviewjournal.com and 702-383-0391. Find @WesJuhl on Twitter.