Las Vegas home sale prices jump up in January
February 10, 2015 - 8:01 am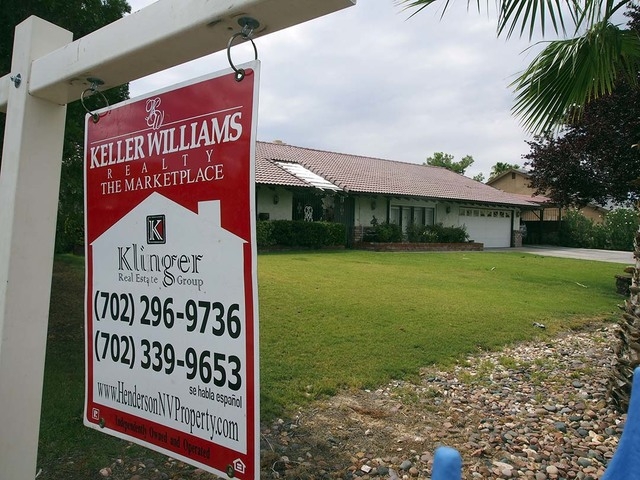 New numbers show that Southern Nevada's housing market began 2015 on solid footing.
Housing prices jumped in January even as the market slowed and fewer homes sold, the Greater Las Vegas Association of Realtors reported Monday.
The median price of single-family homes sold through the association's Multiple Listing Service was $200,000 in the month, up 8.1 percent from $185,000 in January 2014, the trade group said. The median among condos and townhomes was $105,000, up 10.5 percent compared with a year ago.
Single-family home prices dipped 2 percent from December, when the median was $204,000, while attached-home prices held steady month to month.
Association officials traced the monthly results to a seasonal drop in market activity.
"January is typically a time when we see local home prices and sales slow down, so this month's statistics are no surprise," association President Keith Lynam said. "What's more relevant to us is how we're doing compared to the same time a year ago. Compared to last year, home prices are still rising, just at a more gradual pace than they did in the past few years."
For all of 2014, the local median single-family home price rose by about 10 percent, or less than half of the roughly 24 percent gains of 2013 and 2012.
The median remains well below its 2006 peak of $315,000, but is nearly double a 2012 low of $118,000.
Realtors sold 2,239 existing local homes in January, down 12.7 percent from 2,565 closings in the same month of 2014, and off 18.1 percent from 2,734 sales in December. At that pace, Southern Nevada has about a four-month supply of available homes, compared with the six-month inventory of a balanced market, Lynam said.
There were 7,382 single-family homes listed without any offer at the end of January, down 5 percent compared with December, but up 12.9 percent from January 2014.
The January sales slowdown came on top of declines through all of 2014.
Realtors sold 36,550 properties through the Multiple Listing Service in 2014, for the lowest number of closings in six years, the association said. There were 41,477 sales in 2013, and a postrecession peak of 48,798 closings in 2011.
The association also continues to see fewer distressed sales — a trend that's lasted two years.
In January, 9.7 percent of local sales were short sales in which the lender let the borrower sell for less than what was owed on the mortgage. That was down from 17 percent in January 2014. Bank-owned closings made up 9.4 percent of the market, down from 11 percent a year earlier.
Short sales have fallen markedly in the last year partly because of the expiration of the Mortgage Forgiveness Debt Relief Act, which suspended rules that made forgiven loan amounts taxable income.
Cash purchases made up 36 percent of local property sales in January, compared with 46.8 percent a year ago and a 2013 high of 59.5 percent. Cash deals indicate investor activity.
Contact Jennifer Robison at jrobison@reviewjournal.com. Follow @J_Robison1 on Twitter.