Las Vegas lawyer Stephen Stubbs to plead guilty in court fraud case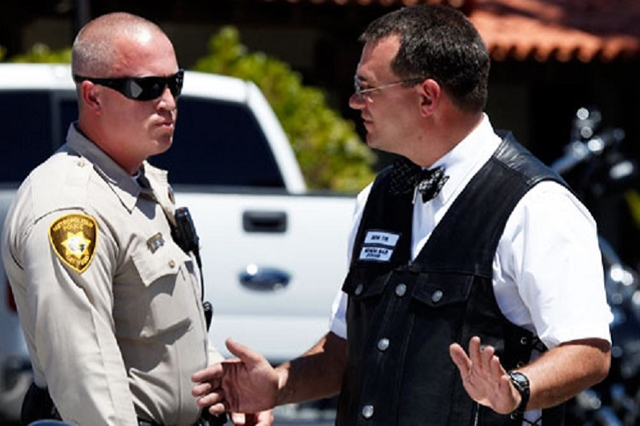 Defense lawyer Stephen Stubbs, charged in February in connection with submitting fraudulent guilty plea agreements involving clients in two separate courts, has agreed to plead guilty in the case.
Chief Deputy District attorney J. P. Raman said Stubbs agreed to plead guilty to a gross misdemeanor charge of unlawful notarization of signature by a notary public.
Felony charges of offering a false instrument for filing or record will be dismissed, according to both Raman and defense lawyer Damien Sheets.
Stubbs, who is a notary, admits misunderstanding the law regarding the notarization of signatures, Sheets said.
"Now he realizes that he made a mistake in the way that he applied the notarization," Sheets said. "There was no intent to mislead anybody."
Las Vegas Justice of the Peace Conrad Hafen set Aug. 10 for Stubbs to enter his guilty plea in District Court.
The charges stem from two drunken driving cases — one in Justice Court; one in Las Vegas Municipal Court — against one of Stubbs' clients, James L. Green. Green told the Las Vegas Review-Journal last year that the signature on the plea agreement filed in Justice Court was not his.
Stubbs was alleged to have unlawfully notarized the two "written entry of plea" agreements with Green's signature before filing them in 2013. Written guilty pleas are usually filed in court if the defendant lives out-of-state or is too ill to make a court appearance.
The investigation became public after detectives with the Criminal Intelligence Section of the Metropolitan Police Department raided Stubbs' Las Vegas and Boulder City offices on Oct. 29.
Stubbs attracted media attention in 2012 when he filed a civil rights lawsuit, alleging Southern Nevada law enforcement agencies were harassing motorcycle clubs. He detailed six encounters with authorities between June 2010 and September 2011 that he alleged violated the constitutional rights of the clubs.
Stubbs subsequently has had several other local court battles with police.
Contact Jeff German at jgerman@reviewjournal.com or 702-380-8135. Follow @JGermanRJ on Twitter.