Las Vegas man believes flu shot triggered rare disorder
November 28, 2018 - 7:00 pm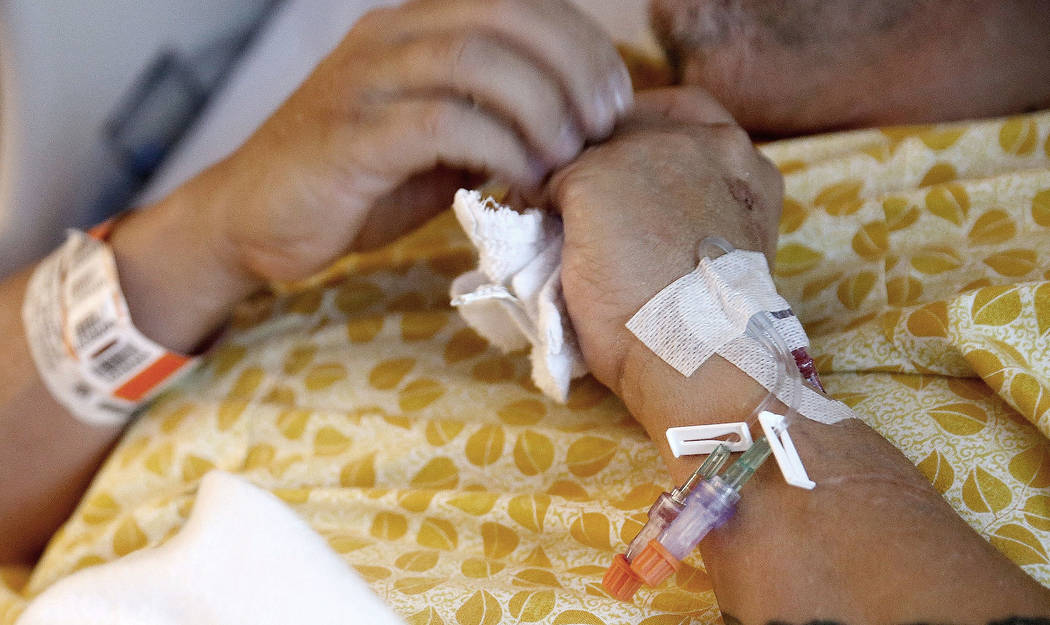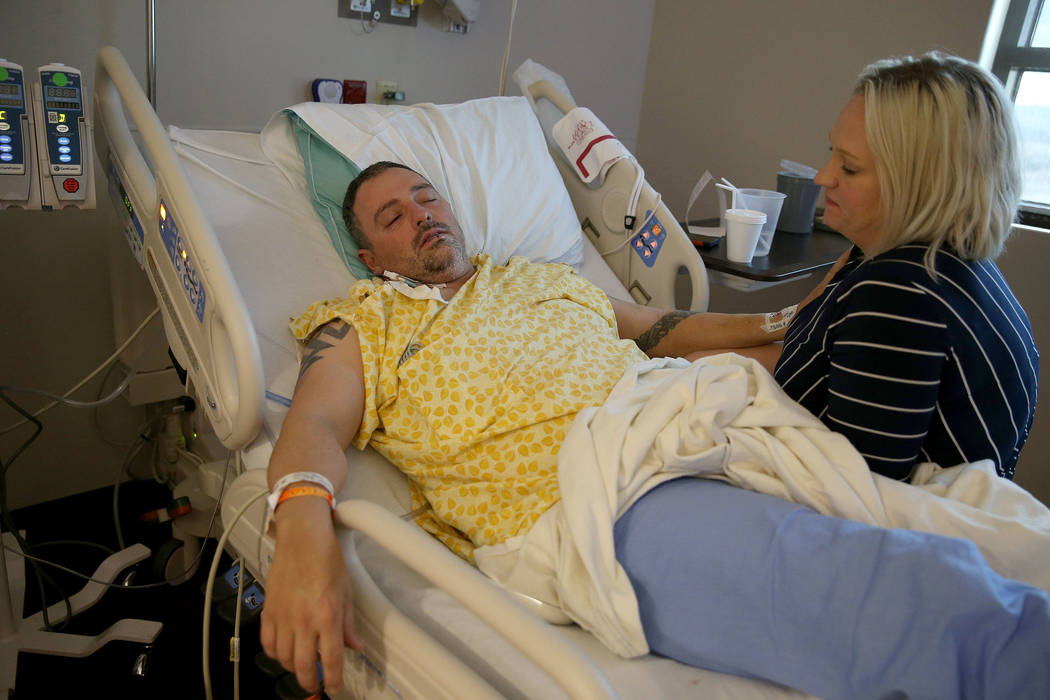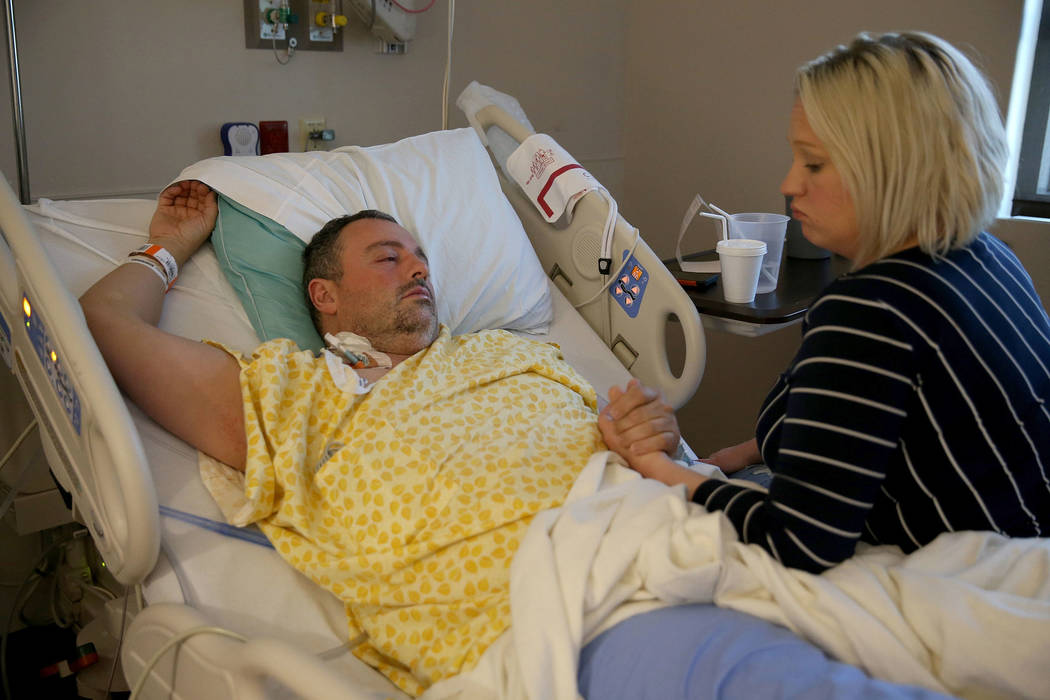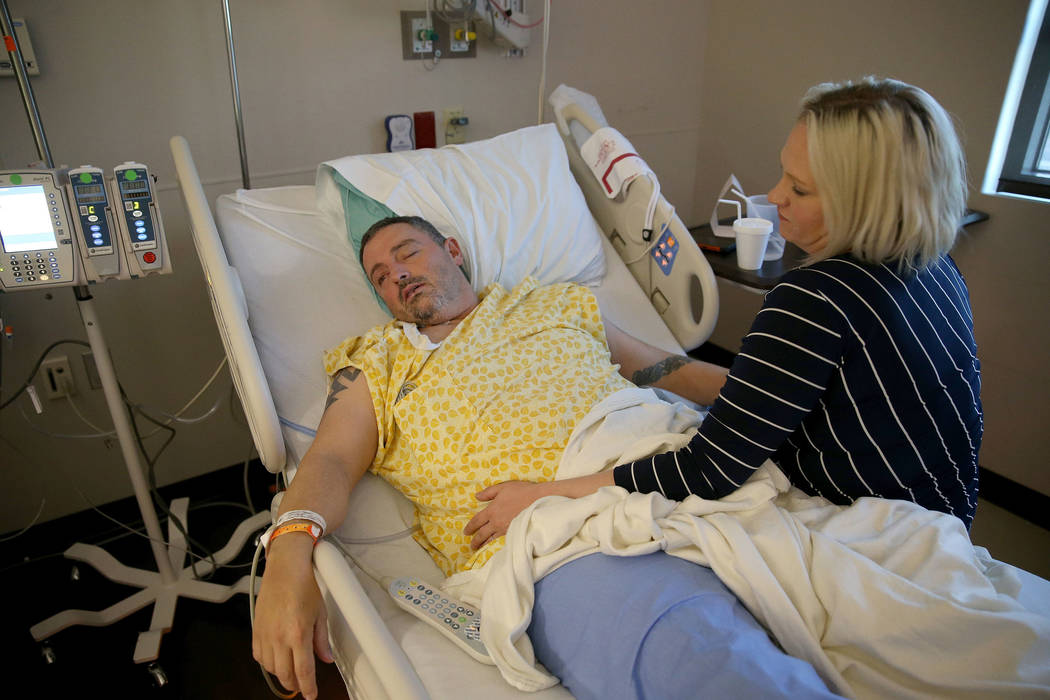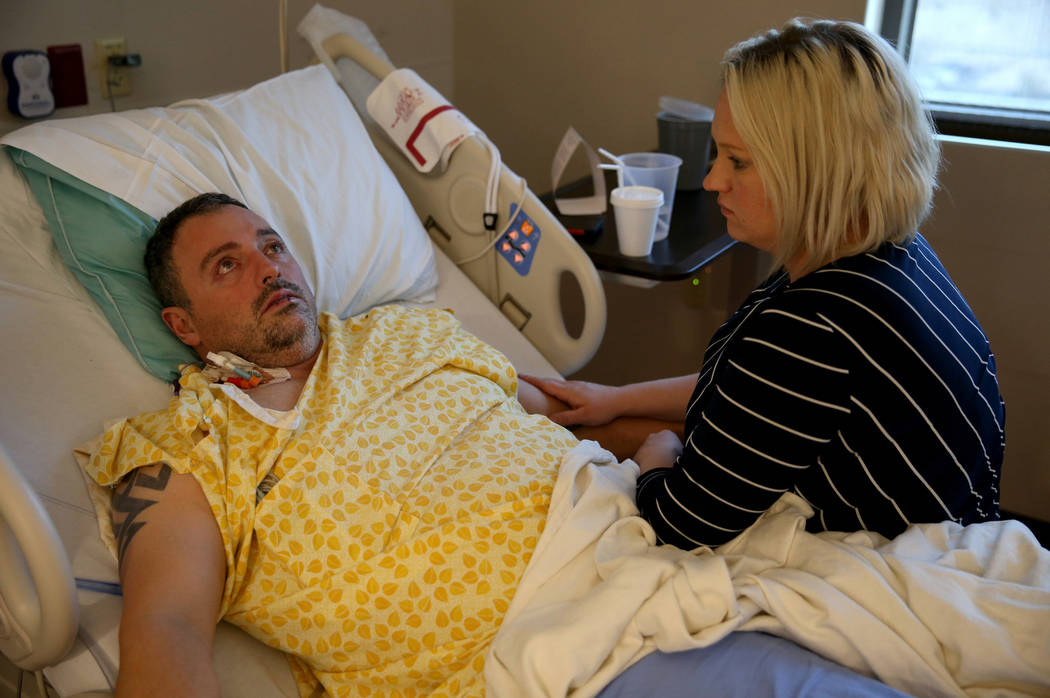 Monique Morgan's brow was furrowed with stress as she held her husband's hand at his bedside in a fourth floor hospital room Wednesday.
At 46, Shane Morgan can't walk. His left eye is paralyzed and shut. Tubes protrude from his neck.
Still, this is an improvement.
Just two weeks ago, Shane, who works for a construction company, was sedated and intubated, unable to breathe on his own.
"I don't remember a whole lot after that," said Shane, who, despite a diagnosis of Guillain-Barre syndrome, can now move his arms and legs and talk, though with a slight slur.
He may have months of recovery left from the rare disease, in which a person's nerves are attacked by the immune system, causing paralysis and, in extreme cases, death.
The cause of the disease that affects one or two in a million isn't known, according to the Centers for Disease Control and Prevention. But the disease can creep up after a bout of diarrhea, a respiratory infection or an infection from Campylobacter jejuni bacteria.
In rare cases, people come down with Guillain-Barre after having the flu or getting a flu shot, though the CDC can't show a causal effect.
Still, the Morgans are sure a flu shot was the culprit in Shane's case.
A slow recovery
On Nov. 2, Shane and Monique, 31, who live in North Las Vegas and are new parents to 8-month-old Briar, got their flu shots. They were planning to see Shane's 23-year-old daughter, Sidnee Nutter, and her 4-month-old, and Nutter requested the whole family get vaccinated to protect her infant.
They typically didn't get vaccinated, but they happily obliged.
"The only reason I took this was because I didn't want to lie to my daughter," Shane said.
In the days that followed, Shane fell ill. He was weak and achy; he had a fever and a sore throat.
By Nov. 14, he asked his wife to take him to the hospital.
"That's when we really started getting worried," Monique said. His arms and legs were going numb.
Tests hinted Shane may have Guillain-Barre syndrome, so doctors started him on immunoglobulin therapy and plasmapheresis. He's slowly recovering, though not without emotional and physical pain.
Through tears, Shane expressed the guilt he felt not being able to go to work to provide for his family, and for causing his relatives stress while he recovered.
But Monique reassured him that his only job right now was to get well.
"He is (planning) 10 miles down the road, and I'm just sitting there with the door open," she said.
A rare condition
Guillain-Barre is most common in people over 50, and occurs in about 3,000 to 6,000 Americans annually, according to the CDC.
While adverse reactions to the flu vaccine happen, it's still considered the standard to protect against the flu, which can be dangerous and deadly, said Dr. Fermin Leguen with the Southern Nevada Health District.
"The likelihood of people developing Guillain-Barre after the flu shot are very small compared to the risks of developing the flu itself," Leguen said. "Events like this are unfortunate … but it's a very rare condition."
Still, the Morgans won't take the risk again. They'll consider other vaccinations for their infant — just not the flu shot.
"People don't change their opinions and see things until it happens close to home," Monique said.
Contact Jessie Bekker at jbekker@reviewjournal.com or 702-380-4563. Follow @jessiebekks on Twitter.
Fundraiser
A GoFundMe campaign has been set up to raise money for the Morgan family's medical expenses. As of Wednesday night, the family had reached about $2,880 of its $10,000 goal. To donate, visit gofundme.com/ge4hj-help-the-morgan-family.