Las Vegas man collects Medal of Freedom for late mother, Elouise Cobell
November 26, 2016 - 12:55 pm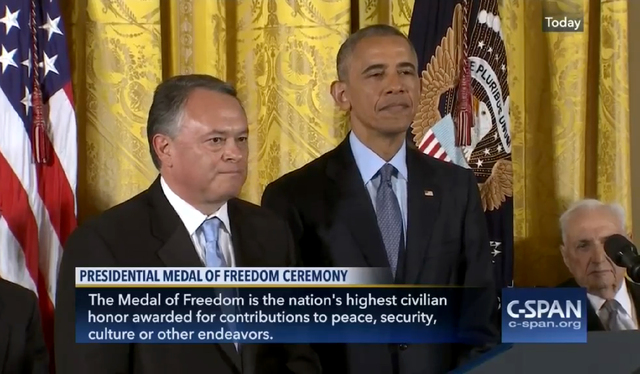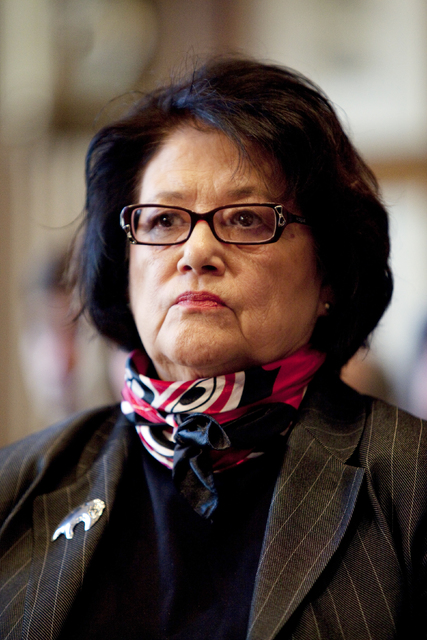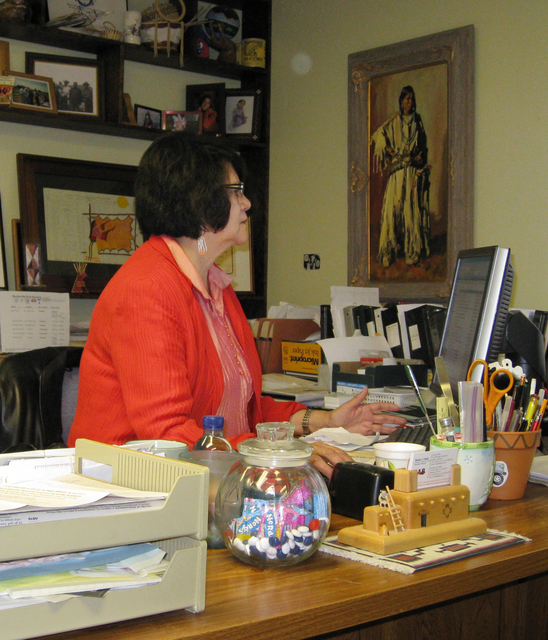 On a White House stage crowded with some of the world's most famous people, President Barack Obama handed out medals Tuesday to the likes of Michael Jordan, Bill Gates, Tom Hanks, Robert De Niro, Diana Ross and Bruce Springsteen, just to name a few.
Then there was Turk Cobell.
Seated between Kareem Abdul-Jabbar and Ellen DeGeneres, the 26-year Las Vegas resident was there to collect the Presidential Medal of Freedom, the nation's highest civilian honor, on behalf of his late mother, a leading American Indian rights activist.
"President Obama confirmed what many of us already knew: She was an extraordinary woman, an extraordinary Native American woman, who did a lot of good for a lot, a lot of people," Cobell said Friday.
Elouise Cobell spent years lobbying for reforms in a broken federal system that robbed Native Americans of their property and denied them just compensation for the lumber, oil, minerals and livestock produced on their land by non-native leaseholders.
When she couldn't convince the bureaucrats to change their ways, she filed a groundbreaking class-action suit against them in 1996, resulting some 14 years later in a $3.4 billion settlement, one of the largest ever paid out by the federal government.
'DIDN'T SET OUT TO BE A HERO'
"She fought for almost 15 years, across three presidents, seven trials, 10 appearances before a federal appeals court. All the while, she traveled the country some 40 weeks a year telling the story of her people," Obama said during Tuesday's ceremony. "When Elouise Cobell first filed a lawsuit to recover lands and money for her people, she didn't set out to be a hero. She said, 'I just wanted … to give justice to people that didn't have it.'"
Ambassador Keith Harper, the U.S. permanent representative to the United Nations Human Rights Council, was a lead attorney for the plaintiffs in that case. He called Cobell "a courageous soldier for justice."
"She spent an incredible amount of time and her entire spirit to ensure 500,000 individual Indians received a measure of justice. She knew it would not be perfect, but if she didn't stand up they wouldn't get anything," Harper said in an article on indiancountrytodaymedianetwork.com.
Elouise Cobell died of cancer at age 65 in 2011, after the settlement had been reached, but before it was officially enacted.
Cobell said his mother grew up on her family's ranch and was educated in a one-room schoolhouse on the Blackfeet Indian Reservation of northern Montana. She went on to study business and finance at Montana State University, but had to withdraw early to care for her dying mother.
As a young woman, she was told she wasn't capable of understanding accounting, so she mastered the subject, eventually becoming treasurer of the Blackfeet Nation and later founding the first tribal-owned national bank on an Indian reservation.
Cobell said neighbors in Montana would come to the ranch to get his mother's help with their tax returns and other financial matters. "Everybody came to her," he said.
It was during her time as the tribe's treasurer that she noticed the government's gross mismanagement of funds it held in trust for the Blackfeet and some of its members.
Cobell said his mother took up the cause because she didn't know who else would. "Unfortunately, she had to lobby the federal government to do its job," he said. "She was very soft-spoken unless she was fighting with you."
Cobell, of course, knew a different side of Elouise: the affectionate, fun-loving mother who couldn't get enough of her granddaughters or Elvis Presley.
He said she also really loved Las Vegas, and not just because her son chose to live here and make his career in the hospitality industry.
Cobell said his mother never sought any attention or accolades for her work on behalf of Native Americans, but she would have enjoyed Tuesday's honor all the same.
'BIGGER THAN YOU ARE'
For him, it was surreal and slightly nerve-wracking experience.
"You're put into a room with the Kareem Abdul-Jabbars of the world, the Michael Jordans, the Robert De Niros, and then it gets ominous. Then you know it's much bigger than you are," Cobell said.
At least he wasn't there alone. His wife and daughters joined him at the ceremony, as did his father, his aunt, a cousin and his cousin's son.
As it turned out, Cobell already had an in with some of the 20 other honorees. He said Bill and Melinda Gates were familiar with his mother's historic legal victory, and both De Niro and Robert Redford had met Elouise years earlier — Redford at a gathering at his Sundance Mountain Resort in Utah, and De Niro at an AARP award ceremony at which they were both honored.
Obama met her once too, during an Oval Office visit in 2010, after the $3.4 billion settlement was reached.
Though Elouise Cobell won other awards for her work, including a MacArthur Genius Grant and honorary doctorates from two universities, her son said the Medal of Freedom "assures her legacy in American history."
But what would probably please his mom most is the Cobell Education Scholarship Fund, a $60 million endowment set up as part of her settlement with the government to help young American Indians and Alaskan Natives pay their way through college.
"That will touch thousands, hundreds of thousands, of Native Americans for years to come," Cobell said.
Contact Henry Brean at hbrean@reviewjournal.com or 702-383-0350. Follow @RefriedBrean on Twitter.