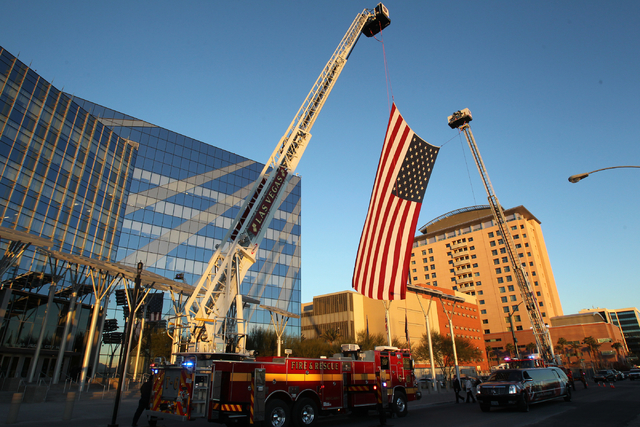 She scarcely had to say it.
Las Vegas Mayor Carolyn Goodman used the word "stadium" only twice during her State of the City address Thursday night, but left little doubt that a much-ballyhooed downtown soccer stadium would take a top spot on the city's agenda in 2015.
Goodman used the phrases "public funding" and "public-private partnership" a lot more often in the course of the speech, taking oblique swipes at those opposed to spending millions in public dollars to help bring a 24,000-seat, $200 million soccer stadium to Symphony Park.
Goodman's address was delivered less than 48 hours before a trio of her City Council peers plan to launch a petition signature drive aimed at defeating the downtown stadium plan, one that calls on the city to cough up some $56.5 million to support stadium-related parking and infrastructure.
She dismissed stadium detractors as mere "naysayers," calling on city leaders to redouble their efforts to land a Major League Soccer expansion franchise in Las Vegas.
"Can you imagine the sense of community if we had our own major league team?" the first-term mayor asked ahead of the speech's first big applause line. "I'm proud that this City Council had the courage to keep working on a viable soccer stadium project for Symphony Park — assessing what's better for the whole and keeping open minds."
Goodman, like husband and former mayor Oscar, has proven to be a rabid supporter of the soccer stadium narrowly approved by city leaders last month, often referring to the project as the key to turning Las Vegas into a "world class city."
She pointed to a half-dozen examples of successful projects subsidized by public dollars.
"Here in our community there is an urgency," Goodman said.
"There is no sugar daddy for Las Vegas that I have found, and believe me I've looked.
"Without substantive and new reasons to visit downtown, our casinos will not be filled, our restaurants and shops will empty. We need to be inventive… 2015 needs to be that time that builds our city into a forceful world-class presence."
The mayor dedicated more than half of her fourth State of the City speech to discussing the city's plans, highlighting a hoped-for UNLV medical school as one the city's key development targets in 2015.
Goodman said the city will also take a hard look at efforts to redevelop the decades-old Cashman Center — now home to the Las Vegas 51s' baseball team — over the next year.
She went on to laud fellow council members for last year's accomplishments in their respective wards, singling out Ward 5 Councilman Ricki Barlow for special praise on account of his efforts to reopen the F Street corridor — long a sore spot for West Las Vegas residents who felt the once-closed I-15 overpass had shut them out of the city's downtown redevelopment efforts.
The mayor, not to be accused of finger-wagging over the soccer stadium, wrapped up on a hopeful note.
"What kind of a city do you want Las Vegas to be?" Goodman asked the audience.
"If we want to be a world-class city, who but us will make it so, and if not now, when?"
Contact James DeHaven at jdehaven@reviewjournal.com or 702-477-3839. Follow him on Twitter: @JamesDeHaven.