Las Vegas memorial service honors victims of Norway massacre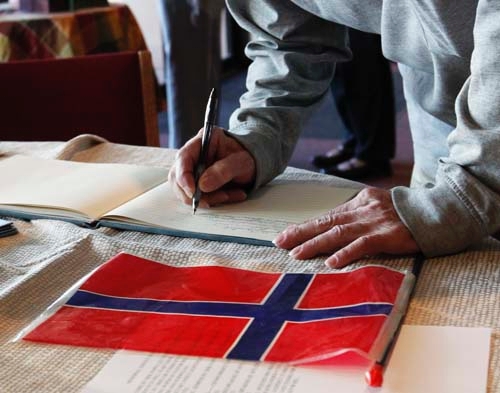 The term Norwegian extremist used to be a contradiction. The country is the home of the Nobel Peace Prize, after all.
The surprise, then, when a man named Anders Behring Breivik killed dozens of people when he set off a bomb and then went on a shooting rampage at a summer camp last week was understandable.
Here, in Las Vegas, people with ties to the small northern European nation are still trying to deal with it.
"We are all in a state of shock," said Annie Mathiesen, 61, a member of Vegas Viking, the local chapter of the Sons of Norway.
The group sponsored a memorial service in Las Vegas on Thursday night. Set at the group's meeting place, Christ Lutheran Church on North Torrey Pines Drive near U.S. Highway 95, its purpose was to honor the victims of last week's tragedy.
Norwegian authorities said eight people were killed in the bombing, and another 68 were killed in the shooting rampage. Breivik, whose attorney says is insane, has admitted to the terrorism. It was his way of protesting what he saw as leftist government policies.
It doesn't make any sense.
"This," said Mathiesen, who has lived in Las Vegas for 20 years, "simply does not happen in Norway."
That's not true anymore. Now, this happens everywhere.
Mathiesen said she was born and raised in Oslo, the site of the bombing. She still has family there, including her brother and her mother.
Luckily, no one she knows was hurt or killed in the attack. But it has still shaken up everybody's lives.
Erik Pappa, the Vegas Viking's president, said there are thousands of Norwegians in Clark County. Figures from the 2000 census — newer numbers aren't yet available — showed more than 20,000 here. Surely, that number has increased.
The memorial service included a guest book that, by its start at 7 p.m., almost four dozen people had signed. Pappa said he intends to get it to the king of Norway, offering condolences.
There is not much more anybody can do.
"This is a very important point in Norway's history," Pappa said. He compared the country to Mayberry, the fictional, peaceful small town of TV fame. "You don't see these kinds of things there."
Norway holds a special place in the hearts of the people who attended the service. Many of them were older, and almost all had family connections to the Scandinavian country.
"Lots of us have relatives over there still," said Kathy Rothermel, 62. "Some of us are still very close to the old country."
"It was the first news story I cried at in a long time," said Gwen Knighton, 81.
Alice Salvesen, 83, said she was glad the group was holding the memorial service. It gave everyone a chance to express what they had been feeling for a week now.
"It's an opportunity for people in this city to come and grieve, mourn," she said. "Show our support to the people of Norway."
Contact reporter Richard Lake at rlake@reviewjournal .com or 702-383-0307.