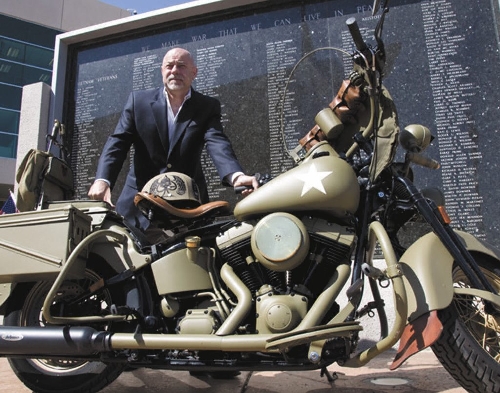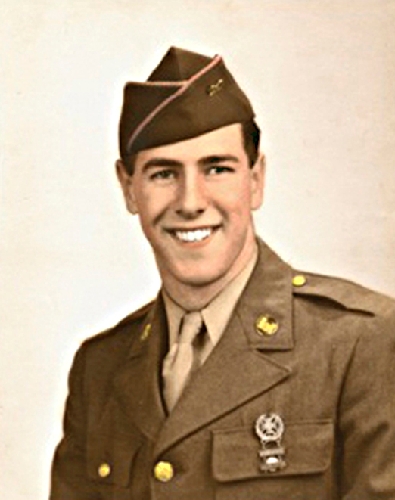 Like echoes of distant gunfire from the Battle of the Bulge or of booming artillery in the Argonne Forest, the rumble of Bruce Rowe's olive-drab motorcycle roared and faded as he cruised around the black granite walls of Henderson's veterans memorial.
After slowly wheeling the customized 2002 Harley-Davidson out of the shade at the City Hall's plaza, he parked in front of a slab dedicated to Vietnam War veterans.
The Harley's polished brass sparkled in the sun, standing out against the glint-reduction powder coating on the rest of what resembles a 1940s Army messenger motorcycle.
"This bike is not an original restoration, but it's a compilation of parts from different groups in the military," Rowe said. "There are parts from the Navy. There are parts from the Army. Some are World War II. And some are vintage World War I."
The special parts — everything from Gatling gun exhaust pipes to bayonet handles made into foot pegs — symbolize the Army eras of his father, who served in World War II, and his grandfather, who served in World War I. There's also some Air Force memorabilia to honor his father-in-law, John Gillman, a retired master sergeant who served 26 years.
"It's what you call a tribute bike to the people who served in our peacekeeping efforts," said Rowe, 58, a senior vice president of Bally Technologies, a Las Vegas-based gaming technology company.
After he shut off the engine, he pointed to the shadowed words at the top of the wall behind him: "We make war that we can live in peace."
That's a quote from the Greek philosopher Aristotle that Rowe embraces wholeheartedly.
Although he is not a veteran, Rowe has the utmost respect for soldiers, sailors, airmen and Marines .
His motorcycle, with a large white star on each side of the gas tank and ammo-can luggage carriers, was pieced together after long hours of research and labor over a three-year span with help from experts at Las Vegas Harley-Davidson.
"It's a special occasions bike," he said. "I take it out a couple times a month, especially around Memorial Day."
Rudy Salas, service adviser at the Harley-Davidson shop, worked on the bike with master technician Eric Banks. Salas called the project "a collaborative undertaking."
LINK TO PAST
"He would bring us pieces and we would fit it together," Salas said. "From day one, he was behind this project and his father was always in his mind. It's like a link to everything in the past."
Rowe said the bike is a priceless reminder of family members. His grandfather, Samuel J. Shuttleworth, a World War I corporal, fought in the Battle of Argonne Forest. His father, John C. Rowe, also was a corporal and fought across France and Germany during World War II.
After the war ended in Europe, his father's unit, the 311th Combat Engineer Battalion of the 86th Infantry Division, was sent to the Pacific in anticipation of the occupation of Japan.
A piece of his father's duffle bag covers the bike's passenger seat. The original black lettering on the canvas shows his father's name and serial number.
The bike's air-filter cover is made from a 6-inch brass Howitzer shell from 1945, the year his father served in both Europe and the South Pacific.
The so-called "sissy bar" on the back of the bike is fashioned out of a pair of French bayonets that date from the 1880s through World War I.
The oil tank's cap was a 1944 anti-aircraft round. The taillights, headlamp and blackout lights are from Harley-Davidson's World War II models. The bike's turn signals are made from 44 mm cannon rounds from an A-10 Thunderbolt "Warthog."
Stretching across the tail fender are the words "Thank You." Above that is a special license plate, "WLA 02."
GRANDFATHER'S EXPERIENCES
Rowe said his grandfather sometimes spoke of his war experience. He was born in Birmingham, England, but came to the United States when he was 17. While Samuel Shuttleworth was living in Philadelphia, he was drafted into the Army and served as an officer's aide.
According to Shuttleworth's diary, he fought in 1918's Meuse-Argonne Offensive, also known as the Battle of Argonne Forest. It was the southern part of the triple offensive that broke the German lines .
"He talked a little bit about the brutality of World War I, the mustard gas and the trenches," Rowe recalled.
During World War II, Rowe's grand­father stood watch atop hotels in Atlantic City, watching for Nazi submarines along the Atlantic Coast.
"He always flew the flag and had a special appreciation for freedom and the friends he lost," Rowe said.
His father enlisted in the Army Air Corps but was transferred to the 311th Combat Engineer Battalion. At the time, in 1944, the battalion was training in Louisiana for missions in France. Before John C. Rowe shipped off, he asked Shuttleworth's daughter, Elizabeth, to marry him but didn't have an engagement ring. Shuttleworth helped them buy a ring.
John C. Rowe and the 311th Engineers were assigned to the 86th Infantry Division, known as "Blackhawk Division."
His father's patch, which graces the back rest on his motorcycle, depicts a black hawk with outstretched wings and talons.
The 86th Infantry Division sailed from Boston on Feb. 19, 1945, and arrived on the Normandy coast a month later. From the French town of Yvetot, the soldiers traveled by train to Aachen, Germany, and took trucks to the outskirts of Cologne. They relieved the 8th Infantry Division to defend the west bank of the Rhine River.
By mid-April they were assisting Lt. Gen. George S. Patton's Third Army as it drove through southern Germany. Tens of thousands of German soldiers were captured, and villages along a stretch of more than 200 miles were liberated. That was two months after Patton had staved off Adolf Hitler's counteroffensive in the Battle of the Bulge.
Bruce Rowe said his father's role as a demolition engineer was often to go with a reconnaissance team to knock out sniper nests. They sometimes had to demolish church steeples.
"It always troubled him to do that," Rowe said, noting that it was necessary to protect arriving troops.
STARVING CHILDREN
His father also was disturbed by starving children.
"He talked about the children of Germany and how they would follow the quartermaster and beg for food," Rowe said. "In the chow line, he and his buddies would ask for double servings so they could feed them."
Rowe said his father didn't elaborate much about his combat experience.
"He did reflect on one time when he was in a town square and was shot through the blouse of his pants with a sniper round. He had several near misses."
When Germany surrendered in May 1945, Rowe said his father was at the foot of the Austrian Alps and always said "what a beautiful place it was."
In late August 1945, the 311th Engineer Battalion boarded Liberty ships in San Francisco and headed for the Philippines. About a week later, the Japanese surrendered.
"My father and my grandfather fought wars on foreign soils to give other people freedom," Rowe said. "We should be thankful every day for those who served and protected our freedoms."
Contact reporter Keith Rogers at krogers@reviewjournal.com or 702-383-0308.