Las Vegas officer says he shot lawyer to protect others
November 7, 2014 - 7:24 am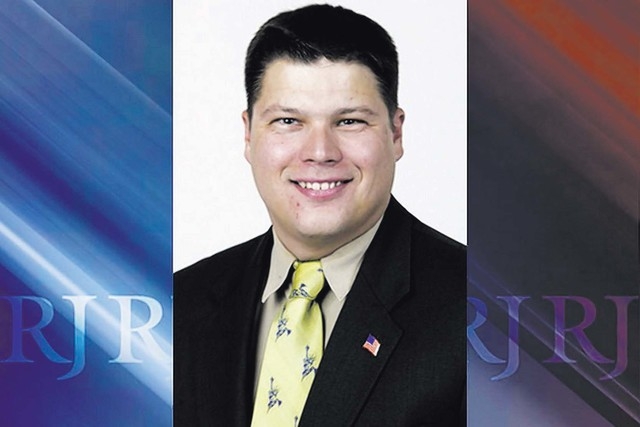 A Metropolitan Police Department motorcycle officer said he noticed something unusual about Raymond James "Jim" Duensing during a traffic stop before shooting the lawyer three times.
After being pulled over along a northwest valley road in October 2009, Duensing stepped out of his rented silver Pontiac G6 with a demeanor that was "different than most people I contact," 22-year officer David Gilbert told Clark County jurors Thursday.
The Pahrump attorney, who remains free on $3,000 bail, ran an unsuccessful bid on the Libertarian ticket this year to become Clark County's top prosecutor and head the office that is pursuing the criminal case against him.
Duensing reported spending only $100 on his long-shot campaign, which he announced in March, and earned 28 percent of the vote. Incumbent Steve Wolfson collected 72 percent.
At the encounter along Cheyenne Avenue near Jones Boulevard, Gilbert asked Duensing at least three times to turn around before the officer grabbed his stun gun. Duensing had outstanding traffic warrants, and Gilbert wanted to arrest him.
"I'm not going to wrestle with you" in the roadway, Gilbert said he told Duensing. "I need you to turn around and face the car."
Duensing told the officer "no or f-no" at least five times, Gilbert testified.
After Duensing started to run, Gilbert fired his stun gun twice. Duensing knocked one of the probes from his body and reached for his right cargo pocket. As the officer gave chase, he said he spotted a handgun emerge from Duensing's pocket.
"I stopped yelling 'get on the ground' and started yelling 'drop the gun,' " Gilbert testified.
The officer fired three shots from his .45-caliber service pistol.
"It reached a point where every other option I employed hasn't worked," Gilbert said. "If I did not take action at that point, somebody else was going to get shot and hurt."
Defense lawyer Tom Pitaro tried to show that Gilbert could not have seen Duensing's gun because it was tucked in the buttoned-up cargo pocket. A knife in his right hip pocket was not found by police until after he was shot.
Gilbert said he thought Duensing's gun flew from his hands and into the air after he was shot.
Officers at the scene later found the gun in the cargo pocket.
"You're relieved they found a gun after you shot someone," Pitaro said.
Gilbert responded: "I'm relieved that it was found so it wasn't there for a little kid to pick it up."
Duensing had vowed to stop prosecuting nonviolent crimes, including traffic tickets, if elected. He faces charges of resisting a police officer, carrying a concealed weapon and unlawful possession of a firearm. Authorities also said they found traces of marijuana in his system.
The trial started last week and ran through Election Day. On Thursday, District Judge Michelle Leavitt polled each of the jurors to ask whether they had seen news stories about the defendant. None said they had.
Contact reporter David Ferrara at dferrara@reviewjournal.com or 702-380-1039. Find him on Twitter: @randompoker