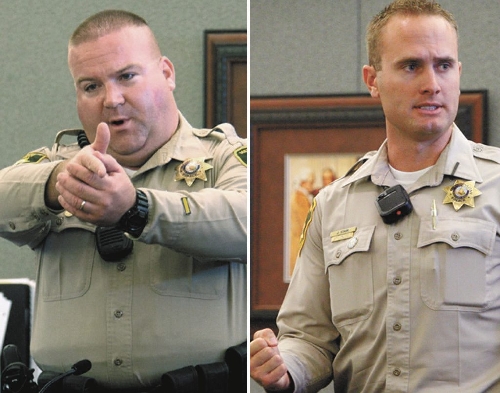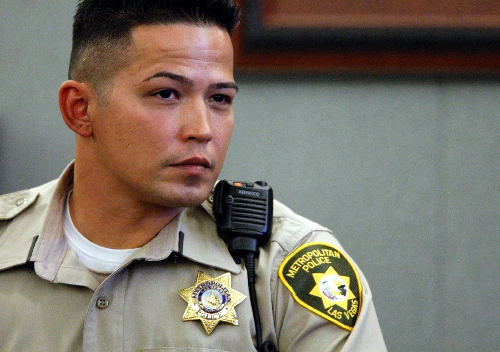 Two Las Vegas police officers who shot and killed Erik Scott in the controversial Costco shooting last year have received honors in a national officer of the year award.
Officers William Mosher and Joshua Stark received honorable mention in the National Association of Police Organizations' Top Cops awards.
A third officer involved in the shooting, Thomas Mendiola, was not honored. In January, Mendiola was charged with a felony for unlawfully giving a handgun to a two-time felon in an unrelated case. He has a preliminary hearing in May.
Chris Collins, executive director of the Las Vegas Police Protective Association, is a member of the NAPO board of directors. He said he nominated the two officers and officer Mike Madland, who was shot twice while chasing a robbery suspect in March 2010, for the Top Cop award. Madland nearly lost his leg from the shooting. He did not win a NAPO award.
Collins called the two incidents the "top two heroic events our officers participated in last year."
"I don't see it as a controversial shooting," he said about the Costco shooting. "What potentially could have been a bad situation they brought to an end with no citizens being hurt.
"It was a heroic deed and enough of a heroic deed for the judges to give them an honorable mention."
Scott's father, Bill Scott, called the honor "incredible."
"The arrogance of Chris Collins and the PPA in even nominating these two staggers the imagination," he said.
He called the officers' actions a "mistake" and added, "Now they're being honored for their mistakes?"
A coroner's jury into the Costco shooting heard testimony from dozens of witnesses in September before deciding that the three officers acted justifiably on July 10 when they shot Scott, 38, who was armed with two handguns and who had a concealed weapons permit.
At the inquest, medical examiners showed that Scott, who suffered from severe back pain, was taking a potentially lethal amount of prescription painkillers. Costco employees had called police after observing Scott acting oddly and seeing that he was armed.
Witnesses to the shooting said the officers approached Scott as he was leaving the store and that he reached for one of his pistols, prompting them to fire.
Scott family attorney Ross Goodman called the coroner's inquest a "one-sided process" and said the civil rights lawsuit will "balance out the limited and selected information the prosecutors wanted the public to hear."
Public outcry over the shooting prompted a sweeping overhaul in the inquest process, which continues to be controversial and was the subject of state legislation that died in committee Friday.
In the federal lawsuit filed last year, Scott's parents and brother claim Mosher, Stark and Mendiola used excessive force when they shot Scott outside the Summerlin Costco store.
A department spokesman said Clark County Sheriff Doug Gillespie was out of town Friday and could not be reached for comment on the award.
The incident was not the only one the NAPO honored that sparked public outrage last year.
Pleasantville, N.Y., officer Aaron Hess, who shot and killed a 20-year-old college football player in a controversial incident in October, was one of several officers given the organization's highest award. That shooting is under Justice Department review for potential civil rights violations.
According to the group's website, the Top Cops awards "pay tribute to outstanding law enforcement officers across the country for actions above and beyond the call of duty" who are nominated by fellow officers "for outstanding service during the preceding calendar year." The organization represents 2,000 police unions nationwide.
The Metropolitan Police Department has received the organization's highest award at least twice.
In 2000, officer Dennis Devitte was honored as a Top Cop after his heroics during a December 1999 barroom shootout. He was one of seven off-duty officers in a bar when three masked gunmen went inside and began spraying the patrons with gunfire. Devitte was struck eight times as he returned fire and killed one of the gunmen.
In 1994, officer Stephen Collins was honored as a Top Cop for his efforts to combat crime and build relations between residents and police in a troubled east valley apartment complex. The efforts included building relationships with the neighborhood's residents and establishing a police office in the complex.