Las Vegas OKs strict rules for Fremont street performers
September 16, 2015 - 1:32 pm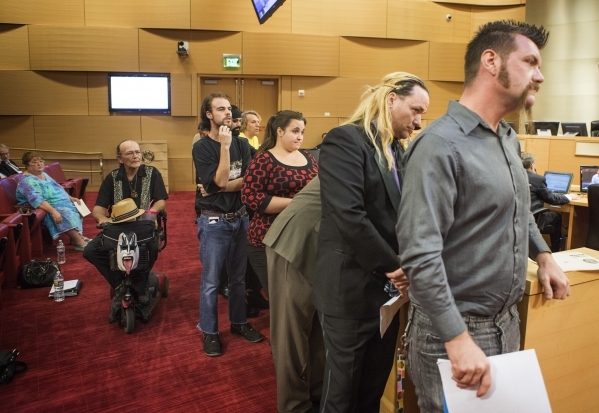 Las Vegas' leaders have finally managed to paint Fremont Street Experience's famed buskers into a circle.
Starting Nov. 1, street performers plying their trade along the five-block pedestrian mall will have to confine themselves to one of roughly three dozen 6-foot circles painted on the pavement.
City Council members on Wednesday unanimously approved the new rule, but only after a monthslong gestation period that featured three separate public meetings, hours of public comment and several legal and logistical tweaks that helped align some buskers, casino operators and the American Civil Liberties Union of Nevada behind the effort.
The ordinance those parties eventually agreed on requires performers to register with the city and keep a 40-foot buffer between other buskers. It also forces them to maintain a 100-foot separation from concerts sponsored by Fremont's owners.
Officials have said they don't plan to run background checks on performers and will not charge them to register. City Attorney Brad Jerbic said they won't even ask for the performer's name.
All buskers — from the nearly naked nuns to the codpiece-clad cowboys — will be randomly assigned performance spots via a daily lottery system administered by the city. They will have to change spots every two hours.
The zones will be patrolled by Fremont Street Experience LLC, the privately held company that maintains the city-owned mall.
City leaders and casino patrons have criticized street performers for their sometimes lewd outfits and occasionally violent turf wars over busking spots.
The performers have also been knocked for aggressively soliciting tips and making too much noise.
The city hopes the randomized zone designation system will help cut down on frantic jockeying for prime performance spaces.
Brandon Summers fears the ordinance will work all too well, forcing performers off Fremont and onto the Strip, where he plays violin for tips.
"I think it'll add complexity that doesn't need to be there," Summers said of the performance zone system. "Performers aren't going to get the spots they need, so they're just going to leave, go to the Strip or to a different city.
"The performers you don't like will be the only ones that stay."
Regulations keeping buskers at least 20 feet away from building entrances and 10 feet away from ATMs, retail kiosks, fire lanes and crosswalks remain in effect under the new ordinance.
City attorneys spent more than a decade defending earlier, bolder attempts to bounce street performers and panhandlers off Fremont Street, eventually losing a First Amendment challenge filed on the buskers' behalf by the ACLU.
Several buskers have already threatened litigation, but Las Vegas leaders sounded confident the latest batch of rules will stick.
"There have been pleas to delay (the ordinance), but the fact is you've got to move forward," said ordinance co-sponsor and Councilman Bob Coffin. "I believe we will have a good product, but as the mayor has said, it's a work in progress."
A complementary resolution that allows deputy city marshals to help enforce Fremont's new rules passed only minutes after the City Council adopted the ordinance.
Council members later introduced a bill to loosen the pedestrian mall's existing restrictions on alcohol advertisements, a move officials said came in response to pending litigation.
Contact James DeHaven at jdehaven@reviewjournal.com or 702-477-3839. Find him on Twitter: @JamesDeHaven