Las Vegas panelists agree the modern news business is tough, but still vital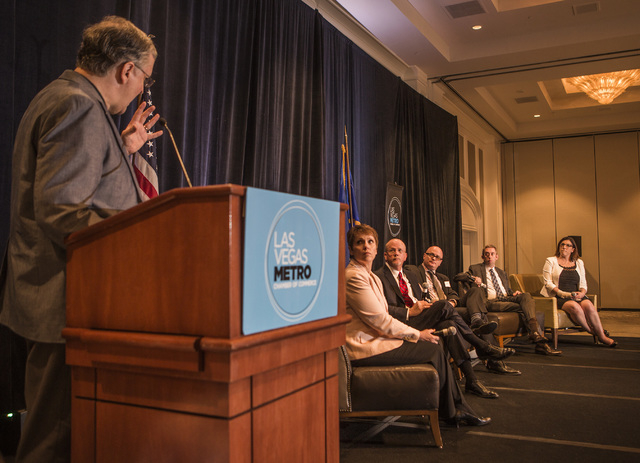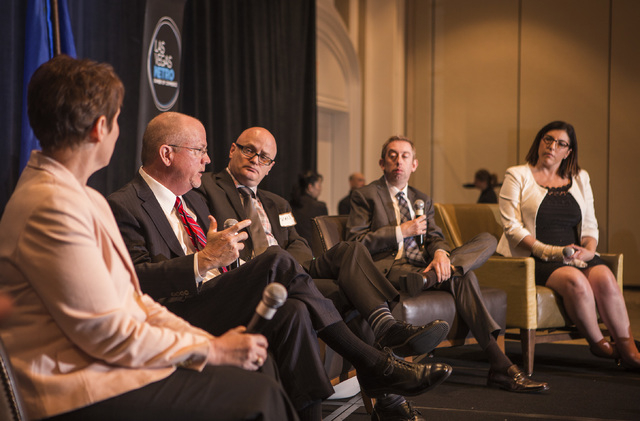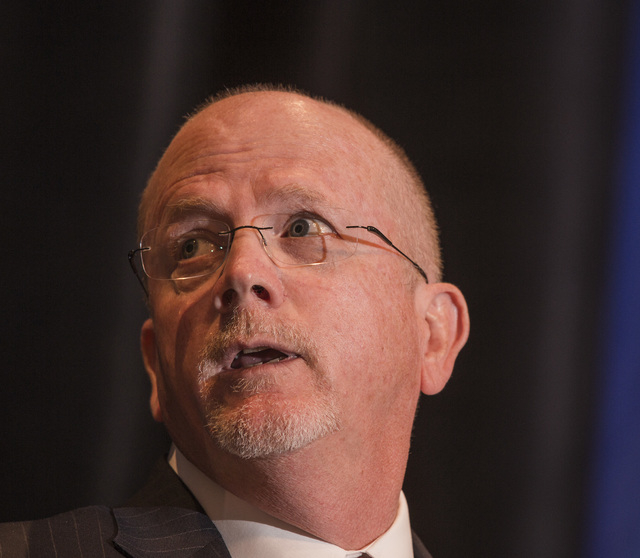 Technology is increasingly pushing power away from journalists and toward their audience, local media executives said Thursday during a discussion on the future of the news in Las Vegas.
And even as the Internet has brought news outlets millions of new readers and viewers, it hasn't replaced the advertising money lost as print and broadcast audiences dwindle. That has led to cuts across the industry that affect the news people in Nevada see.
"The problem is that quality journalism is very expensive," said Emily Neilson, general manager of KLAS (Channel 8).
About 250 people attended the lunch panel at the Four Seasons Hotel Las Vegas, which was put on by the Las Vegas Metro Chamber of Commerce.
One of the biggest changes brought by technology, panelists said, is that no one waits for news any more.
Newspapers used to be able to take most of a day to report and write a story for the next morning's paper. TV stations could take time to get stories ready for the evening news.
Now, their hand is often forced by someone who posts a video of a newsworthy event to YouTube or Twitter, or by stories that bubble up from social media, like the protests in Ferguson, Mo.
"We don't have complete control over the information any more," said Sean McLaughlin, vice president of news for E.W. Scripps Co., owner of KTNV (Channel 13). "It used to be we decided what the news is. We decided sitting around in an editorial meeting in a newsroom."
Now journalists feel pressure to get whatever information they have online, as quick as possible, lest they fall behind an agenda they don't control.
"It's really what I want, when I want it, on the device I choose," Neilson said, describing the new audience expectation.
Meanwhile, the advertising that used to pay for local reporting has diminished as eyeballs have gone online, where ads bring in far less money.
The economic pressures on news have helped lead to a flurry of recent ownership changes for Nevada media outlets. Since November, three of Las Vegas' local news stations — channels 3, 8 and 13 — were sold. And the Review-Journal was sold in March.
"That's what you have to do to survive in this world right now," Neilson said of the consolidations.
Despite the changes, the news executives said they try to focus on putting news in context and on investigative reporting.
"This information explosion is wonderful, but the biggest feedback we get is 'What do I trust?' " Neilson said.
Anyone can shoot and post a video, but journalists still have to put it in context, said Mark Neerman, news director of KSNV (Channel 3).
"We do a lot of heavy beat-reporting," Review-Journal Editor Mike Hengel said, mentioning the paper's renewed focus on local government watchdog coverage.
There's more intense competition in local news than ever, with old audience loyalties dying — if not dead.
Instead of regularly checking one media source, people increasingly get news through Facebook and Twitter. That means another option for news is always a click — or tap of a phone screen — away.
"It's a wonderful time to be a consumer of information in this market, because all of us have to be at the top of our game," Neerman said.
Closing the event, moderator Dave Becker of KNPR asked the panelists what keeps them up at night when they think about the future.
McLaughlin said he worries that young people will demand news so quickly they stop caring much whether it's accurate. Neerman said he worries young people won't choose to go into journalism, a challenging career that's never paid very well.
But Hengel said he's impressed with how many talented young people are still studying journalism and applying to work at the Review-Journal, despite the challenges.
Neilson said good journalism — and good journalists — are everywhere.
But she added as the talk concluded, "What keeps me awake at night is: How are we going to pay for it?"
Contact Eric Hartley at ehartley@reviewjournal.com or 702-550-9229. Find him on Twitter: @ethartley.