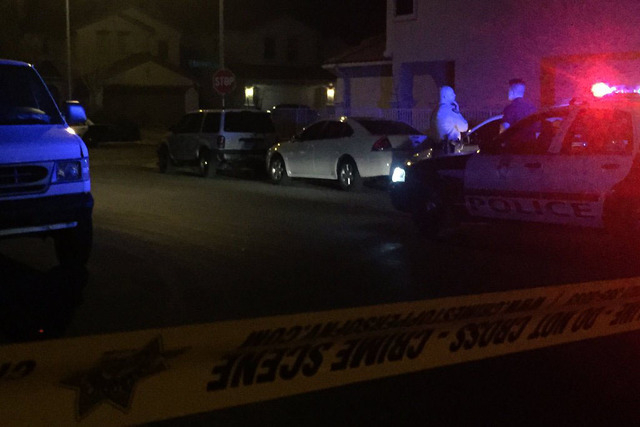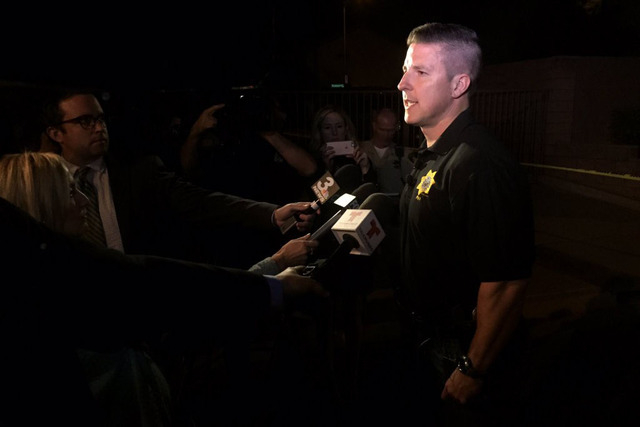 A Metro officer responding to a call of a person with a gun fired his weapon Monday night, hitting the suspect, Las Vegas police said.
The shooting happened shortly after 8 p.m. in the far south valley north of the M Resort on Stivali Street, near La Padania Avenue, according to a Metropolitan Police Department news release. The area is close to Las Vegas Boulevard South and Barbara Lane.
Sgt. Jeff Clark said the person was taken to an area hospital with a non-life-threatening wound. The officer, he said, was not injured. "The officer is fine. He is still on scene," Clark said.
Police did not offer details on the circumstances of the shooting as of 11:30 p.m., other to say that officers were responding to a 7:58 p.m. call about a person with a gun. He did note that body camera footage was taken from at least one of the responding officers.
William Vanderkilk, who lives close to the shooting location, said he heard the gunshot— "a loud firecracker pop."
Within five minutes, police, ambulance and fire department responderes were on the scene, Vanderkilk said.
"It was the whole nine yards," the 24-year-old said.
Another neighbor who lives around the corner from where the shooting happened said he saw a man with a gun sitting on a utility power box in front of his home just before police showed up.
"He pulled a gun out of his backpack, checked it and put it in his waistband," said the 27-year-old man, who declined to give his name.
The neighbor also said the man was talking quietly to himself.
"He wasn't even making sense, just babbling."
Minutes after the shooting, that neighbor then saw medics load the person who was shot into an ambulance.
"His shirt was ripped off. He had a neck brace on, but I know he wasn't dead," he said. "He was talking."
The neighbor said he's lived in the community for two years and hadn't seen police respond to the area before Monday night.
"I'm freaked out," he said. "We have two big dogs. We walk them here all the time."
Contact Rachel Crosby at rcrosby@reviewjournal.com or 702-387-5290. Find her on Twitter: @rachelacrosby