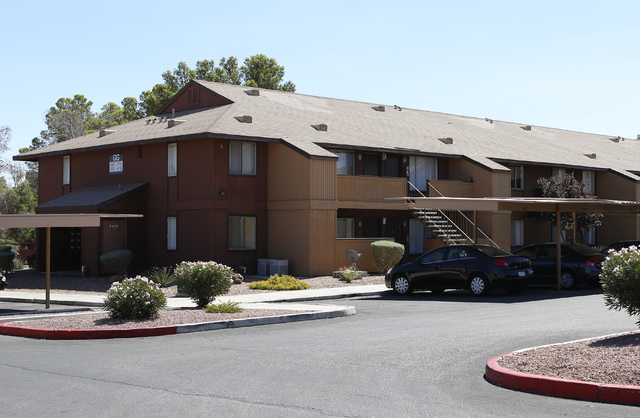 Las Vegas police officers investigating a tip about a shooting Wednesday discovered something unexpected in a northwest valley apartment — a fetus stuffed inside a glass jar in a freezer.
Metropolitan Police Department officers made the discovery after entering the home of Carlena Walker, 25, at 6666 W. Washington Ave., about 9:45 a.m., according to a police report.
The officers had been following up on a Monday shooting that happened in the apartment complex. A neighbor advised Metro to check out Walker's unit.
When the officers knocked on the door they noticed a strong smell of marijuana and asked to come inside, which Walker allowed, the report said.
The officers found more than they bargained for, however. In addition to finding several jars of marijuana, scales, grow lights and other drug trafficking equipment, they also found a .22-caliber Beretta pistol wrapped in a scarf in a baby's bassinet, the report said.
Walker said the drugs and gun belonged to her boyfriend, Preston Caudle, who had been convicted of felony drug charges in Arizona's Maricopa County. The gun was reported stolen in June during a burglary of a Las Vegas home.
But the officers were shocked to find the fetus in the freezer and quickly notified the Clark County coroner's office, the report said. Walker told the officers she kept the 8-week-old fetus after her miscarriage in October.
Caudle was booked on the drugs and gun charges. Caudle and Walker were both booked on child abuse charges because of the firearm in the bassinet, police said. The couple have a young son together who lives in Walker's apartment.
Clark County Coroner Mike Murphy said it's too early to determine whether anyone could face charges regarding the fetus, and prosecutors aren't currently considering charges.
Medical examiners are investigating the gestational age of the fetus, he said, and will work to determine a possible cause of death. "We just don't have enough information yet," Murphy said.
Generally, if a fetus has gestated for 25 weeks or more and drugs or trauma are involved in a miscarriage, law enforcement will prosecute, according to the coroner's office. But a parent is not required to report the miscarriage of an 8-week-old fetus.
If a fetus is miscarried at a hospital, a coroner's office spokeswoman said, it would be considered medical waste.
An 8-week-old fetus is about the size of a kidney bean, according to babycenter.com, a global parenting network.
The fetus found Wednesday would not be considered stillborn, according to Nevada laws, because that term only applies if the fetus has gestated for 20 or more weeks.
It's unclear if either Walker or Caudle had any connection to the shooting the officers were originally investigating.
Reporter Annalise Little contributed to this report. Contact Mike Blasky at mblasky@reviewjournal.com or 702-383-0283. Find him on Twitter: @blasky.