Las Vegas police once again responding to noninjury crashes
January 6, 2016 - 12:35 pm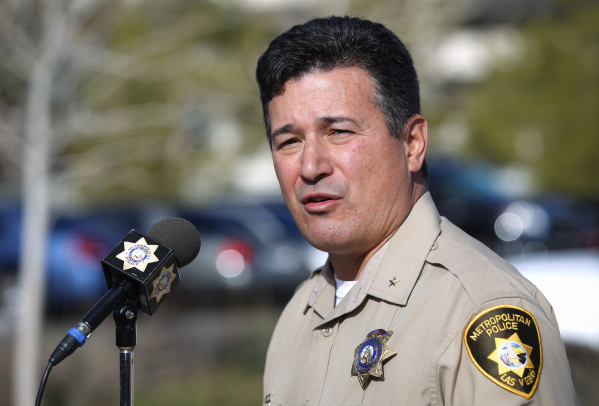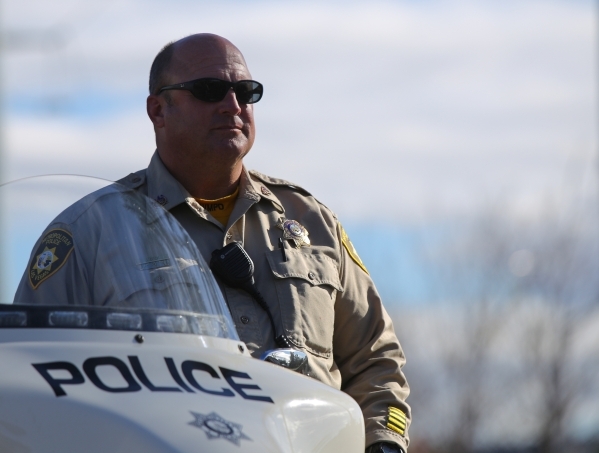 Las Vegas police are responding to noninjury crashes again, the department announced at a news conference Wednesday morning.
Metro Deputy Chief Gary Schofield spoke to reporters as two patrol officers posed behind him with their motorcycles in the south parking lot of Metro headquarters on Martin Luther King Boulevard and Alta Drive. Schofield said that although Metro is responding to noninjury crashes again, drivers have the option of just exchanging information for less-serious crashes.
Police stopped responding to less-serious crashes, meaning no one was injured or suspected of impairment, on March 3, 2014. The department also stopped accepting accident reports at police substations, instead urging parties involved to collect the other driver's name, address, license plate number and type of car for insurance purposes.
Before the move to stop responding to noninjury crashes, police would direct motorists not to move their vehicles and wait for police to respond, a process that often took hours to complete and drained police resources, Schofield said. Now drivers involved in fender-benders should move the cars off the roadway and can exchange information if they're comfortable doing so.
Metro's traffic bureau employs 135 officers, and the department is always looking to expand, Schofield said. He could not say when asked how much the decision to respond to noninjury accidents again was going to cost the department in terms of labor or hours. He said he hopes the response times will not be too long.
Drivers should dial 311 to report noninjury crashes in Las Vegas and unincorporated Clark County. Accidents with serious or life-threatening injuries should be reported to 911.
Metro first said the department would return to responding to noninjury crashes after the Clark County Commission approved a sales tax to pay for more officers in September.
The increase, which took effect this month, adds a 0.05-percentage point increase to the county's sales tax rate, boosting it to 8.15 percent from 8.1. It is expected to generate about $19.4 million over each of the next 10 years, including $14.6 million annually for Metro.
Schofield said the decision to stop responding to noninjury crashes in the first place was not politically motivated.
County commissioners struggled for years to muster the five-vote supermajority needed to pass various versions of the More Cops sales tax increase. The 2013 Nevada Legislature granted the county the authority to approve up to a 0.15 percentage point increase.
Clark County Commission Chairman Steve Sisolak said he received a lot of calls from constituents after Metro stopped responding to all crashes. Former Sheriff Doug Gillespie said at the time that it was a resource issue and pointed to the fact that not responding to all accidents was a practice in other cities, Sisolak said. But he added Southern Nevadans were use to Metro responding.
"They did respond for a long time. That's what people expected. That's what people wanted," he said.
Sisolak voted against previous versions of the More Cops tax but said Metro's promise to reinstate the practice contributed to his changing his mind.
"This was one of the main things that I wanted," he said of his September vote in favor of the tax increase. "I hope people appreciate it."
Resuming the practice of responding to all crashes was one of Sheriff Joe Lombardo's campaign promises during his 2014 run.
Contact Wesley Juhl at wjuhl@reviewjournal.com and 702-383-0391. Find him on Twitter: @WesJuhl