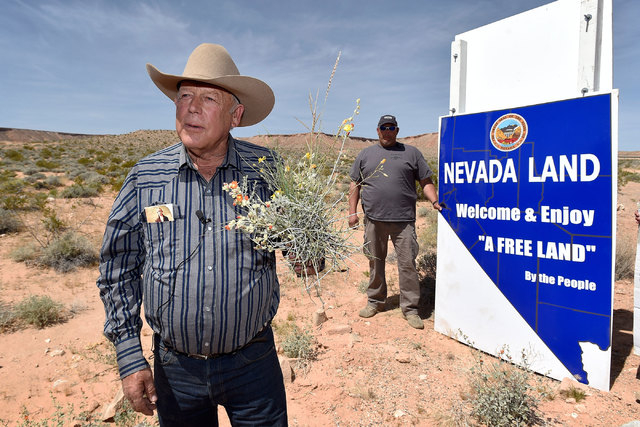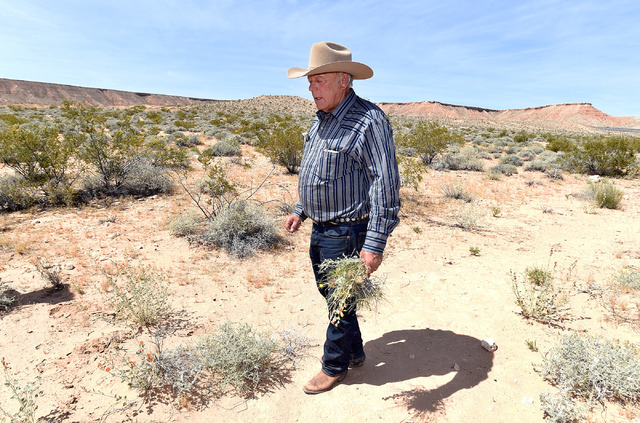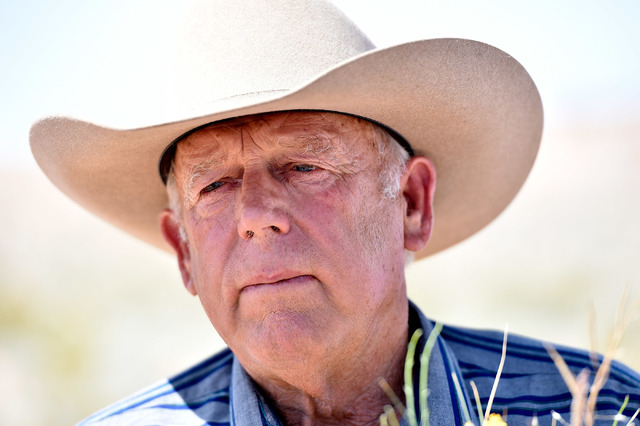 Las Vegas police will have a presence Thursday when Cliven Bundy supporters rally outside the federal courthouse, according to Undersheriff Kevin McMahill.
"We will definitely be out there," McMahill said Tuesday. "We want to keep the peace to make sure the protesters and counterprotesters don't come together."
Mobile police cameras mounted on a 20-foot metal pole already have been placed in front of the demonstration site, just north of the steps of the courthouse at 333 Las Vegas Blvd. South.
The cameras enable the police to identify people if something goes wrong during the rally, McMahill said.
Police aren't sure how many demonstrators will show up, but the latest estimates put it between 50 and 100, he said.
Bundy family members have taken to social media to promote the rally in support of the Bundy patriarch, who faces arraignment Thursday on felony charges stemming from the April 2014 armed standoff with law enforcement near his Bunkerville ranch. Some anti-Bundy demonstrators also are expected at the rally.
The defiant Nevada rancher, who is in federal custody, is to appear before U.S. Magistrate Judge Bill Hoffman at 2 p.m.
Bundy, 69, was brought to Las Vegas by U.S. marshals from Portland, Ore., where he was arrested in February on his way to support an armed standoff led by two of his sons at a government wildlife refuge in eastern Oregon.
He appeared briefly before Hoffman on Friday but told the judge he didn't have a chance to read the latest 63-page indictment against him and wasn't prepared to enter a plea.
The U.S. Marshals Service, which has the task of protecting the courthouse grounds, had extra security in the courtroom. The office has declined to comment on its security measures for Thursday.
But McMahill said police have been in contact with the Marshals Service as officers prepare for the demonstration.
Because the protest area is not on government property, police have primary jurisdiction, McMahill said.
Police don't plan a heavy presence Thursday, but will be prepared if things get unruly, the undersheriff added.
Some authorities have expressed concern that Bundy supporters may bring weapons to the rally. It is legal in Nevada for a demonstrator to openly carry a weapon.
McMahill said officers are well-trained and routinely encounter that situation, and he doesn't expect any problems.
Bundy faces 16 felony counts, including extortion, obstruction of justice, conspiracy to commit an offense against the United States, conspiracy to impede or injure a federal officer, assault on a federal officer, threatening a federal law enforcement officer and using and carrying a firearm in a crime of violence.
Bundy and 18 others — including four of his sons, Ammon, Ryan, David and Melvyn — were charged in a new federal indictment in Las Vegas last week in connection with the April 12, 2014, Bunkerville showdown.
Prosecutors allege the Bundys were leaders in the "massive armed assault" against federal officers a few miles from the Bundy ranch.
The confrontation aimed to force federal officials to abandon about 400 cattle they had rounded up under court orders, according to the indictment. The Bundy family had been illegally grazing cattle on federal public lands for more than 20 years, the indictment states.
Contact Jeff German at jgerman@reviewjournal.com or 702-380-8135. Find him on Twitter: @JGermanRJ