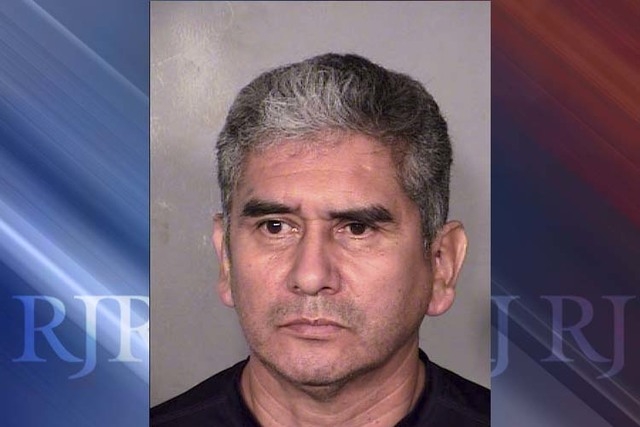 A man faces an attempted murder charge after Las Vegas police say he shot another man who was stealing beer from the convenience store where he worked.
The investigation started when a man showed up at Sunrise Hospital and Medical Center early Sunday morning with a gunshot wound to the face, according to an arrest report. This prompted a hospital security guard to call police.
After speaking with a man who drove the shot man to the hospital, police went to a 7-Eleven convenience store at 2910 Maryland Parkway, near Bonanza Road.
At the store, officers found a case of Modelo in the store sink stained with what looked like blood, the arrest report said. They also found pieces of what looked like human skin and bone on the ground.
Mariano Tejeda-Zuniga, the store clerk, walked officers through the scene and told them that he had a semi-automatic pistol tucked into his pants and that the store had dealt with large amounts of beer theft lately. He said a man entered the store and took the case of beer, laughing as he hurried out of the store without paying.
Tejeda-Zuniga pulled out his gun, chased the man and fired, police said. The man slumped to the ground.
Tejeda-Zuniga told police that he didn't think he hit the man, because he got up, got into his car and left.
"He thought the male fell because of the noise the gun made, not because he shot him," Tejeda-Zuniga's arrest report said.
Tejeda-Zuniga did not call the police and continued helping customers after the shooting, the report said. Several customers even helped him pick up the beer dropped during the shooting.
The clerk hid the gun under a stack of cups, the report said. He later told police he had recently purchased the gun from a random man for $400. Police said the gun had been reported stolen in 2008.
Security tapes from the store showed similar events to what Tejeda-Zuniga told police.
The man who was shot, identified in the police report only as Kallum, was treated at Sunrise Hospital for a gunshot wound that police say had entered near his right ear and "exited the front of his face."
Tejeda-Zuniga is being held without bail at Clark County Detention Center. He is scheduled to appear in court on Wednesday.
Contact reporter Annalise Little at alittle@reviewjournal.com or 702-383-0391. Find her on Twitter: @annalisemlittle.