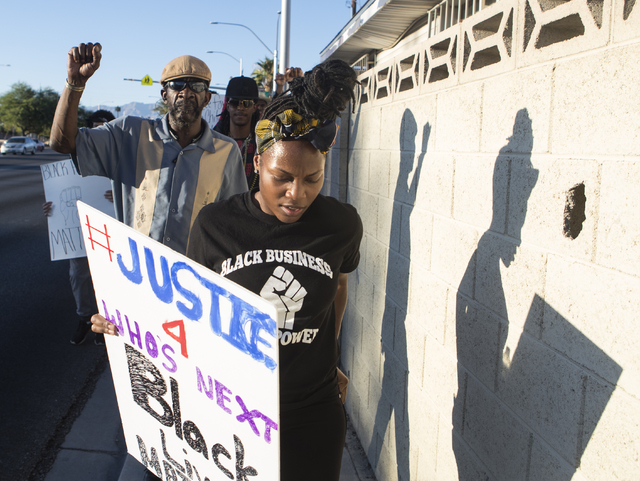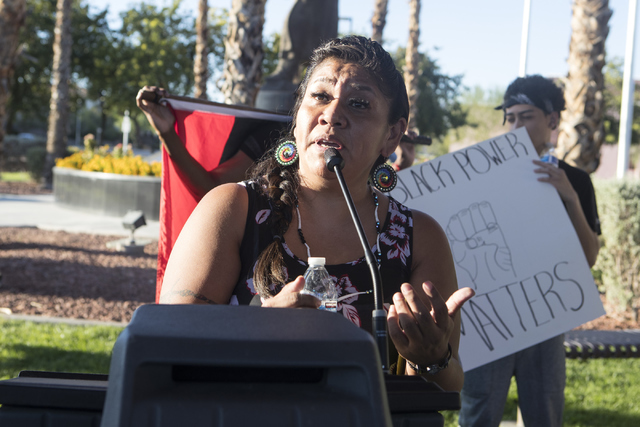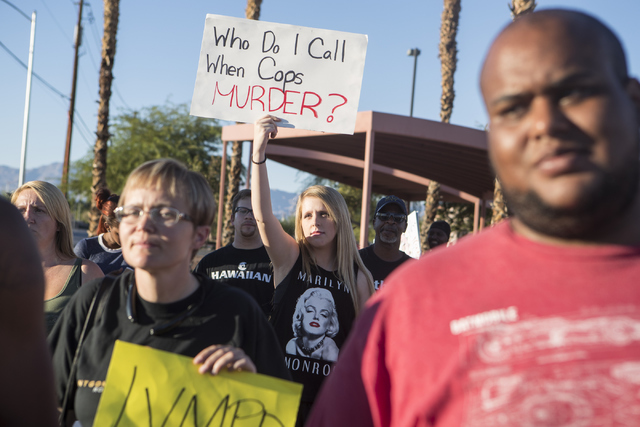 To have a community, you must have unity. Local residents and members of local organizations gathered Saturday evening in a solidarity rally to protest police brutality and social injustices.
Members of the Black Panther Party Cubs met at the Martin Luther King statue in front of the Clark County Probation Center & Family Services Department, 2424 N. Martin Luther King Blvd., to speak and discuss what direction to march in. They were joined by Las Vegas Paiute Tribe members and All Shades United, a community-based group focused on unifying racial and ethnic groups.
The protest was organized and held for the people, by the people.
"There's a war on the black family," Stretch Sanders, founder and president of All Shades United Las Vegas, said. "We use this as an open invitation to open the doors to our allies — the red, white, brown, yellow man. To join the black family in solidarity."
The goal was raising awareness and educating the community.
"As we unite, we unite against police terrorism, white supremacy, poverty and the injustices that we face in this world," Sanders said.
Patricia Selam, a 45-year-old Native American who lives in Las Vegas said, "We all have been living with oppression. We all share the same heartache. It's not OK!"
Protesters carried signs reading "United we stand," "Do the Right Thing #blacklivesmatter" and "Water is life, support humanity." Others held flags and burned sage.
"It's important for communities to support communities. It's important to keep that message of unity going," Fawn Douglas, a member of the Las Vegas Paiute Tribe, said. "We stand with them today as they stood with us."
A few members of the Las Vegas Paiute Tribe carried drums for music.
On Saturday, protesters marched along North Martin Luther King Boulevard chanting, "All Power to the People," "No Justice, No Peace," "Hey Hey Ho Ho, This Racist System Has Got to Go."
Drivers on North Martin Luther King Boulevard honked in solidarity with the protesters. Some passers-by along the sidewalk raised their smartphones to capture pictures and record video.
A few protesters explained being fed up with social injustices.
"I'm a human being. I've had enough of the hatred and ignorance in this world," Christian Gerlach, a 29-year-old Las Vegan said.
Contact Raven Jackson at rjackson@reviewjournal.com or 702-383-0283. Follow @ravenmjackson on Twitter.