Las Vegas rings in 2012 with fireworks, parties, concerts
December 31, 2011 - 4:11 pm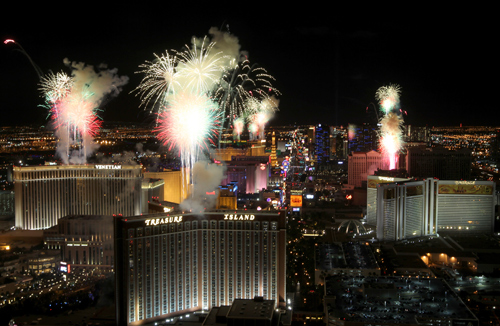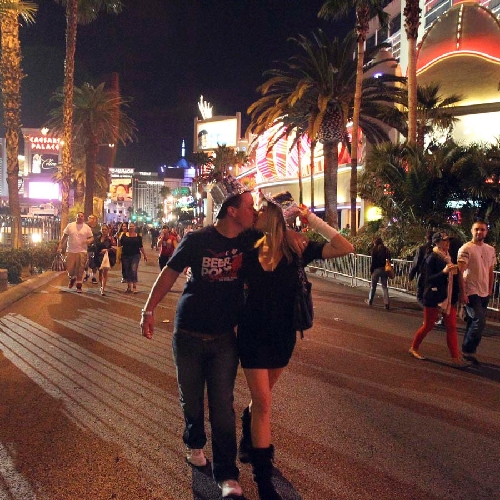 12:45 a.m.
A wall-to-wall ballroom crowd at The Cosmopolitan proved that stars still have some new year's luster, especially when the star is Stevie Wonder, playing "Auld Lang Syne" on his harmonica after leading a midnight countdown.
"God bless another year, and don't forget it," he told the crowd as traditional toasts gave way to "Higher Ground." Many audience members chose to run to the hotel pool deck to watch him on the outdoor marquee as fireworks went off over Planet Hollywood.
The show started about 45 minutes earlier with the pop legend serving advance apologies for the f-bomb he was about to drop when he instructed: "Anyone who's still talking right now, shut the (expletive) up."
But that was only so he could tell the crowd: "It is only by the grace of a higher power that we're here. If you don't agree, I don't care."
And as he took a break from the show opening "How Sweet It Is," he anouunced, "without the blessings that we've been giving, life would not be sweet."
— Mike Weatherford
12:11 a.m.
As the clock struck midnight and fireworks exploded from the rooftops, the more partied-out revelers rested their feet by sitting on the sidewalks and pedestrian bridges on Flamingo Road near the Rio. Others stumbled or ran closer to the Strip shouting "Happy New Year!" to whomever would listen. Some kissed and hugged.
— Kristi Jourdan
12:10 a.m.
Las Vegas Mayor Carolyn Goodman and her husband, former Mayor Oscar Goodman, toasted in the New Year from the stage between 4 Queens and Fitzgeralds.
"For the past two days all I hear about is this stupid ball dropping in New York," Oscar Goodman shouted. "Forget about it."
A 2011 retrospective on the overhead canopy hailed the killing of terrorist leader Osama bin Laden, acknowledged notable deaths such as former professional wrestler Randy "Machoman" Savage and actress Elizabeth Taylor before a segue to the countdown to the end of 2011.
— Benjamin Spillman
11:24 p.m.
Legendary singer Stevie Wonder just took the stage at The Cosmo with "How Sweet It Is."
— Mike Weatherford
11:14 p.m.
The Las Vegas police reported the New Year's Eve celebration remained orderly as of 11 p.m.
They have made 23 arrests within the Strip corridor and two around the Fremont Street Experience. All were for minor misdemeanor offenses.
Clark County firefighters have responded to another 60 calls since 9 p.m., including 16 on the Strip. One was a minor fire on the 15 floor of the Paris Las Vegas, which began in an ash tray canister.
The fire department will monitor the fireworks test shots at 11:45 p.m. to make sure conditions are OK for a midnight launch from the hotel rooftops.
"So far, everything is looking great!" said county spokesman Erik Pappa.
— Brian Haynes
11:01 p.m.
Forget about getting into the Cosmo without room key or ticket. Even if you do, crush at fence could go "Day of the Locust" anytime.
— Mike Weatherford
10:59 p.m.
About an hour before the new year set in, hundreds gathered underneath the pedestrian bridge between caesars palace and the bellagio to watch a complex drum circle.
Most swayed in the street, bobbing their heads and shaking their drinks to the beat that vibrated Flamingo Road.
— Kristi Jourdan
10:46 p.m.
Beyond the tourists under the canopy and hipsters on Fremont East, it was a bittersweet New Year's Eve at the Western Hotel.
The property is scheduled to close later this month, which means the low-income and working-class neighborhoods in the area will lose a longtime haunt.
On Saturday night, however, they partied like they had all the time in the world.
They sang karaoke, danced the Electric Slide and celebrated the end of the year.
While a singer on stage at Fremont East could be heard outside singing "f— you, f— you," the karaoke leader reminded customers at the Western to stick to their "no cussing" rule, asking them to bypass any curse words in the songs.
A waitress spilled her tray, sending plastic glasses to the floor and guests scrambling to help her clean up.
"The people, they are great people who come in here," said Rudy C., who declined to give his last name.
Decked out with a pinstripe suit and black and white wing tips, Rudy greeted friends who came in.
He said he spent his first New Year's Eve in Las Vegas at the Western in 1986.
When asked what he'll miss most about the place he said his friends.
And he decried stereotypes he said give people the wrong idea about the Western.
"People say they are nothing but bums but you have to live with them to know them," he said.
— Benjamin Spillman
10:12 p.m.
An astonishing lack of practical footwear on the Strip this eve.
— Mike Weatherford
10:02 p.m.
Several street vendors are seeing hot sales for "2012" eyewear that are covered in LEDs. They are being sold for $10 apiece and come in a variety of shapes, including rabbit-ear editions.
— Tim O'Reilly
9:46 p.m.
Clark County Fire Department reported 421 calls from midnight to 9 p.m. Saturday. After 5 p.m., most of the calls came from the Strip and were medical, according to county spokesman Erik Pappa. There was one stove fire at the Hampton Apartments on Swenson Street.
"All is well," Pappa proclaimed in an email.
— Kristi Jourdan
9:42 p.m.
Those really hooked on countdowns — "Five, four, three, two, one " — could hear one at the end of every commercial break on the Fox network's "American Country New Year's Eve Live" broadcast outdoors at Mandalay Bay.
There, most of the crowd fit easily onto the bridge that spanned the water between the beach stage and the sand. And when comedian host Rodney Carrington stationed himself in the crowd to interview those cowgirls sporting the most cleavage, the camera operator commanded a degree of respect most local TV news anchors on Fremont Street could only dream about:
"Do not wave into the camera! Do not hold your beer bottles up! Do not read the prompter! Do not wave to your mom!"
Yessir.
Staged for East Coast viewers at 8 p.m., the free-admission audience watched the Times Square festivities on a TV screen, just as if they had stayed home. So too was the evening's biggest name, Toby Keith, performing from someplace else.
But there were the "Pawn Stars" Rick Harrison and Austin "Chumlee" Russell, along with real live singing from Joe Nichols and Lauren Alaina. Cute women had a short wait to ride the mechanical bull — maybe the only short wait for anything on this night — and the patient were rewarded with the sight of a shirtless Carrington in a pair of 2012 boxer shorts. (Fear not, a bathrobe went on as soon as the camera light went off.)
And if anyone was disappointed that Kenny Chesney turned out to be little person Joe Childs, it wasn't Childs. The Los Angeles actor got to spend his first New Year's in Las Vegas after auditioning to be "mini-Kenny." "They liked it so much they just kept adding (bits)" such as crowd-surfing, he said.
Childs usually spends his New Year's Eve in the other party capitol, performing in the Radio City Music Hall holiday revue. "This is a nice contrast," he said.
(If you are reading this before 11:30 p.m., you can catch the show on KVVU-TV, Channel 5.)
— Mike Weatherford
9:39 p.m.
In the Plaza, well-dressed customers strolled into Oscar's, a new steakhouse named for former Las Vegas Mayor Oscar Goodman.
Rich Santilli was holding court at Rocco's, a fine cigar stand he opened three days ago outside the restaurant on the second floor. Santilli, a former professional poker player and 26-year Las Vegas resident, said he's hopeful the stand takes off.
He said since the economy tanked, tourism-dependent people like himself are forced to work harder and smarter to get by.
"The money dried up," he said of the cash that sustained a vibrant economy for poker players. "A lot of them they lost their bankroll … and they went home."
Still, he's betting the cigar stand will eventually succeed.
"If you live in Las Vegas a long time you have to be like a chameleon, you have to adapt," he said. "I feel that Las Vegas will come back, I just think it is going to be a good bit of time."
–Benjamin Spillman
9:37 p.m.
Tweet from Las Vegas police: Happy New Year's Eve Las Vegas. Remember to party smart and get home safely!!
–@LVMPD
9:18 p.m.
Wading through the crowd near Casino Royale were the Keilor Thunder basketball team from Melbourne, Australia.
The 21 players, all of high school age, are on a three-week tour of the western United States. They started Christmas Day in Los Angeles and fly back home Jan. 17. They are playing two games here, including one with Bishop Gorman.
Albert Pellizzer, team manager, said he planned the tour to be in Las Vegas for tonight's festivities.
"I thought it would be a great experience for the boys to spend New Year's Eve in Vegas," he said.
Pellizzer said the team planned to walk up and down the Strip and soak up the sights.
He seemed unaware of the 9 p.m. curfew for minors.
— Tim O'Reilly
9:01 p.m.
The Fremont Street Experience is getting crowded, especially at 3rd Street stage between 4 Queens and Fitzgeralds casinos.
The crowd is singing along with Wanted, a Bon Jovi tribute act. A Zack Galifinakis from "The Hangover," complete with baby carrier, is cleaning up on tips.
— Benjamin Spillman
8:49 p.m.
Revelers hopped over puddles of booze in front of O'Shea's, tracking sticky footprints into the casino.
An employee cleaning the floors became flustered in her attempt to brush out the beer stained carpet. Finally, she gave up.
— Kristi Jourdan
8:30 p.m.
Got my first puker at Bill's Gambling Saloon, and it's only 8:30. Rough.
— Kristi Jourdan
8:15 p.m.
Not everything about New Year's Eve has to be loud, garish and soaked with alcohol.
A string trio playing in front of the Forum Shoppes at Caesars Palace took a break after completing J.S. Bach's "Brandenburg Concerto No. 3." But energized by the large crowds that stopped to soak in some classical music and the pile of dollar bills filling the open violin case in front of them, they decided to pay another set even though they had been at it for more than six hours since starting at 12:30 p.m. Omar Shelly kept right on going with a viola solo.
"It's a lot of notes, especially Bach, and a lot of work," said violin player Sandro Ladu. "But this is great. This is supposed to be the Entertainment Capital of the World, but there's not much else to do for people under 21."
Cellist Anthony Rodriguez said, "Parents seemed especally responsive and appreciative that there was something for their kids. And I think the kids respond because a lot of classical music is based on dance," although the courts of European royalty of centuries past swung to a different beat than club mixes.
The trio didn't have a name — Ladu suggested the New Year's Eve Trio — just three local friends who share a passion for stringed instruments. The had started the day as a quartet, but one of the players had gone home earlier.
–Tim O'Reilly
8:08 p.m.
David Sogge would mark each lap around the ice rink in front of the Venetian by holding on to the rail and checking his watch to see how much longer before the skating session ended.
But friend Tamara Finley, easily more comfortable on skates even in a formal white gown and black faux fur stole, would alternately lead him by the hand or hold him from behind at the waist, as he wobbled and stumbled around the faux ice rectangle one more time.
Perhaps more unusual, they both live in Las Vegas, venturing to the Strip on a night locals flee in any direction. "We just dined in Italy, skated in the winter wonderland and we'll cruise the canals of Venice for less than $200," Sogge said. "How can you beat that."
Finley noted that by carefully avoiding the main streets, they could also avoid much of the traffic.
A few feet away, Kim Huiett of Phoenix unlaced her skates after sevel spins around the rink. The novelty of the idea had attracted her. "Not everyone can say they went to Las Vegas on New Year's to go skating," she said.
–Tim O'Reilly
7:58 p.m.
Under the Fremont Street Experience canopy thousands of revelries drank and danced to classic rock tribute bands.
Access was restricted to people who paid $30 to get in, but the pedestrian mall was crowded.
Mark Brandenburg, minority owner in the Golden Gate casino, wore a black tuxedo to greet guests entering the property.
He said under new majority owner Derek Stevens optimism for 2012 is high. Stevens has aleady approved a major addition to the property.
And, Brandenburg said, the hotel was averaging close to $200 per room for the holiday, even with required two- and three-day stays.
"The numbers are starting to go up," he said of the trends in gambling and room rates at the close of 2011.
— Benjamin Spillman
7:45 p.m.
Chain link fence in front of Tiffany's. No walk-in impulse buys from the Strip. However, a guy will sell you a blinking glow thingie from a duffel bag.
— Mike Weatherford
7:25 p.m.
I am in a parkin' spot! May we have some fireworks now please?
Lotsa those hoofing in past me wearing short sleeves. Ah, the numbing effects of booze.
And no other night will I see gals in mini dresses and spike heels hoofing past Ryder truck yard.
— Mike Weatherford
7:05 p.m.
Yikes, Harmon Way into Cosmo is like Carmageddon. Would Privelege mens club tow me?
Cosmo has staff all way out here for moral support and to deter thos without a magic parking ticket.
Terry Fator turtle puppet also waving happily from back of city bus.
— Mike Weatherford (who is heading to the Stevie Wonder concert)
6:50 p.m.
Las Vegas police have completely closed down Las Vegas Boulevard from Tropicana to Sahara.
— Kristi Jourdan
6:47 p.m.
A giant panda named Junior hugged a bearded woman carrying a snake around her neck for a photo across from the Bellagio fountains.
Junior, 26, from Palm Springs, Calif. is celebrating the new year by trying to pick up some extra cash from tips.
"I saw other people doing this, and I just wanted to make people laugh," he said through his stuffed panda head. "It hasn't been too good yet."
— Kristi Jourdan
6:41 p.m.
While most close out the year with a little bubbly and some fireworks, Andrew Ferrera and Bill Benjauthrit drove all the way from Los Angeles just to give people hugs on the Strip on New Year's Eve.
Camped outside of Bally's carrying "Free Hugs" signs, the duo gave hugs to anyone who asked.
"I want to show people there's more in the world beyond themselves," Benjauthrit, 28, said. "We have an infinite amount of love to bestow upon others."
Ferrera said he gave 300 hugs at an event last week and expects to hug more than 1,000 people as he welcomes in 2012.
— Kristi Jourdan
6:40 p.m.
Al Boyter and Jennifer Brennan of Beaver, Utah, decided after eight years together New Year's Eve was the time to drive to Nevada and get married.
They were cuddling and giggling when they left the marriage license bureau on 3rd and Clark to find a chapel.
The couple, who has nine kids between them, wanted to get married on Nov. 11 so their anniversary would be 11-11-11.
But their plans fell through and they couldn't make it.
"Time is short with nine kids," Brennan said.
So why, after eight years, did they finally decide to make it official?
"I'll give you one reason why," Boyter said. "That is the longest a woman has ever stayed with me."
— Benjamin Spillman
6:16 p.m.
The last day of 2011 was the first day on the job selling weddings for Jeff Bruns.
Bruns, a former college golfer at University of Wisconsin in the late 1970s, snared the job at Las Vegas Wedding Bureau from a man he met on the bus.
Business was so brisk, Bruns said, he wound up inviting a couple into the chapel while he was waiting for his shift to begin.
"I hadn't even started yet," he said. "I brought them right in and they got married within 20 minutes."
Ever the salesman, Bruns even pitched a reporter chatting with him on 3rd Street on the benefits of a quick, Las Vegas wedding.
"You're in and out in 15 minutes and it is done and over with, no hassle," he said, before getting back to work.
— Benjamin Spillman
6:15 p.m.
The Strip looked much as it does any other weekend, with tens of thousands of pedestrians wearing shorts and jackets on a mild night. At least early on, the party hats and 2012 glasses were few and far between.
The street became eerily empty of cars as the array of roadblocks took full effect. Pedestrians had to cross at designate points as the pedestrian bridges were closed and manned by Metro police officers. This gave people the once-a-year chance to take photos of each other standing spread-armed in the middle of normally clogged intersections, such as Las Vegas Boulevard and Spring Mountain Road.
–Tim O'Reilly
5:30 p.m.
On Fremont East — the downtown entertainment district that's quickly transforming from seedy to hipster chic — food trucks, quirky vendors and rock bands were setting up camp early.
Lou Pombo, 20, of Fremont Bike Clinic, was testing a stationary bike that will be used for races.
The bike clinic, a collective run by volunteers, hooked two stationary bikes to computers and will host races for revelers.
Pombo, a lifelong Las Vegan, hopes to take advantage of the expected crowds to get attention for the clinic.
"The Strip is for tourists," he said. "Here on Fremont, a lot of the people are local."
— Benjamin Spillman
5:20 p.m.
By 5:15 p.m., Aby and Michelle Gutierrez were tempted to call it a night.
The co-owners of the Famous Vegas Weddings chapel had presided over five weddings since 10:30 a.m., with Aby on his feet the entire time in leather-soled shoes. "I have sneakers but I didn't think it would look right," he said.
But they were still waiting for one couple to come back in a rented tux and gown. Since they just opened in September, they ultimately decided to stick it out at least for a while to see if any couples spontaneously dropped in.
The early rush, however, made them doubt the long-running Las Vegas cliche about people exchanging rings on New Year's Eve after knowing each other for all of six hours. "A lot of people wanted to get the ceremony over before the Strip got really crowded," said Michelle Gutierrez.
Their day's work gave at least a tiny boost to local tourism officials' hopes of boosting visitation by foreigners. Of the five weddings they conducted during the day, two were for Mexican citizens and one for Brazilians. A French couple had made a reservation, Michelle said, but asked for a rain check because they worried that jet lag might cause them to nod off during the "I do."
— Tim O'Reilly
NEW YEAR'S EVE ROAD CLOSURES
The first closures begin about 5 p.m. when the Nevada Highway Patrol shuts down the Interstate 15 eastbound offramps at Tropicana Avenue, Flamingo Road and Spring Mountain Road.
About 45 minutes later all streets and alleys leading to Las Vegas Boulevard between Sahara Avenue and Russell Road will be closed. Sahara, Russell and Desert Inn Road will remain open throughout the night to traffic crossing Las Vegas Boulevard.
A 6 p.m. Las Vegas police will begin closing lanes on Las Vegas Boulevard and clearing traffic leading up to a complete closure by 6:30 p.m. between Russell and Sahara. At the same time all elevators and escalators leading to pedestrian bridges on the Strip will be closed.
Las Vegas Boulevard and the I-15 offramps are expected to open about 3:30 a.m.
STRIP CURFEW
The curfew on the Strip applies to anyone under 18 without a parent or guardian. It starts at 9 p.m. today and ends at 5 a.m. Sunday.
NO GLASS OR METAL
Glass and metal containers are banned on the Strip and in downtown Las Vegas between 6 p.m. Saturday and 6 a.m. Sunday. Only plastic containers are allowed.
Las Vegas police also asked revelers not to carry large backpacks or bags that could carry bottles or cans to the Strip.
FREMONT STREET EXPERIENCE
The Fremont Street Experience will close to the public at 5 p.m. It will reopen at 6 p.m. for the New Year's Eve entertainment and celebration.
WEATHER
Tonight's forecast calls for mostly clear skies and a midnight temperature of about 45 degrees.