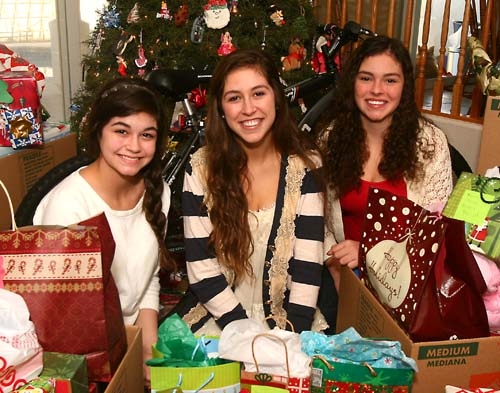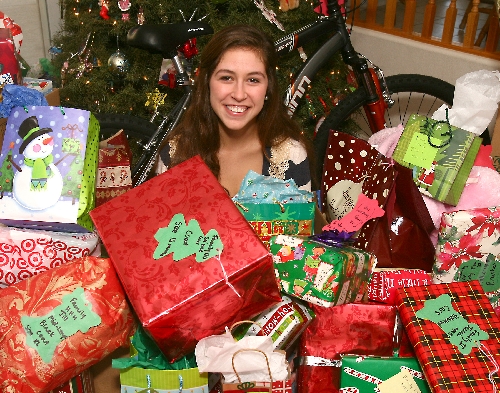 A mountain of 152 gifts buries the Nunes family's Christmas tree, stirring up images of Santa crash landing in the living room.
Small gifts, large gifts. Some too big to be wrapped, like bicycles.
Everything from MP3 players to toy cars, shoes, jackets and even necessities like gas cards, diapers and blankets.
Each box is for a different child. Nicole, Shauna, Juan, Suzy, Sady, Alvin and more. None is for Nunes family members.
Santa had nothing to do with any of it, Michelle Nunes said. The one behind the effort is daughter Ashley Nunes.
She collected 152 gifts for battered mothers and their children at S.A.F.E. House shelters, which are part of a nonprofit organization dedicated to helping victims of domestic violence.
"When they leave, they have nothing," said Michelle Nunes of those helped by S.A.F.E House. "They leave just with their kids, for their kids."
Nunes is passionate about the cause but said she doesn't deserve any credit. Her daughter is Santa's helper here, doing all the work to make sure every mother gets what she needs and every child unwraps the gift they asked Santa for.
Attention to detail means the shoes, the pants and the jackets will fit.
Ashley, a 17-year-old Las Vegas Academy student, has been collecting annually for S.A.F.E. House since 2004.
"If I don't do it, I feel like no one else will," said Ashley, who started the project as part of her service as Miss Nevada Junior Pre-Teen and has continued it since.
She started her S.A.F.E. House efforts by making ornaments for a tree at Hummel Elementary School near Bermuda Road and Silverado Ranch Boulevard, which she attended at the time. Now, she does it at the Las Vegas Academy near Las Vegas Boulevard and Fremont Street.
Each ornament bears a name and a gift wish that is fulfilled by someone who plucks the ornament off the tree.
It became harder to fulfill wishes last year, she said. Not as many people were giving.
"People don't have enough money for their own Christmas gifts," she said.
She used to collect so many gifts that took two Chevrolet Suburbans, a minivan and a Dodge Ram pickup to haul them to the nonprofit agency.
But with hard times have also come more modest requests: bath towels, bus passes, slippers, pillows, gas cards, coats and blankets.
Like Santa, Ashley never sees a soul open the gifts. She only has names, no faces. She gives the gifts to S.A.F.E House to pass them on. But she knows she is making a difference, and so do her younger sisters, 14-year-old Ana and 12-year-old Angela.
Ana plans to take over for Ashley next year, who will be in college.
But Ashley vows to help over the break. For the first time, because she will be 18, S.A.F.E. House will allow her to hand out gifts in person to the kids next year. She won't miss that.
Contact reporter Trevon Milliard at tmilliard@review journal.com or 702-383-0279.