Las Vegas teen with rare disorder receives bathroom makeover
January 12, 2017 - 6:40 pm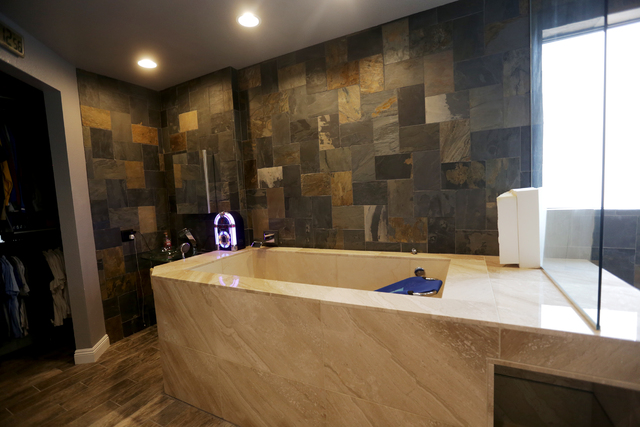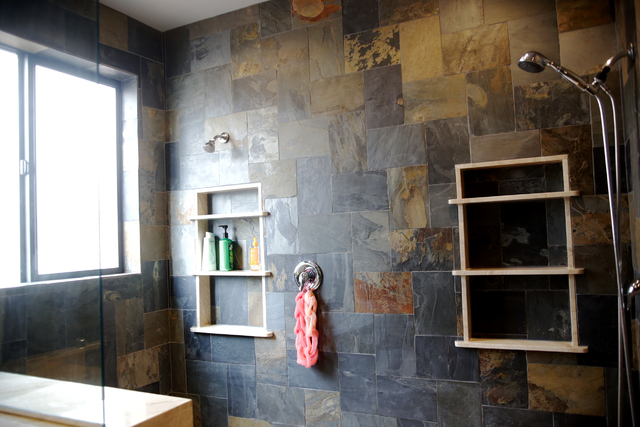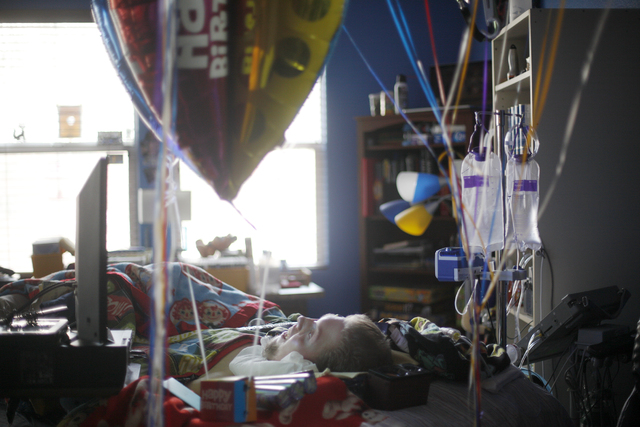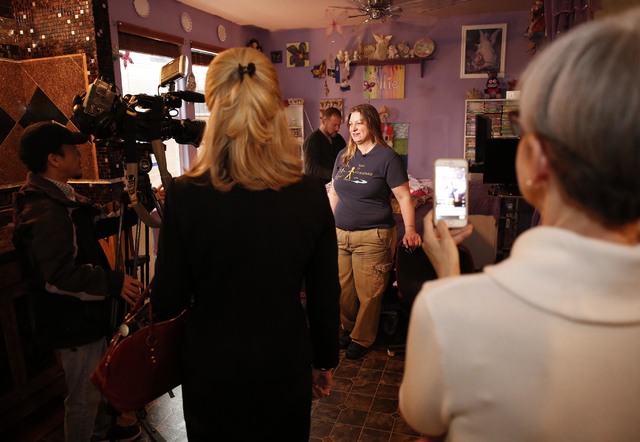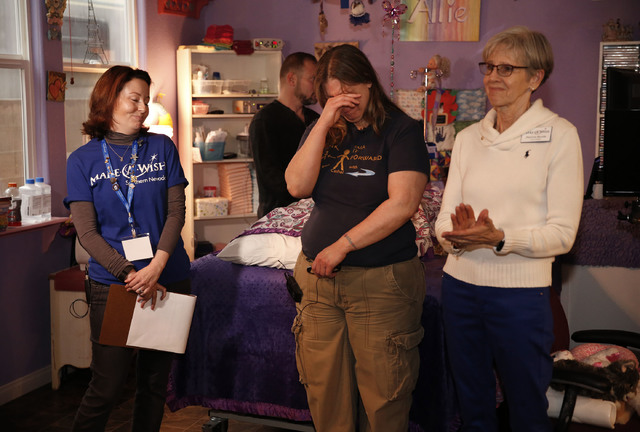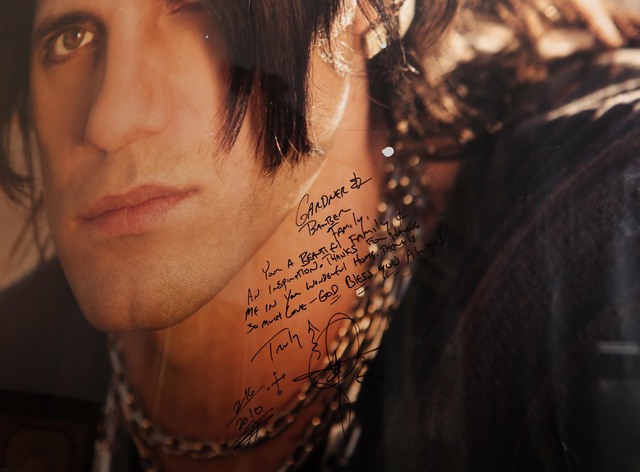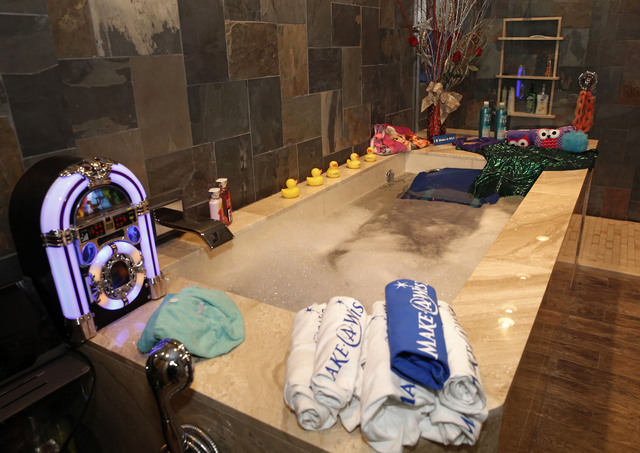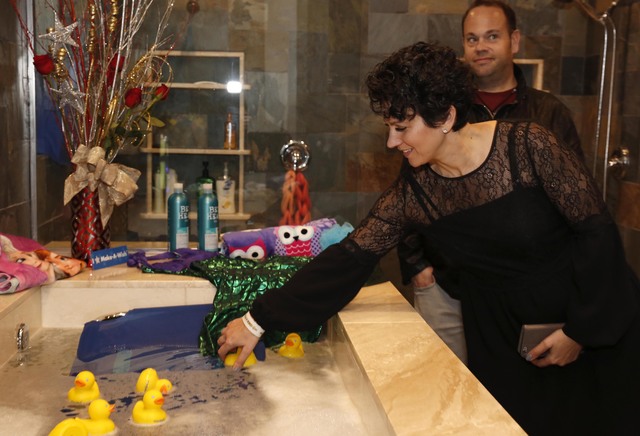 When 17-year-old Allison Gardner has a cold, her oxygen levels dip, her lungs tighten up, and her core body temperature drops.
According to her mother, Sandy Gardner, she is miserable. Only one thing seems to help: taking a bath. In the warm water, she's able to wiggle her limbs and increase her blood flow, as her body temperature and oxygen levels stabilize.
"It's so much more than just a bath," Gardner said.
Bath time for Allison, whose family calls her Allie, has grown increasingly difficult as she's transitioned from childhood to adolescence and no longer fits comfortably in the bathtub. Today, Make-A-Wish Southern Nevada and its partners formally revealed the Las Vegas teen's long-awaited bathroom makeover, including a custom tub.
For Allie and her 20-year-old brother Cashel, who were born with spinal muscular atrophy, baths offer solace. The rare neuromuscular disease, in which motor neurons are lost, results in severe muscle atrophy.
Doctors told the Gardners that those with Type 1 spinal muscular atrophy don't usually survive past age 2. Both Gardner siblings are bedridden and can't breathe on their own. Nor can they speak, though Cashel can type with two fingers and communicates with people around the world through his social media accounts.
Gardner and her husband, Matt Barber, who is Allie and Cashel's stepfather, act as live-in caretakers, monitoring their vitals and maintaining their medical devices.
The family was hands-on in the renovation process. Barber's background in construction and the amount of time spent planning enabled them to design the tub and shower to fit Allie and Cashel's growing bodies.
Barber said Cashel is 6 feet tall, and Allie is 5 feet 8 inches tall, so they needed more space than a standard bathtub could offer.
"The main design was function for us as well as for them," he said, pointing out the raised tub, which makes it possible for the couple to stand while bathing Cashel and Allie.
In addition to the larger tub, the new bathroom has a wheelchair-accessible shower, though the brother and sister both prefer baths.
"Her eyes were huge," Gardner said of Allie's reaction to her first time in the new bath. "She doesn't like change, but she adapted really quickly."
Inside the newly designed room, bright colors radiate from a small jukebox set on the edge of the bathtub. The music player is attached to an iPad on the vanity.
While Allie reacts negatively to heavy rock and rap, she enjoys many other genres, include country, Celtic and showtunes.
"Her whole world goes around music," Gardner said.
Though Allie's undeveloped muscles don't allow movement while she lies in bed, in the water she is weightless and can move her limbs.
"When she's in her bed, she has her computer going, she has all this stimulation," Gardner said. "But in there, it's her place of solitude. It's almost like a meditation for her."
Finding the perfect wish for Allie was a yearslong process. The Gardner siblings both were referred to Make-A-Wish in 2007. While Cashel received his wish of meeting magician Criss Angel in 2010, determining Allie's wish took more time.
"It was a process of: 'What would be perfect for her, what would she like?'" Gardner said. "What makes her happiest is being in the bath every day."
Barbara Tapp, one of Allie's wish granters, said the initial plan was a trip to the beach, but by 2012, it had evolved into the more practical wish of a new bathtub.
"This is truly her wish," Tapp said over the phone, her voice filled with emotion. "Kids like that, it's hard to find a wish that means a lot to them. The bathtub for Allison is perfect."
Finding a company willing to do the construction was the real challenge. Eventually, Guy Martin of Martin-Harris Construction heard about the Gardners and offered to help.
"We were so patient because we knew however it would work out would be perfect," Gardner said with a smile. "And it did."
Contact Brooke Wanser at bwanser@reviewjournal.com. Follow @Bwanser_LVRJ on Twitter.