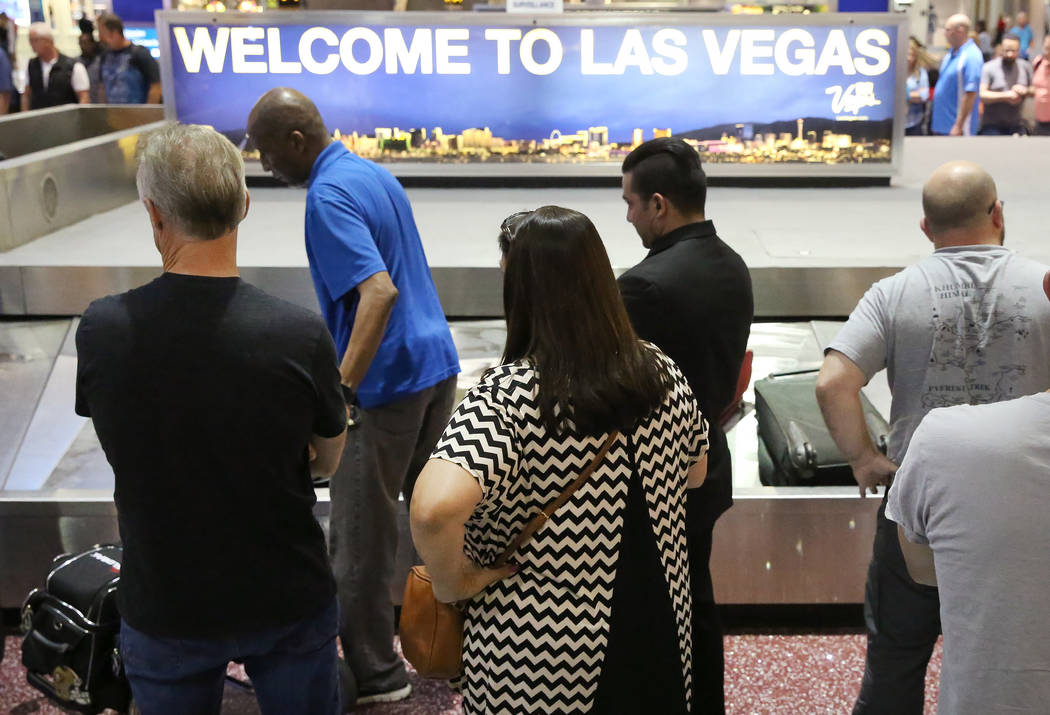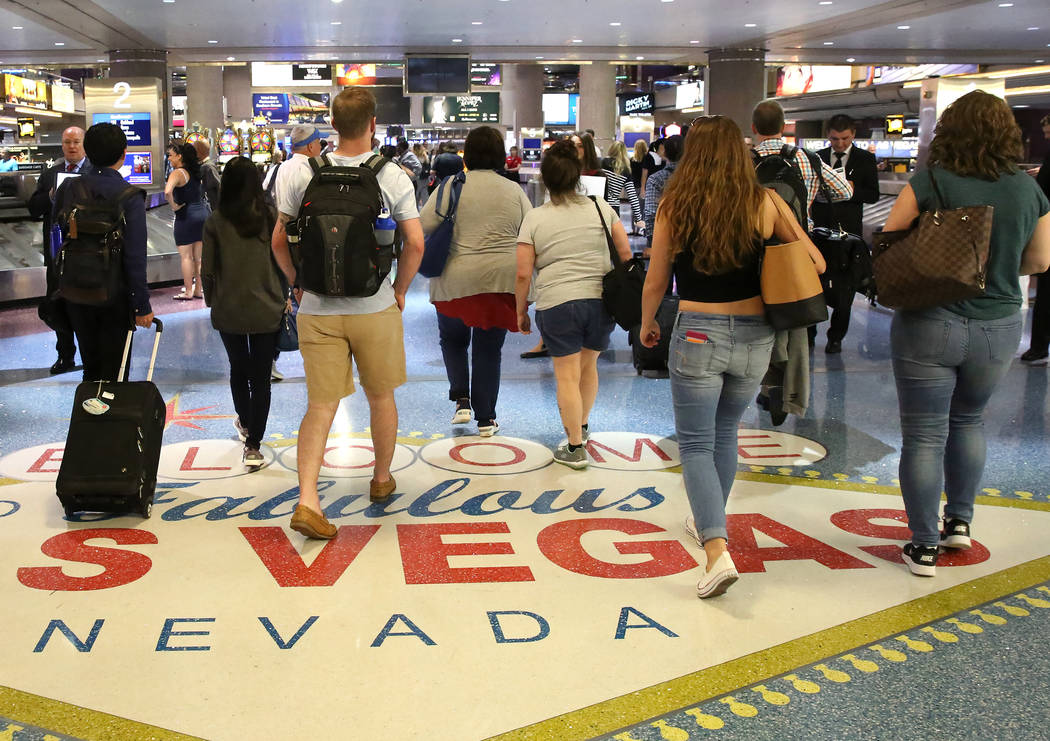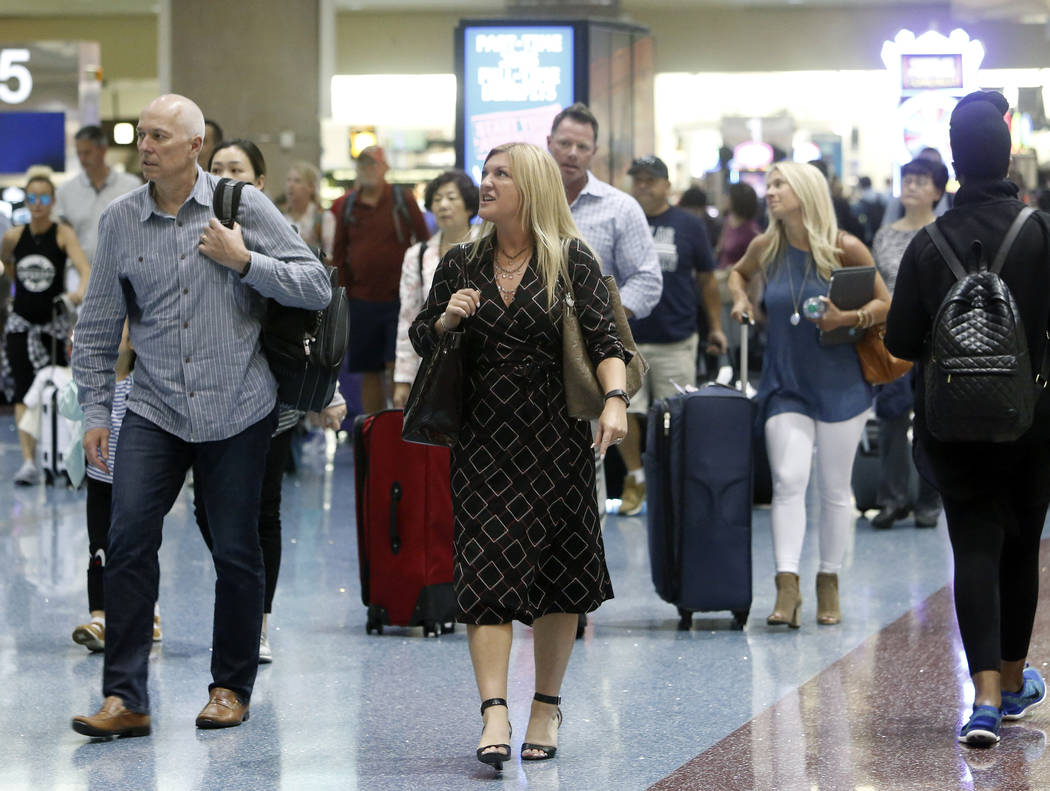 Gasoline prices and airfares are going up, but so are the number of visitors traveling to Las Vegas during the Memorial Day holiday weekend.
About 328,000 people will descend on Las Vegas from Thursday to Tuesday, making it the seventh most popular destination to kick off the summer travel season, according to AAA and the Las Vegas Convention and Visitors Authority.
More travelers and higher prices mean a windfall of cash will be dropped in Las Vegas.
Out-of-town visitors are expected to spend about $252.6 million on food, hotels and gambling during the Memorial Day weekend, nearly 1 percent more than the same time last year, according to Las Vegas Convention and Visitors Authority figures.
Of the 149,262 total available hotel rooms in the region, 96.5 percent will be occupied for the weekend, the authority said.
Roughly 198,000 visitors will drive to Las Vegas, with the heaviest traffic concentrated along the Strip, said Tony Illia, a spokesman for the Nevada Transportation Department.
That's a significant jump from the 104,000 vehicles that typically travel on Southern Nevada's streets and highways on an average day.
The roads to Boulder City and Hoover Dam will also be busy this weekend, with another 150,000 visitors expected at the Lake Mead National Recreation Area, Illia said.
Bus riders should take note that the Regional Transportation Commission of Southern Nevada will operate on a Sunday schedule on Monday, agency spokesman Brad Seidel said.
Increased airport traffic
From Thursday to Tuesday, an estimated 789,000 airline passengers will depart or arrive at McCarran International Airport, up 2.6 percent from the same period last year and a 6.3 percent jump from 2015, airport spokeswoman Christine Crews said.
Friday is expected to be the busiest day at McCarran during the long weekend, Crews said.
The spike in holiday travelers is not specific to Memorial Day weekend, Crews said, noting that the nation's eighth-busiest airport has experienced a steady surge in traffic for several years. McCarran fell just short last year of beating its all-time record of 47.8 million passengers in 2007.
"There is no average weekend at our airport," Crews said. "Our traffic is strongly driven by what events are happening in the greater Las Vegas area at any given time."
Nationally, AAA forecasts about 39.3 million people will journey 50 miles or more away from home this weekend — an increase of 1 million people from last year and the highest Memorial Day travel volume in 12 years.
Boost in gasoline prices
About 34.6 million of those travelers will drive to their destinations this year, even though AAA predicts that Memorial Day gasoline prices will be at their highest since 2015. The average price for a gallon of gasoline in the Las Vegas Valley was $2.65 on Tuesday, up 22 cents from a year ago.
Another 2.9 million travelers will catch a plane, even though airfares are 9 percent higher than last year, AAA officials said, adding that the average round-trip airline ticket will cost $181 this weekend. Another 1.75 million people will take a cruise, or catch a train or bus to their destinations.
"The expected spike in Memorial Day travel mirrors the positive growth seen throughout the travel industry this year," said Bill Sutherland, AAA's senior vice president for travel and publishing. "Higher confidence has led to more consumer spending, and many Americans are choosing to allocate their extra money on travel this Memorial Day."
Following the holiday weekend, a record 234.1 million airline passengers worldwide will take to the skies on U.S. carriers between June 1 and Aug. 31, a 4 percent jump from last summer, according to Airlines for America.
Contact Art Marroquin at amarroquin@reviewjournal.com or 702-383-0336. Follow @AMarroquin_LV on Twitter.