Las Vegas Valley celebrates 4th of July — PHOTOS
Updated July 4, 2017 - 10:22 pm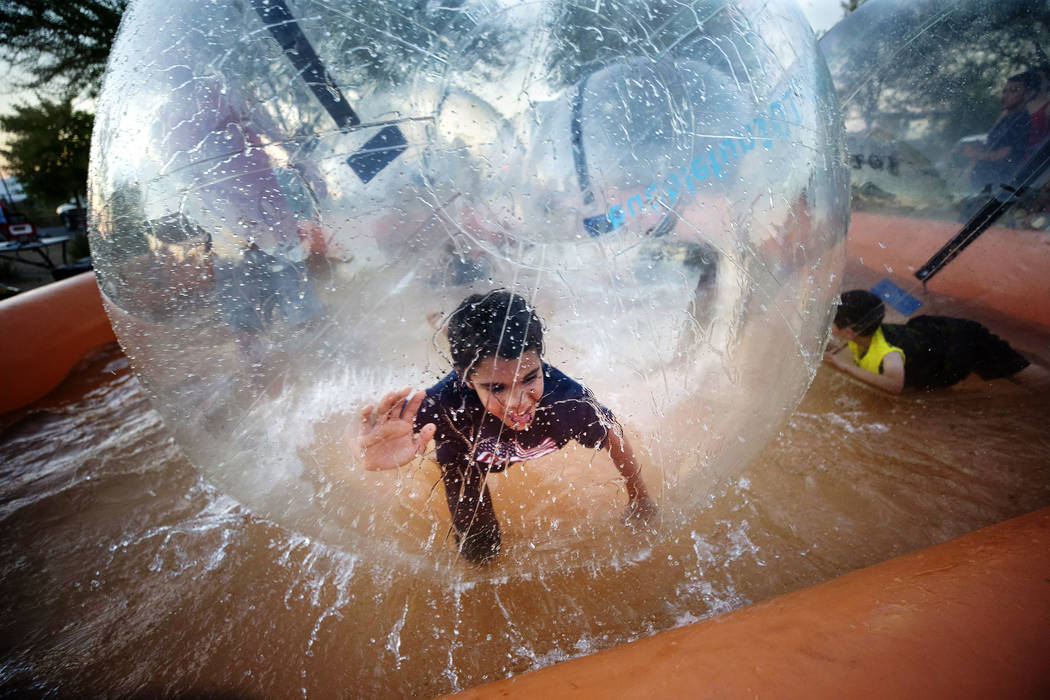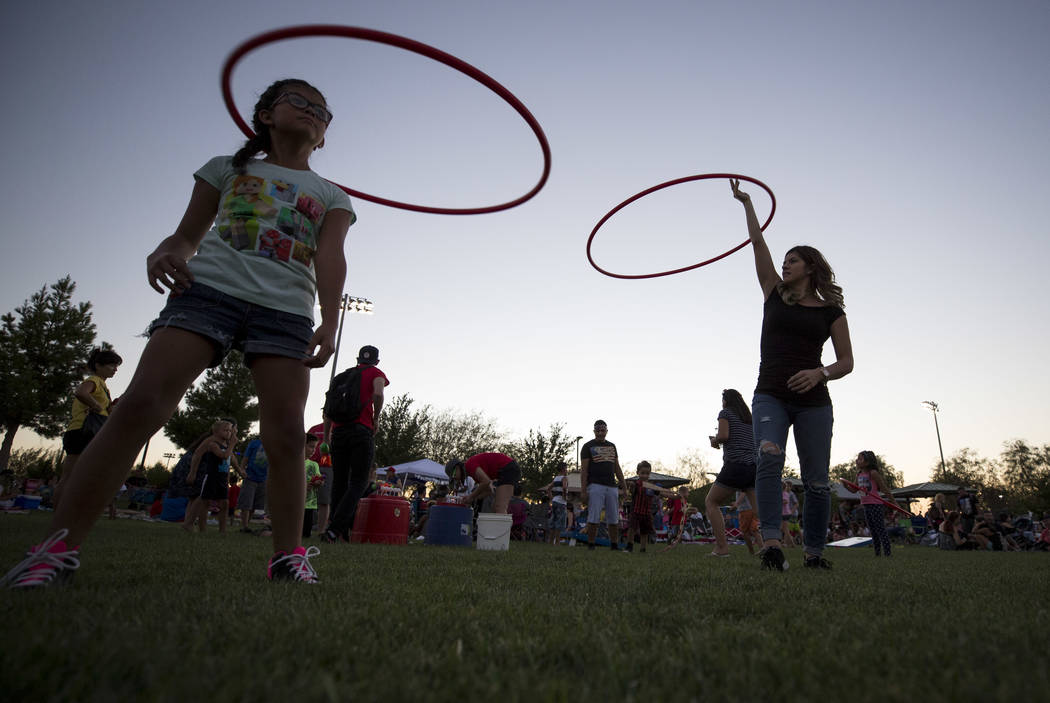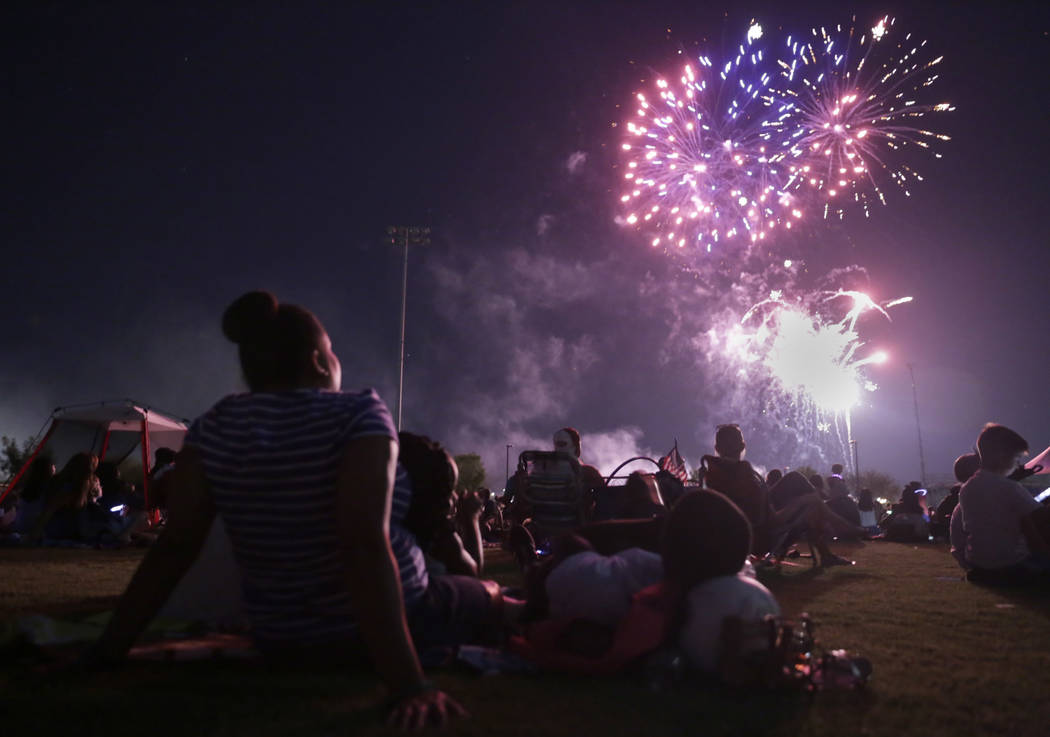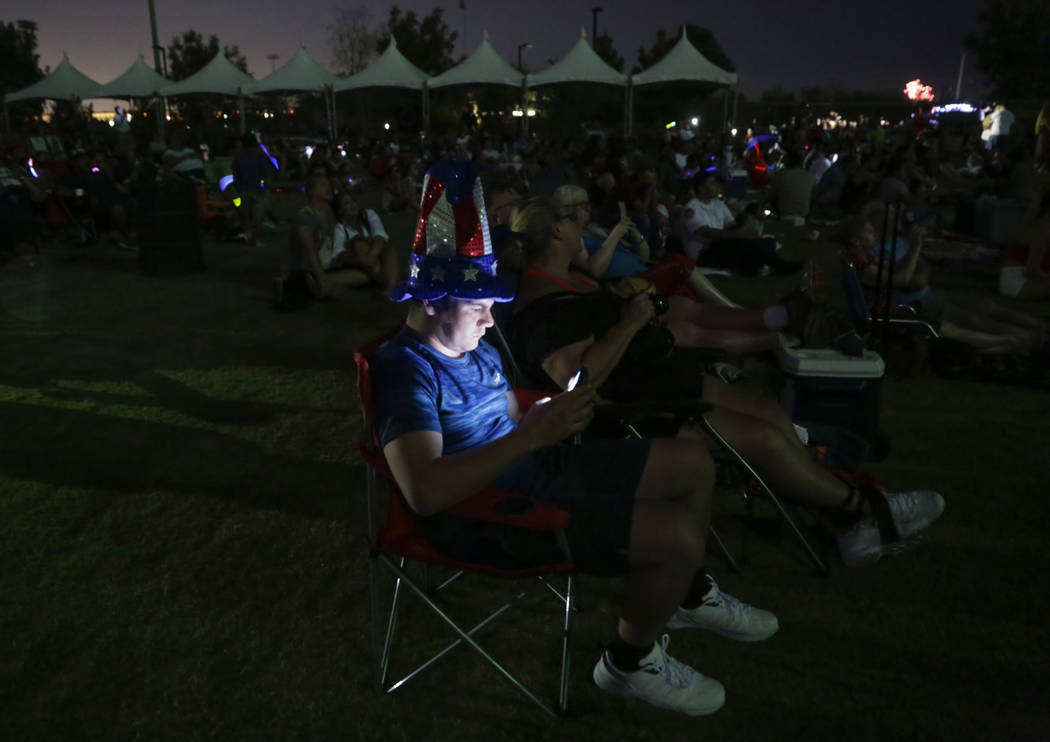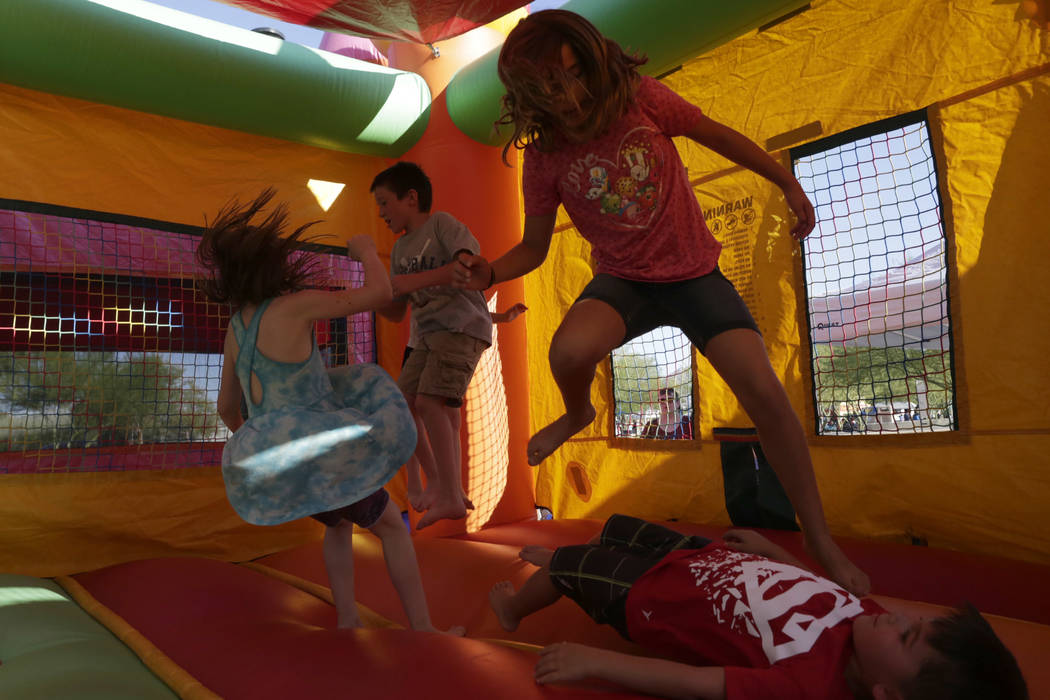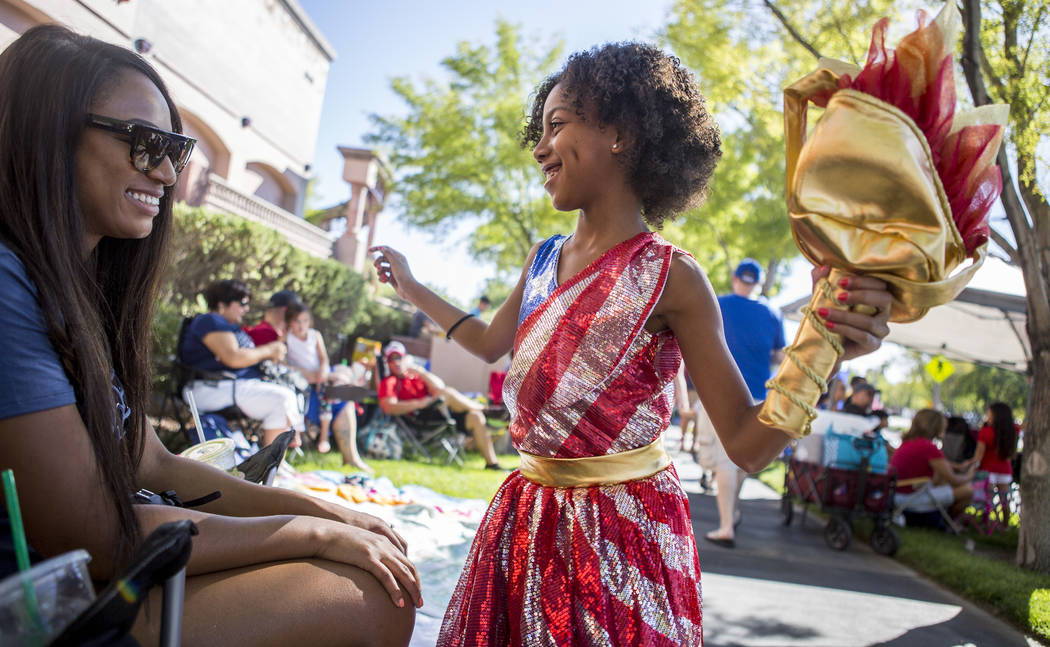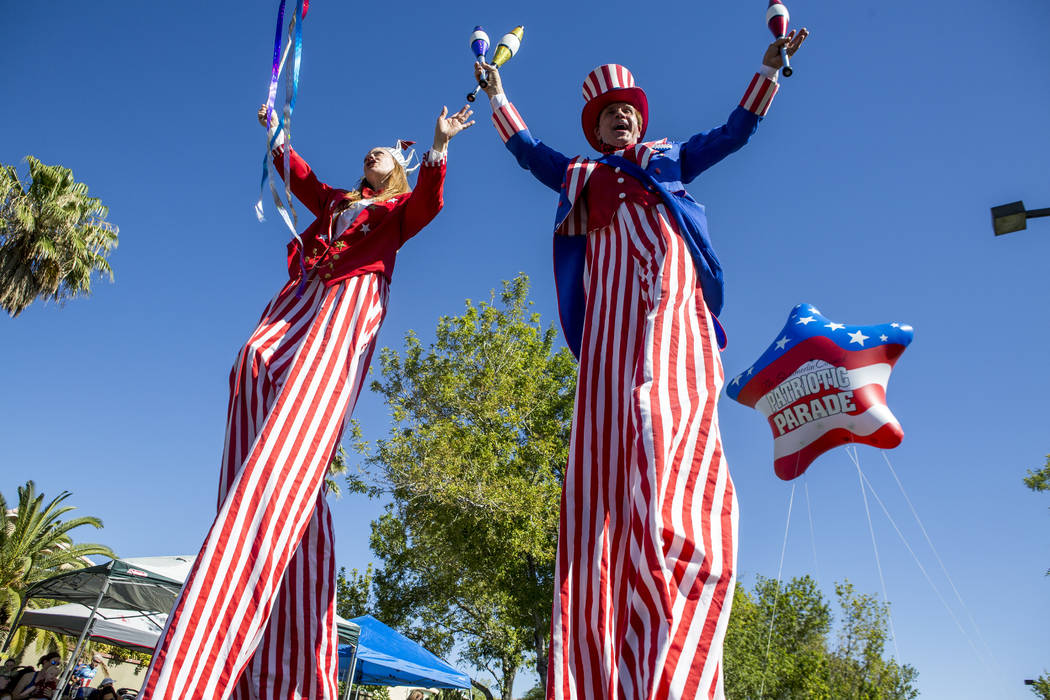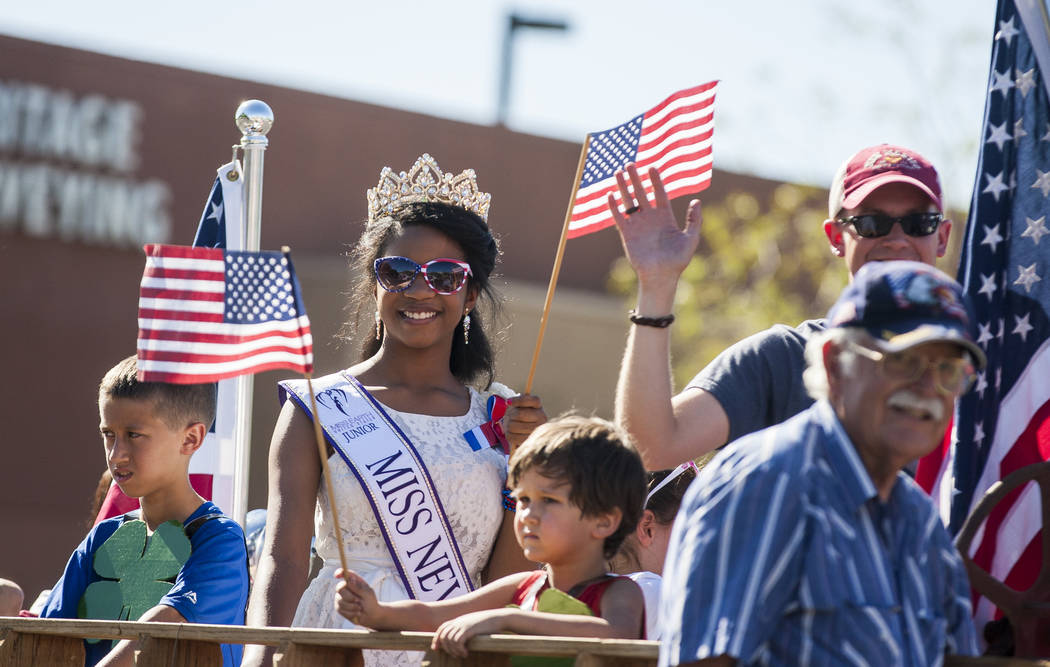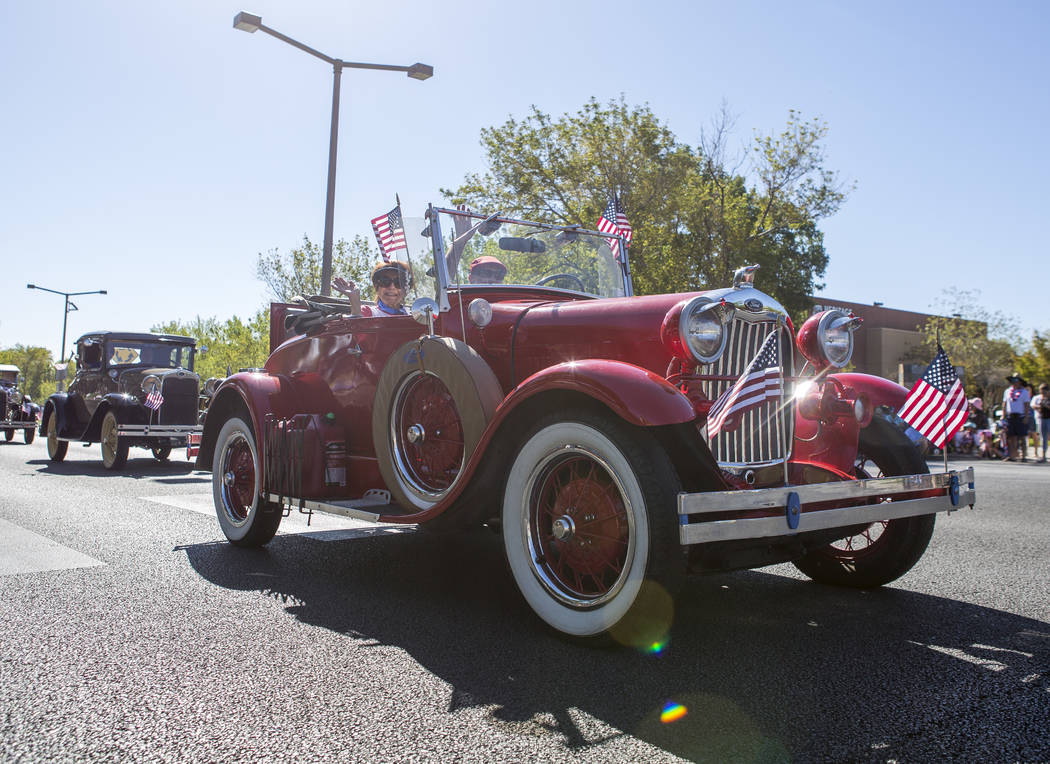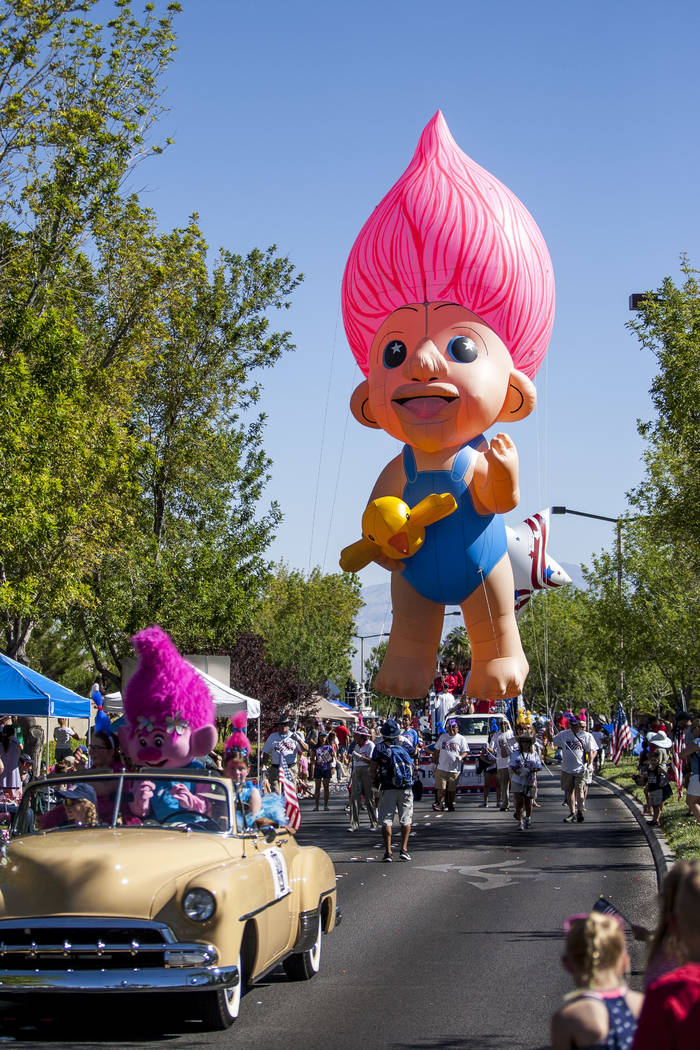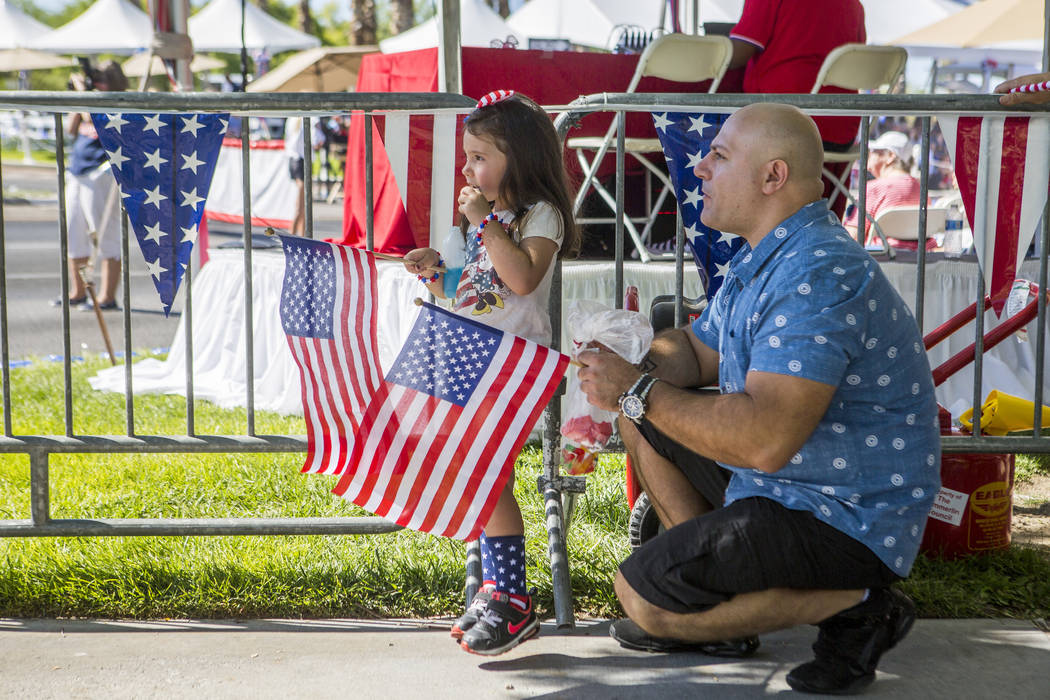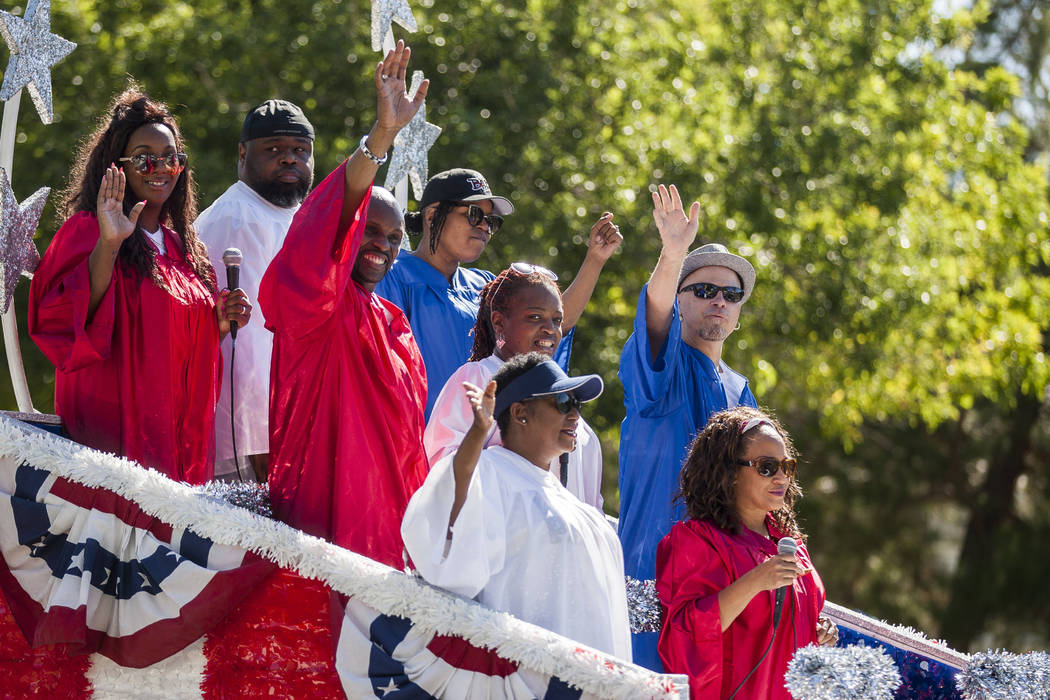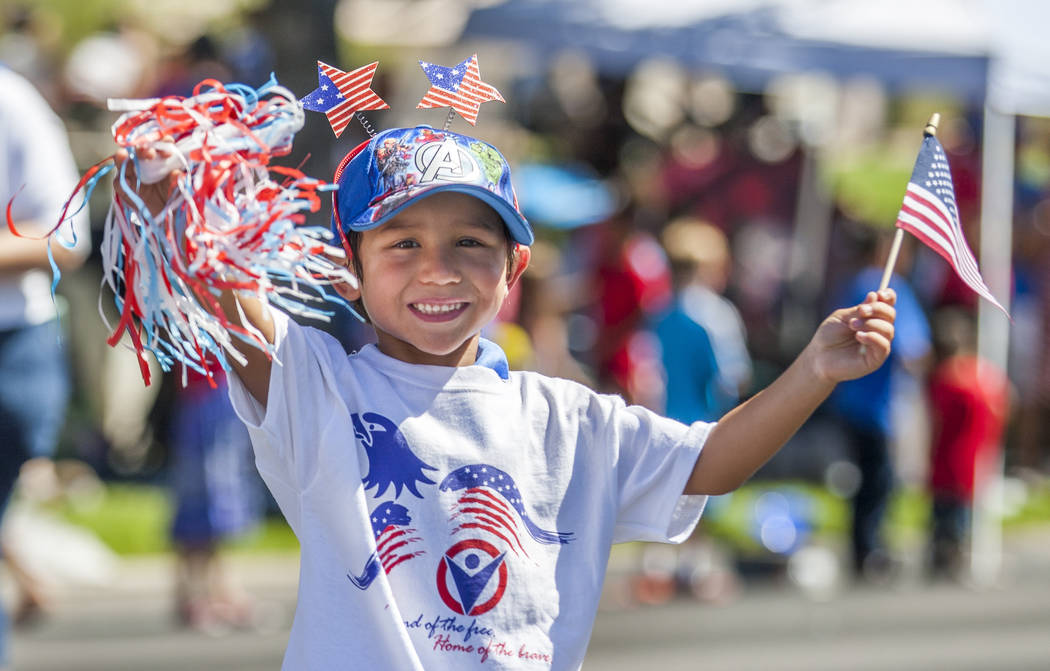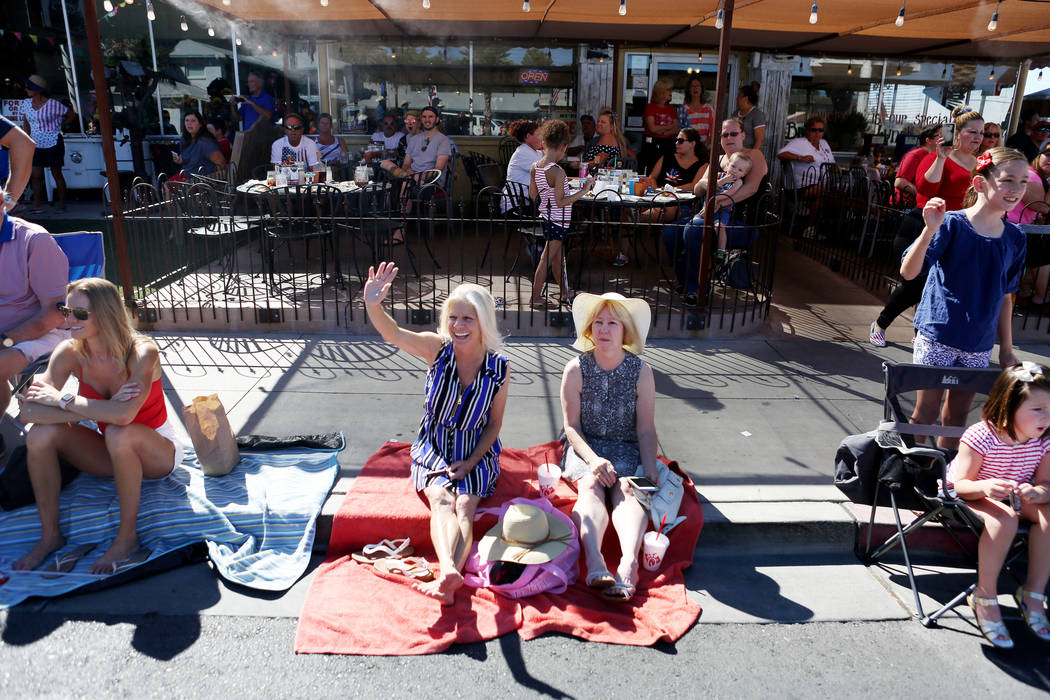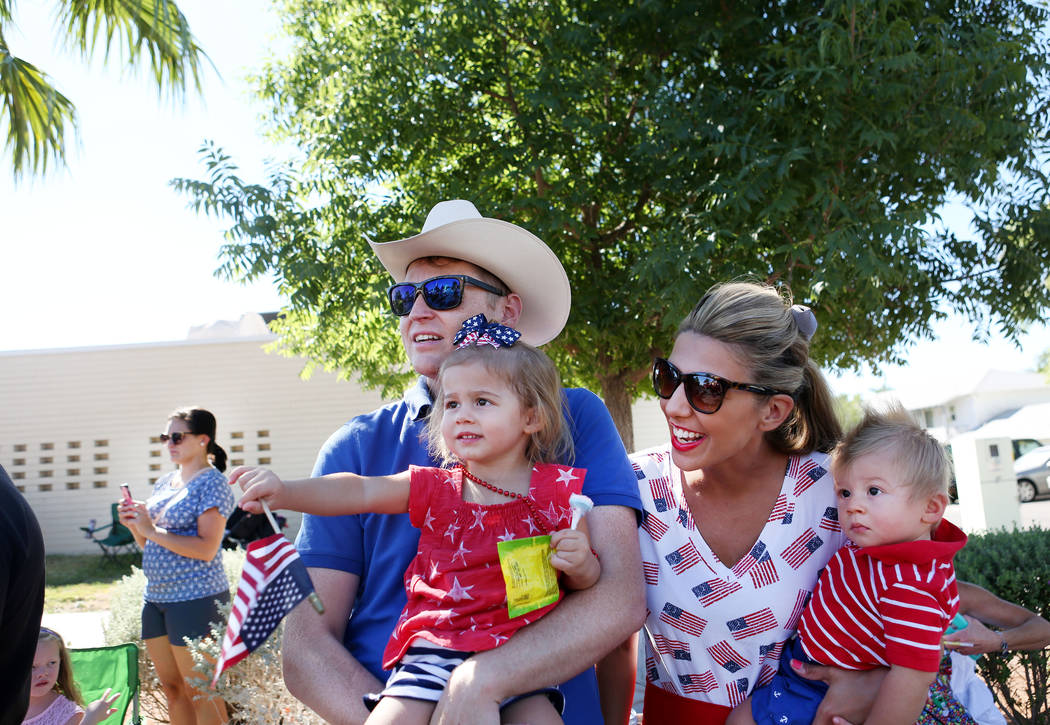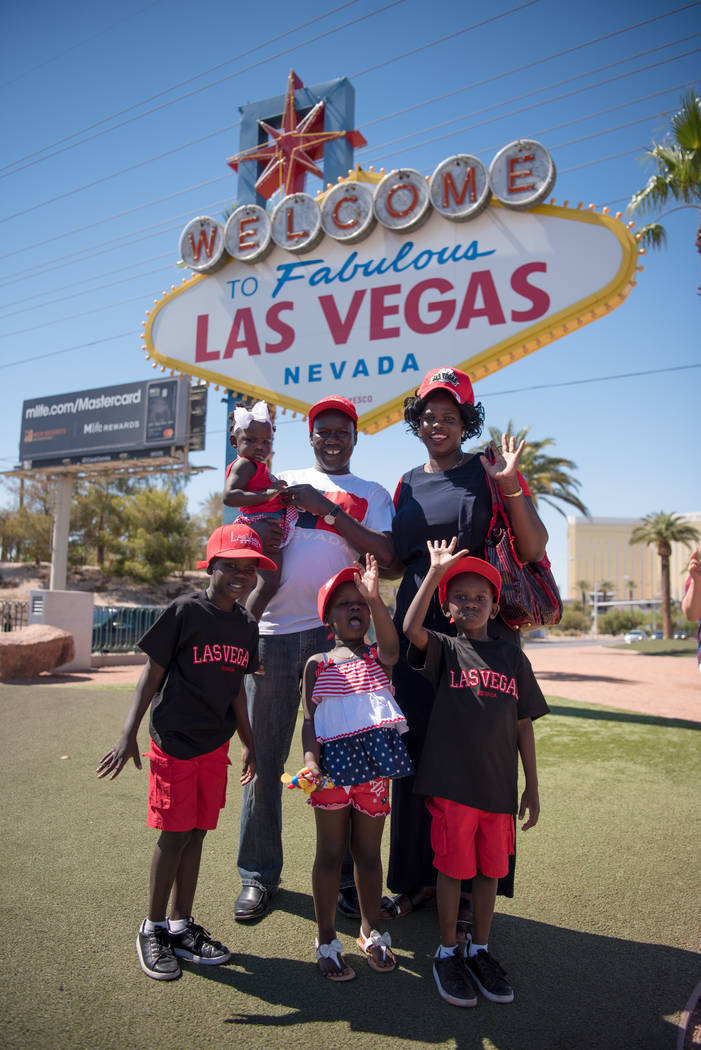 At the first sight of fireworks, children swimming in the Red Rock Resort pool pointed to the sky. Color exploded through the air, reflecting in windows. The Fourth of July fireworks show had begun.
Hundreds of people, many wearing red, white and blue glow sticks handed out at the door, gathered at the resort on Tuesday night as Station Casinos held its annual fireworks show. The gaming company also holds a show at Green Valley Ranch Resort in Henderson, making the combination one of the largest fireworks displays in Southern Nevada.
And earlier Tuesday, before the temperature hit triple digits Tuesday morning in Las Vegas, thousands of people made their way to Summerlin for the 23rd annual Summerlin Council Patriotic Parade — the largest in Southern Nevada.
Guests filled the pool, lounge chairs and cabanas, contributing to a crowd too large for event organizers to count.
"Thousands upon thousands show up and they surround the resort and fill Downtown Summerlin and all around the area," said Station Casinos spokeswoman Lori Nelson.
The nine-minute spectacle was paired with an accompanying soundtrack. Songs like Katy Perry's "Firework" and Miley Cyrus' "Party in the U.S.A" blasted through the resort's speakers, sometimes overtaken by noise of the firework's blasts.
For the locals
Nelson said the show's theme, "We Love Locals' July 4th Fireworks Blast," is meant to show who the show is truly for.
The resort, which was at full capacity during the long holiday weekend, had a combination of visitors from out of town and locals enjoying a staycation.
Emily Chudoba, who lives down the street from the Red Rock Resort, said this was her seventh year attending the casino's fireworks show. She planned to stay at the resort that night.
While Khalid Radwan is not a local — the San Diego resident was visiting with friends and family — he said he came because the show has a reputation as one for locals. His daughter Sana, 11, said they wanted to avoid the fireworks along the Strip, which cater more to tourists.
Nelson said Red Rock Resort recognizes its role to the local crowd during the Fourth of July.
"It's such a known annual tradition in town," Nelson said. "Everyone's really well trained and knows where to go and where their favorite viewing area is."
More than a show
Michel Nelson, a Las Vegan who attended the show with his wife and two daughters, said fireworks are more than just a show to him.
"I'm retired from the Air Force," he said. "It always brings back memories of when I was deployed, memories of that camaraderie."
Before moving to Las Vegas, Nelson lived in England and Japan, each for six years. No other country has a holiday similar to the grandeur of the Fourth of July, he said.
"I've been overseas a lot," Nelson said. "They don't have anything compared to this … it makes me proud to be an American."
The parade
Before fireworks lit up the night, spectators huddled under tents and umbrellas and sought shade. Some had set up camp the night before, while others arrived almost two hours before the 9 a.m. parade.
Four free shuttles brought parade goers from Downtown Summerlin, running every 30 minutes. By 8:30, there were over 100 people in line — way more than expected, said Tom Warden, senior vice president of community and government relations for Summerlin.
Warden estimated the parade was its largest ever, with about 40,000 attendees, 70 entries, 2,500 participants and 500 volunteers. There were 20 floats, over 25 inflatables and a tribute that included military service men and women.
"It's really like a fine-tuned machine," Warden said.
Thrills for the kids
Ronald McDonald posed for selfies while walking on the parade route. Men wearing kilts played bagpipes. And Star Wars stormtroopers marched through.
"Princess Leia! I love you!" yelled one girl from the crowd.
Next to her, parents fanned infants in their strollers and sprayed water on each other to keep cool. A young boy in a red-and-blue Mohawk walked by. Toddlers fumbled with waving their small American flags while getting slathered with sunscreen by their parents.
Rachel Mulder, 29, toted ice pops in a red cooler and sold them for $1 each. With her, her four boys: 1-year-old twins, a 5-year-old and a 3-year-0ld.
"All the money is going to them," she said.
Beneath a tent, a group of family and friends gathered, watching the parade, as a character from the movie "Moana" came along on a float.
"Moana!" yelled 5-year-old Kaiden.
"Ghostbusters!" yelled 9-year-old Evan.
"Pikachu! Pikachu!" a group of four boys chanted.
"Sing it, boys, sing it!" said Kristi Bybee, mom of three.
When the Aladdin float made its way down the street, Bybee smiled.
"Look, the magic carpet," Bybee said. "How stinkin' cute are these?"
Bybee's friend Rachel Casper arrived at 7:45 a.m. to set up for the parade. They planned to swim and grill later.
"The all-American dream," Bybee said.
Warden said that when he heard little voices singing behind him as Moana came out, he knew the parade was a success.
"That's really what it's about," he said. "The kids — and watching their faces."
Contact Bailey Schulz at bschulz@reviewjournal.com or 702-383-0256. Follow @bailey_schulz on Twitter. Contact Briana Erickson at berickson@reviewjournal.com or 702-387-5244. Follow @brianarerick on Twitter.