Las Vegas Valley crashes leave 4 dead, several injured
Updated March 22, 2023 - 7:31 pm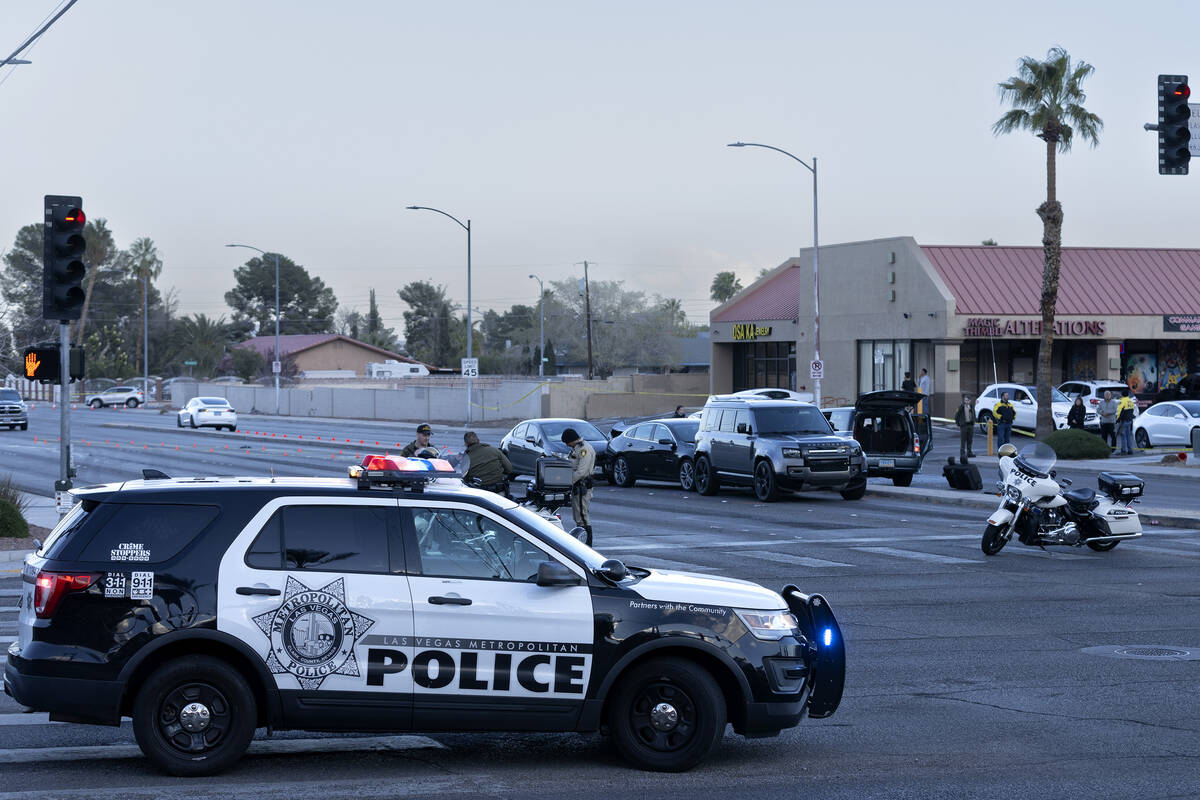 At least four people were killed Tuesday after separate crashes in the valley.
A six-vehicle crash near West Desert Inn Road and South Jones Boulevard around 2:30 p.m. left one person dead and hospitalized a total of six people, according to the Metropolitan Police Department.
The crash occurred when the driver of a 2005 Nissan Titan changed lanes on Desert Inn and lost control, causing a chain reaction crash. The Nissan then continued into oncoming traffic, where it struck a 2010 Ford Flex.
A 73-year-old woman who was a passenger in the Ford died at University Medical Center. All five people in the Ford were hospitalized as was the driver of the Nissan, who suffered serious injuries.
Impairment was not a factor in the crash, police said.
Police said Desert Inn closed in both directions between Jones and Red Rock Street.
A single-vehicle accident was reported around 4 a.m. at the 215 Beltway east, near South Decatur Boulevard, according to Nevada State Police.
The Highway Patrol said a silver Toyota Tacoma with two people inside was driving too fast for the wet conditions causing the truck to spin out of control and then roll over.
The driver, Kevin Rose, 56, of Las Vegas, died at the scene, according to the Highway Patrol.
Rose's passenger suffered moderate injuries and was taken to University Medical Center.
The Regional Transportation Commission said the left lanes were blocked as of 6:45 a.m.
In North Las Vegas, a pedestrian was crossing Simmons Street at West Cheyenne Avenue at 6:50 a.m. when he was struck by a "box-style construction vehicle" driving through a green light, police said.
Officer Brian Thomas said the pedestrian was a man in his 50s who died at the scene. He said the pedestrian tried to run across the road and ran into the vehicle's path.
The driver stayed at the intersection and did not show signs of impairment.
"It should be noted that the pedestrian was in a marked crosswalk, however crossing against the lighted pedestrian signal," Thomas said.
He said weather was not believed to be a factor in the crash.
The Highway Patrol was called around 10:30 a.m. to U.S. Highway 95 south near Kyle Canyon Road for another single-vehicle crash that killed at least one person, according to a tweet from the department.