Las Vegas Valley firefighter jobs could draw thousands
August 27, 2014 - 5:19 am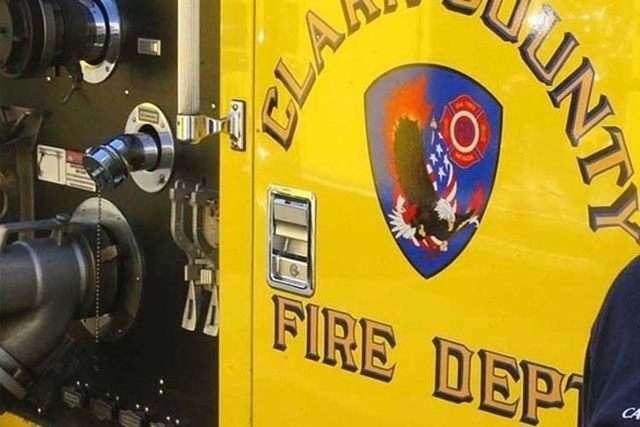 Clark County could see a surge of thousands of firefighter applicants in the coming months to fill only a few dozen open slots in its five fire departments.
The jobs always draw lots of applicants, primarily because of their good pay and benefits and the fact that they don't require college degrees.
But the anticipated boost from the long lines of past years might have something to do with the county, Las Vegas, North Las Vegas, Henderson and Boulder City fire departments placing their recruitment efforts into one big package.
In an effort to save money in recruiting fire cadets, the fire departments have joined together to create Southern Nevada Fire Recruitment.
Applications will be accepted through snvfirerecruitment.com from Oct. 27 through Nov. 26.
The program will conduct a series of public outreach sessions to help those interested learn about the different departments, the application process, employment requirements, testing tips and benefits.
The city of Las Vegas, which is running the website, will forward successful applicants to the other departments, at which point they can pick the candidates they want to extend an invitation to move forward with the process over the next year.
If more than one department chooses the same candidate, the candidate will then decide which department he or she wants to try to join.
Each department offers different salaries and benefits. County firefighters have a starting annual salary of $44,565. The base salary of a Las Vegas firefighter is $47,321.
While those salaries are more than the base salary of a new New York City firefighter at $39,370 a year, it's less than the base salary of a new Los Angeles firefighter at $53,766.
And each of the fire departments has different qualifications. The Clark County Fire Department requires a minimum of a high school diploma, while the Boulder City and Henderson fire departments require candidates to have paramedic certification also.
The hiring process is extensive and competitive, Capt. Cedric Williams of the North Las Vegas Fire Department said.
After an application is approved, candidates must take an online test. If candidates pass that and are chosen to move forward, physical tests, interviews, medical exams and background checks will follow. While the process is similar in each department, there are minor differences. For instance, county applicants can't use tobacco products.
The joint recruitment is not geared, necessarily, to get applicants from out of state; all planned recruiting events are happening locally.
However, Williams said a small advertising effort was made in Fire House and Daily Dispatch, an online trade magazine.
The combined recruitment effort makes sense for a city that is cash- strapped, such as North Las Vegas.
Williams said the only hiring the department has done lately has been through lateral hires from other fire departments. But the need for a new recruitment class is necessary as firefighters retire, the captain said.
It's unknown how many applicants the joint effort will garner. Williams estimated it could be from 300 to 30,000 though he expects more rather than less.
Each city of Las Vegas fire department recruitment usually attracts 1,000 or more applicants, a spokesman said.
How many recruits each department is seeking varies.
The Clark County Fire Department is seeking anywhere from 15 to 40 recruits, depending on the number of vacancies, county spokeswoman Stacy Welling said.
Welling added that the county expects to save $150,000 by "pooling advertising, outreach and human resource department resources. We also don't have the expense of administering our own written exam and physical abilities test."
North Las Vegas needs about 10 new firefighters, Williams said.
The Las Vegas Fire Department has two academies scheduled already for September and October to fill 40 vacancies, spokesman Jace Radke said.
"This collaborative regional effort is in anticipation of future vacancies which may occur due to retirements," he said. "Given the length of time it takes to identify the most suitable candidate to match our agencies' core values, we generally keep an eligible list active at all times to ensure we are able to meet the communities' public safety needs."
Radke said the city will save about $100,000 by participating in the joint recruitment in the future.
Neither the Henderson nor the Boulder City fire department is participating in the first joint recruitment this year but plan to do so in later recruitment efforts.
Still, Henderson Fire Chief Steven Goble called the joint recruitment an example of "efficiency through cooperation to best utilize our resources."
The chief added, "Recruitment is a decision that impacts our organization through the entire career of a firefighter, and having a diverse pool of qualified candidates is essential for our highly selective hiring process."
Clark County Fire Chief Bertral Washington added, "Becoming a firefighter is a highly competitive process. This is an exciting initiative because it saves time, taxpayer money and is expected to result in a large, diverse group of strong candidates to choose from when our department has openings."
Contact Francis McCabe at fmccabe@reviewjournal.com or702-224-5512. Find him on Twitter: @fjmccabe.