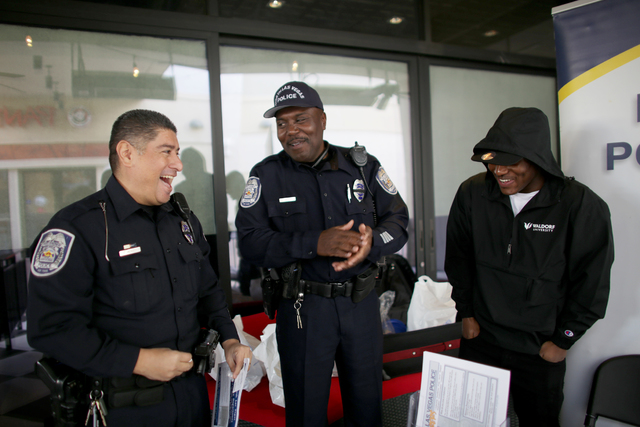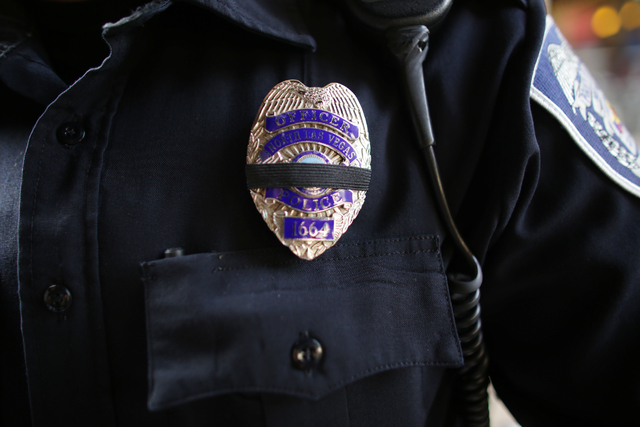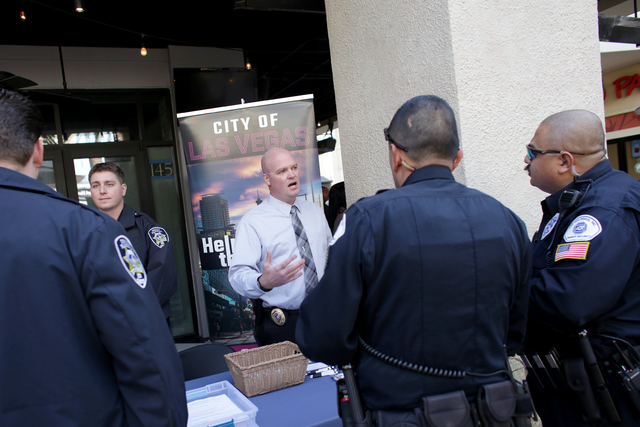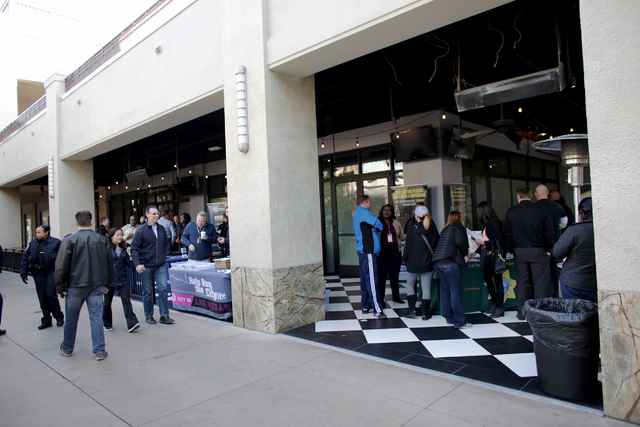 Recruiters from nine law enforcement agencies gathered Sunday at the Town Square shopping center for what organizers billed as the first multi-agency recruiting expo in Southern Nevada.
The Metropolitan Police Department, which hosted the All County Law Enforcement Agencies Recruiting Expo, is making a huge push in recruitment. The agency hopes to hire at least 600 police officers and 100 corrections officers by the end of 2017, more than twice as many as in past years, according to Metro officer and recruiter Larry Douglas, who organized the expo.
"It's a lofty goal," Douglas said, "but I know we can do it."
Metro and other law enforcement agencies have a long, sometimes difficult, application process, but Metro recruiter Al Carreon said that makes it more rewarding for the applicants who are finally hired.
"You have to be honest with yourself," Douglas said. "Ultimately you're serving people. If you have that desire, you can do that job. That's the ultimate candidate."
Recruiters explained the recruitment process and answered questions from potential applicants at booths stocked with pamphlets and promotional swag.
"I'm kind of already in the process," said Ashleigh Roberson, a 26-year-old College of Southern Nevada student in the criminal justice program. Roberson is starting to take some of the pre-tests required by some agencies, but not all.
"I started getting interested (in a law enforcement career) in my teen years, and that's what I went to school for," Roberson said. "I've changed my major a couple times, but I keep coming back to it."
Roberson said she was leaning toward a career with Metro, but is considering other agencies after meeting with their recruiters at the expo.
The only agency recruiting on a similar scale to Metro is the Nevada Department of Public Safety, which has about 100 vacancies this year, including parole and probationary officer and state trooper positions, according to Jose Villa, the department's human relations analyst.
Erica Page, who works in human resources and recruitment for Clark County District Court, said the court needs about 15 to 30 new recruits who already have law enforcement certifications to replace deputy marshals who have retired or will retire this year.
"It's more a job for an older guy. It's good for younger people who want to get their foot in the door, but it's a great job for someone who doesn't want to work on the streets anymore," said Anthony Tisuo, a Clark County deputy marshal.
Recruiters for the North Las Vegas Police Department wore black bands over their badges to honor officer Chad Parque, who died Saturday after he was critically injured in a three-car collision Friday.
North Las Vegas police officer Teodoro Mendez said Parque's death hasn't affected recruitment, which is a year-round effort for the department.
"Everyone's putting out their condolences. The whole community and every other department is here for us," Mendez said.
Other recruiters said law enforcement agencies generally don't see a drop in applications when officers die in the line of duty.
"I tell people that every job is dangerous, no matter what you do," Carreon said. "But people in law enforcement love what they do, and dying for something you love to do is honorable."
When an officer dies on-duty, it makes people re-evaluate the role of law enforcement and see the value of what officers do, Douglas said.
The biggest obstacle to recruitment is lack of information and negative sentiment toward police, he said.
"Most people know someone or have a family member who has had a negative interaction with an officer," Douglas said. "They think we're out to give them a ticket or just looking for an arrest, but most of what we do is talking things out with people."
Above all else, people who want to join their local and state agencies have a passion for protecting their community, recruiters said.
"If you have law enforcement in your heart, nothing will stop you," Tisuo said.
Contact Max Michor at mmichor@reviewjournal.com or 702-383-0381. Follow @MaxMichor on Twitter.
RECRUITMENT SEMINAR SET
The Metropolitan Police Department will hold an informational seminar about law enforcement careers on Saturday.
The free event will run from 10 a.m. to 1 p.m. at department headquarters, 400 S. Martin Luther King Blvd., Building A.
The seminar is hosted by the Sheriff's Hispanic Recruitment Council. For more information, email recruitment@lvmpd.com.