Las Vegas Valley Water District among nation's best, audit shows
Updated August 3, 2017 - 8:13 pm
The Las Vegas Valley Water District considers its delivery system one of the most efficient in the country, but it still leaked enough water last year to fill more than 5,000 Olympic-size swimming pools, according to an annual internal audit.
Even with that amount of loss, the audit estimates the district is operating at 99 percent efficiency in its delivery of water through the city of Las Vegas and unincorporated Clark County.
"Every water system is going to lose water. That's a fact," district spokesman Bronson Mack said. "Water follows the path of least resistance. You have a lot of linkage within the water system, and any of that linkage provides some opportunity for leakage."
Regardless of the losses, the district is doing an exceptional job, said Rob Renner, chief executive officer of the Denver-based Water Research Foundation.
"They've probably got one of the tightest systems in the U.S.," he said. "In the middle of a desert water is so precious you can't waste it. That's why they've gone to the extent they have."
Newer system, fewer losses
Last year the district was unable to bill for about 5 billion gallons of water that it treated and pumped, according to the audit that the district published in July and provided at the Review-Journal's request.
The report found that two-thirds of the missing water was due to leakage and seepage, while most of the rest can be blamed on inaccurate readings from obsolete water meters.
Still, the annual volume of water lost has trended downward over the past 10 years. Losses in 2006 were approximately 1 billion gallons more than last year.
In 2016, losses represented only about 5 percent of what traveled through the district's system, three times lower than the national average, the audit found.
Peter Mayer, a water management expert with the Colorado-based WaterDM consulting firm, said the system's efficiency likely reflects the fact that the Las Vegas Valley has seen most of its population arrive over the past 30 years.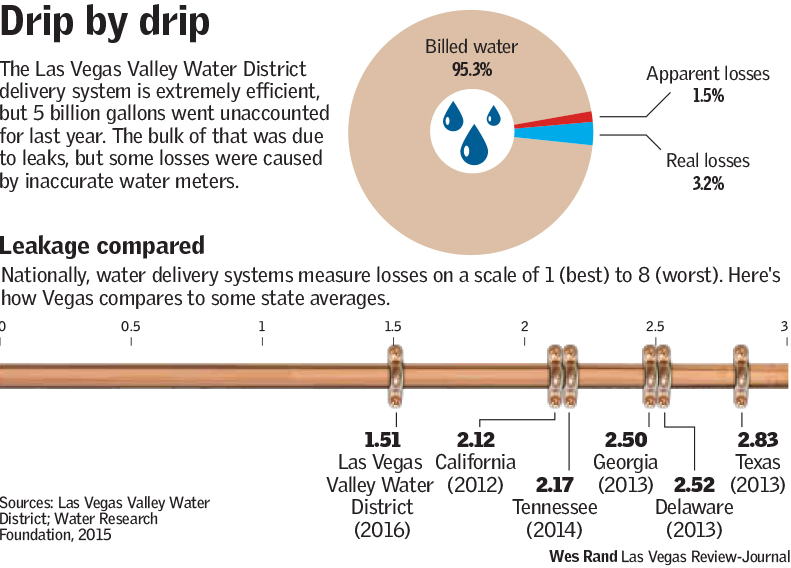 "Las Vegas is benefiting from the fact that they are a newer water system, and it's generally easier to maintain," he said. "On the East Coast there are water systems that are hundreds of years old with losses more in the neighborhood of 30 percent of water deliveries."
Mayer said, however, he wouldn't back the district's claim that Las Vegas has one of the country's best water systems.
"My biggest caution is that comparing between utilities is always an iffy proposition because each utility is so different," he said. "The value of comparison is really with yourself, how are you doing over time?"
Listening for leaks
To continue working toward optimization, Mack said the water authority is replacing hundreds of obsolete meters a year. The audit shows they have about 850 to go.
The district also has leak-detection technology that measures frequencies along pipelines overnight to pinpoint leaks. Analysts who listen in can tell the difference between a leak, typical water usage or the buzz of other infrastructure, like an electrical transformer.
"Vegas is a 24-hour town; our water system is a 24-hour water system," Mack said. "The last thing we want to do is dig up a street and say, 'OK, the leak isn't here. Let's keep digging.' "
But there will always be leaks. The audit estimated that at 100 percent efficiency, the system would still leak about 2.2 billion gallons of water a year due to unavoidable losses.
And becoming much more efficient might not be worth the cost, Mack said.
"We have to weigh the investment that we make in ratepayer dollars into finding and fixing these leaks and seepage with how much savings we're actually going to get," he said. "Does it make sense for us to invest $2 million a year if we're only going to realize $1 million in savings on the back end? That's the balance you have to maintain."
Contact Michael Scott Davidson at sdavidson@reviewjournal.com or 702-477-3861. Follow @davidsonlvrj on Twitter.