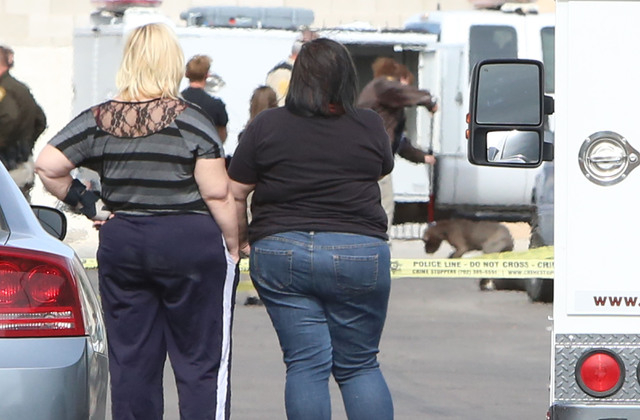 The daughter of a 65-year-old woman who was severely injured Friday in a dog attack said the family intends to press charges against the owner of the animals.
The woman was attacked by four dogs about 9:50 a.m.in the front yard of her home in the 900 block of Looking Glass Lane, near Bonanza Road and Sloan Lane, Las Vegas police said. She had tears to her face and both arms and was taken to University Medical Center.
Her daughter, Brenda Aguilar, did not want to give her mother's name. Her mother went into a nearly seven-hour surgery about 1 p.m. Friday. That night, she hadn't gotten an update to know the severity of the injuries.
Aguilar, 23, and her husband and daughter live with her mother on Looking Glass Lane. Aguilar wasn't home when her mother was attacked but said her mom recounted what happened before she went into surgery.
The mother had gone outside to warn a neighbor who was walking home that a dog was loose on the street, Aguilar said. She was on her way inside when one of the dogs, the smallest of the group, started barking at her and brought the other dogs' attention.
They attacked Aguilar's mother near the mailbox of the family's home, Aguilar said.
The woman's 69-year-old neighbor, Robert Sisterman, also was injured when he came to her aid with a baseball bat and stones. He was bitten on the right hand and also taken to UMC where he was released with 20 stitches and a cast, his wife said.
"He was using anything, anything to get their mouths off of her," said the man's wife, Janice Sisterman.
Janice Sisterman witnessed everything from the couple's home across the street and called police, who responded and fatally shot one of the dogs.
Janice Sisterman said her husband was in a hospital bed near the woman who was mauled, but the couple do not know her name. Robert Sisterman told his wife the woman was going into surgery about the time he was discharged, and that she might lose an eye or an arm.
On Looking Glass Lane, two patrol officers each shot once at the dog who died, Metro said.
The dogs belonged to a neighbor who lived a few houses down from the woman they attacked.
Janice Sisterman said the neighbors who owned the dogs had been living at the house for about six months. She said her husband had only talked to them once before, when the dogs were in the Sistermans' front yard, barking at a dog next door.
Sisterman said none of the houses have fenced-in front yards, and she's not sure how the dogs escaped their backyard.
Aguilar had never spoken to the owners of the dogs, but had seen a woman outside the house where they live once or twice before.
Police described the dogs as "pit bull and mixed breed." Clark County Animal Control has placed the remaining three dogs in its custody.
Review-Journal photographer Bizu Tesfaye contributed to this report.
Contact reporter Cassandra Taloma at ctaloma@reviewjournal.com or 702-383-0381. Find her on Twitter: @CassandraTaloma. Contact Kimber Laux at klaux@reviewjournal.com or at 702-383-0391. Find her on Twitter: @lauxkimber.