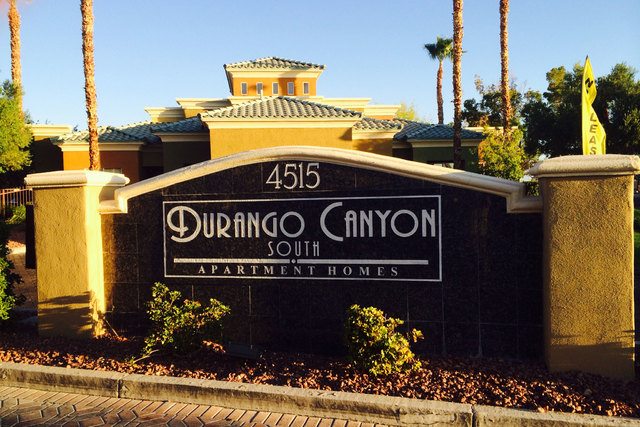 A restraining order and more than 10 calls to police didn't stop a man from stalking a woman he had dated, according to Las Vegas police.
So she shot him in the chest. Just hours later, she appears to have described the incident on social media.
Douglas Eugene Jackson, 22, faces one count each of aggravated stalking and home invasion, both felonies. He is accused of trying to break into Dasia Washington's home at Durango Canyon Apartments, 4515 S. Durango Drive, shortly after 1 a.m. on Sept. 26.
Washington, who could not be reached for comment, shot Jackson early that September day, authorities said. Las Vegas police are still investigating. The Clark County District Attorney's office said Friday that Washington is not facing charges.
Police and court documents trace a six-month escalation of terror that started after the pair briefly dated in February. They also show complications and problems with stalker investigations and restraining orders.
Between March and the September shooting, Jackson reportedly tried to break into Washington's home four times and created 15 social media accounts used to threaten her, police said. Washington was even kicked out of another apartment because Jackson's attempts to attack her scared her neighbors, according to police.
Washington's fear and Jackson's threats made her close herself off, she told police. She felt like a "hermit."
She applied for a restraining order in May, but police didn't serve it until three days before the shooting.
Washington and Jackson met online about a year ago and dated for three weeks in February, according to a police report. Police said their split seemed "amicable," at first.
In the wee hours of Sept. 26, Washington was watching TV when she heard her apartment door being broken, police said. When Jackson stuck his head through the opening, Washington ran upstairs, grabbed her 9 mm pistol and fired twice.
"Dasia, you shot me!" Jackson screamed before he fled, police said.
He was found a short time later hiding in some bushes, according to police.
Jackson survived a single gunshot wound to the chest and was taken to University Medical Center, where he remained Friday, booked in absentia.
Alexis Kennedy, a University of Nevada, Las Vegas associate professor in criminal justice who has researched Metro stalking cases, said Friday that a restraining order is "immediate protection."
"The restraining order is sort of elevating the seriousness of the event," Kennedy said.
But, as a police report in Washington's case shows, the order itself offers little practical protection.
Washington told Jackson she wanted a restraining order, according to her application for the protective document.
His reply: "That won't help, that's just a piece of paper."
In the same document, Washington described some of Jackson's messages.
"Hey b——, we are coming for you," he reportedly said. "The police won't find me. I'm planning a raid. I am tracking you."
Restraining orders can also take time to get approved. If there's not a restraining order in place, Metro spokesman Larry Hadfield said, police can't arrest someone for violating a restraining order. But an arrest for aggravated stalking or harassment can be made if police have enough evidence.
Calls to police about Washington's safety began in March. Jackson began threatening Washington in person and online, according to a police report, and tried reaching her through her family and friends.
Later that month, Washington's boyfriend chased away two men who tried to break into her apartment, police said. Washington said that though she did not see him, she was sure Jackson was one of the men.
In April, the threats continued, according to the police report. An apartment security guard, Washington's boyfriend and Washington herself called police about Jackson.
Jackson tried to break into Washington's apartment on April 25, police said. This time, Washington's boyfriend fired a warning shot to scare off the would-be intruder. Jackson and a friend returned to try again later that day, and the boyfriend fired off two more shots.
When contacted by police in regard to that break in, Jackson said that he knocked on the door and was chased away by Washington's boyfriend. He said "he almost died" and that he did not report it because he just wanted "to forget about it."
It's unclear why police didn't arrest Jackson at that time.
Washington filed for a restraining order in May, but Jackson's stalking continued, police said. That month Jackson called her from blocked numbers and would send people to knock on her door and try to talk to her, police said.
Jackson called Washington in June and said he was going to shoot her in the face, she told police.
In July, Washington was evicted from an apartment when her neighbors became afraid of Jackson. He would threaten her by saying his friends would "raid her house if she didn't see him," the report said.
In late August, Douglas told Washington that he was going to kill her and himself, and that if he was not able to get her, he would go after her family, she told police.
To make an arrest for stalking, police have to be able to show a pattern.
That places a burden on victims, said Kennedy, the UNLV associate professor, because they have to help prove the case and "be their own advocate."
"That's unfair, but it's sort of the nature of this idea of a pattern of behavior," Kennedy said. "They have to be able to explain."
Kennedy said anyone being stalked should keep a journal and "write down everything, every incident that happened, because you need to be your own detective or investigator."
Even with multiple calls to police, Kennedy said, the stalking connection is not always made. She saw that when she researched Metro.
"A lot of the stalking files weren't necessarily being sent to the domestic violence unit," she said.
Two journal-like blog posts on the social media site Reddit include circumstances similar to Washington's account to police, though it's unknown if she was the author.
The day before the shooting, the self-described "shell of my former self" outlines problems brought on by a stalker, including isolation.
"I've faced eviction and lost a job because of this man's behavior and I don't know how much longer I can survive," the blog said.
Contact Ricardo Torres at rtorres@reviewjournal.com and 702-383-0381. Follow @rickytwrites on Twitter.