Last defendant in massive HOA scheme sentenced to prison
January 5, 2016 - 3:50 pm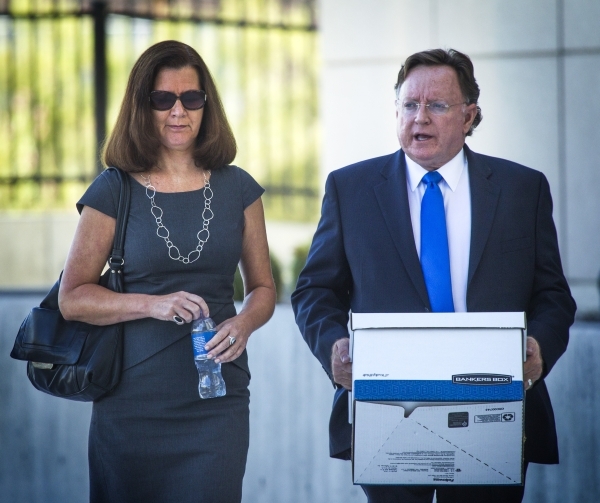 The last defendant in the long-running investigation into the scheme to take over and defraud homeowners associations was sentenced to federal prison Tuesday.
Stephanie Markham, 57, who now lives in New York, was ordered to serve 15 months behind bars and spend three years on supervised release after prison for lying about her role in the massive scheme.
U.S. District Judge James Mahan also ordered Markham to perform 100 hours of community service.
Her sentencing officially ends the largest public corruption case federal authorities have brought in Southern Nevada. More than 40 defendants, including lawyers and former police officers, either pleaded guilty or were convicted at trial.
The high-profile case, which lasted more than eight years and led to several deaths, was overseen by the Justice Department's Fraud Section in Washington. The investigation became public in September 2008 when the FBI, Las Vegas police and IRS conducted raids across the valley.
Justice Department prosecutor Alison Anderson sought a 21-month prison term for Markham on Tuesday, arguing she was "totally involved" in the takeover conspiracy and repeatedly lied to authorities.
But after pleas for leniency from Markham and her lawyer, Robert Langford, Mahan handed down the lighter sentence.
In September a federal jury convicted Markham of lying about her role in the scheme, which authorities said occurred from 2003 to 2009.
The jury found Markham guilty of three felony counts — making a false statement to the FBI, perjury before a federal grand jury and obstruction of justice.
Markham had turned down a deal to plead guilty and took to the Internet to raise money for her defense. She collected more than $5,000 to, as she put it, "fight the big guys vigorously."
At her trial prosecutors laid out a series of lies Markham told FBI agent Michael Elliott and the grand jury in 2012 to "cover her tracks" and obstruct the investigation.
Langford contended Markham did not willfully lie about her connection to the conspiracy and he questioned the credibility of the government's key witnesses, all of whom struck plea deals in return for lighter sentences.
Prosecutors alleged that Markham tried to cover up a 1 percent interest she received in a condominium at the Jasmine development in June 2006.
Former construction company boss Leon Benzer, who directed the valleywide takeover scheme, was trying to gain control of the Jasmine HOA board at the time and land a lucrative contract to do construction defect repairs, prosecutors alleged.
Markham ran for a seat on the Jasmine board, but withdrew after the scheme there was exposed.
Benzer pleaded guilty last year and is serving a 15½-year prison term.
He admitted packing HOA boards through rigged elections to gain control and obtain millions of dollars in construction repair work.
Construction defects lawyer Nancy Quon, who authorities alleged bankrolled Benzer's scheme, and Benzer-paid attorney David Amesbury, who pleaded guilty, both killed themselves in March 2012. Quon was not charged at the time.
Authorities believe two other targets, a former Las Vegas police officer and an ex-HOA board member, had killed themselves earlier in the investigation.
Contact Jeff German at jgerman@reviewjournal.com or 702-380-8135. Find him on Twitter: @JGermanRJ