Latino supermarkets going strong in valley
August 25, 2012 - 10:20 pm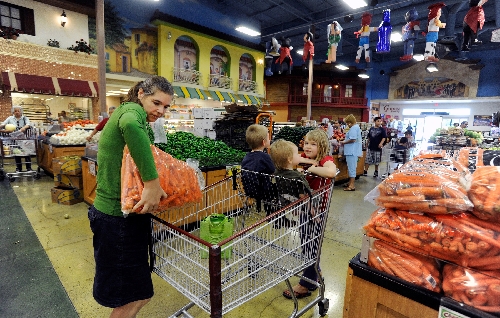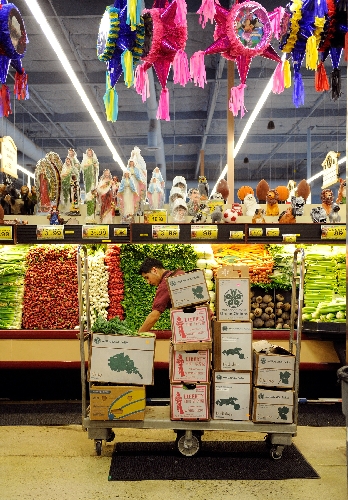 Grab an extra-large shopping cart, push it into the supermarket, and immediately, you hear the Spanish music wafting from the overhead system. To your left, the smell of just-made fajitas, papas and frijoles emanates from the quick-service restaurant where the line is 10 deep at the counter.
As you look to your right, the scent of fresh-baked pan dulce arrives just before white frosting-covered tres leches and mounds of fresh produce come into view. A man chooses a few sweet treats from the fresh bakery, then places them ever so carefully in his cart, as if arranging crown jewels.
Bienvenidos a Cardenas supermercado. It's not your average Food King.
GROWING TREND
Las Vegas has seen rapid growth and sweeping changes in grocery stores catering to Hispanic tastes. Once-strong chains have exited neighborhoods, new ones have moved in and others have quietly and slowly grown, all because of the ebbs and flows a recession produces.
Circa six years ago, Supermercado del Pueblo, King Ranch Market, Liborio's, Los Compadres, La Bonita Supermarkets and Mariana's Supermarkets were the industry mainstays in Las Vegas. Some of the heavy hitters, though, ran into financial trouble and closed. When the dust settled, Marketón, La Bonita, Mariana's, El Super and Cardenas were left standing.
Though specialty food markets catering to Asian, Filipino and Middle Eastern shoppers are common in Las Vegas, Hispanic markets tend to dominate the ethnic food trade in both size and number. Many compare in size to a general supermarket such as Albertsons or Vons, and carry many of the same products – right down to the Ramen noodles, Progresso Soup and Cap'n Crunch. But where a Smith's may have a single aisle with a limited range of "Hispanic foods," these markets stock products from a variety of Spanish-language countries – Colombian coffee (the real stuff), Salvadoran pupusas and Mexican cookies, all in one place.
Marco Robles, Cardenas' public affairs director, said Las Vegas' three Cardenas stores have steady traffic and do well, overall. He couldn't release specific sales or traffic numbers, but said customers seem happy with the stores' offerings. The 28-store chain with roots in Southern California doesn't plan to expand further in Las Vegas, however.
At the El Super at 1255 S. Lamb Blvd., store director Luis Enriquez said the market is "doing good," with business up 20 percent over 2011. He estimated that 4,000 people, primarily buying for large families, shop at the store each day.
"The only competition we have is probably Cardenas," Enriquez said.
El Super, a subsidiary of Mexican retail giant Grupo Comercial Chedraui, first crossed the border to establish a store in California in 1997. After years of rapid expansion, the chain now has 31 stores in California, four in Arizona and two in Las Vegas, established in 2009.
Enriquez described El Super locations as "constantly busy," and said most of his customers only shop there.
"At least, that's what I want to think," Enriquez said with a laugh.
La Bonita and Mariana's operate only in Las Vegas, with four stores each. Marketón, originally part of a Southern California chain, now operates only in Nevada, with four locations in Las Vegas and one in Reno.
While growing – El Super added four new stores in Southern California in 2010 – the number of Hispanic markets is still small compared with general supermarkets such as Vons, Albertsons or Smiths, which have hundreds of stores.
Cardenas' Robles said he thinks there's room for both.
"I think the two are able to co-exist," Robles said. "There is a more defined effort with the product we sell and there's a growing demand by a not-necessarily Latino population."
In the Cardenas market at 4700 Meadows Lane on a recent Tuesday afternoon, Liz Cooper was one of five not-necessarily Latino shoppers. She said she shops there primarily because it's close to her apartment.
"Otherwise, I'd probably go somewhere else," she said. "But, I do like that the products are different than what I can get somewhere else."
Then there's the ambiance.
"One of the important things that sets us apart is the design and atmosphere within the store," Robles said. "It's a very interactive design created with an open outdoor plaza approach that appeals to everybody. It also is very family-oriented. As you see the store, it is not an individual person always shopping, but families."
STILL ROOM TO MEET DEMAND
Though Cardenas doesn't plan to expand in Las Vegas, Robles said there's still unmet demand for Hispanic groceries.
According to the U.S. Census Bureau, 26.5 percent of Nevada's 2.7 million residents identified themselves as Hispanic or of Latin American origin in 2010, up from 15.4 percent in 2000.
Also in 2010, the Department of Labor Statistics reported that the average American household spent an average of $3,624 annually, or $302 per month, on groceries.
According to a 2005 Food Marketing Institute study, Latino households spend 46 percent more than the general population on groceries, and go to the grocery store three times more often than the average shopper.
However, where they shop seems to depend on where they were born.
Foreign-born Latinos are about twice as likely as Latinos born in the U.S. to seek stores with Spanish-speaking employees, store signs in Spanish and Spanish-language advertising, a study by New American Dimensions and the Food Marketing Institute shows. Cultural assimilation makes a difference.
But one supermarket analyst said that any growth in the demographic, whether by immigration or domestic birth, is good for Hispanic grocers.
"As long as the Hispanic population continues to grow, you'll see growth in the Hispanic format stores," Waukesha, Wis.-based supermarket analyst David Livingston said.
Hispanic format stores nationally have grown "tremendously" in the past 10 years, Livingston said, although he didn't have specific growth numbers. The specialized stores are growing, primarily, because conventional stores haven't done a good job of marketing to Hispanic customers, he reasoned.
"They try but they just don't get it," Livingston said. "They always seem to be a dollar short and a day late."
Livingston said markets such as Albertsons and Smith's have tried to increase Hispanic food offerings throughout the years but can't really compare to the offerings at specialized stores.
DRAWN BY DEALS, VARIETY
"I come here mainly for the vegetable deals, but I end up buying things I can't get anywhere else," said Maria Flores as she rolled her shopping cart out of the Cardenas on Meadows Lane.
Her five white-plastic grocery bags were loaded with fruit, vegetables, homemade tortilla chips and guacatillo salsa (pureed green tomato, avocado, onion, jalepeños, cilantro, garlic, lime juice and salt) that she can't find in other stores.
"I like to mix it up," Flores said.
But another shopper, Miguel Hernandez, said Hispanic supermarkets get all of his food budget. With family in tow, he was leaving with a cart full of groceries. Product selection is one draw, he explained, but prices are also good compared with Smith's or Vons.
When compared with generalized markets, Las Vegas' Hispanic supermarkets do seem to offer slightly stronger weekly promotions on select products. For example, El Super recently offered three mangos for 99 cents, compared with Fresh & Easy's one for 99 cents. A 32-ounce bottle of Gatorade was priced at 79 cents at El Super, while Fresh & Easy was promoting an 88-cent price.
However, not all the deals are all that different from the other stores. La Bonita Supermarkets offered red grapes for 99 cents per pound, the same price as Smith's, and boneless chicken breasts at $2.39 per pound were only a dime's difference from the price at Smith's.
But not all Hispanic markets can be all things to all shoppers. Want craft beers and canned soup? Better plan to hunt up a Smith's or a Vons.
El Tiempo Libre Editor Hernando Amaya contributed to this report. Contact reporter Laura Carroll at
lcarroll@reviewjournal.com or 702-380-4588.