Laughlin power plant fire knocks out electricity to most homes, businesses
February 19, 2016 - 11:55 pm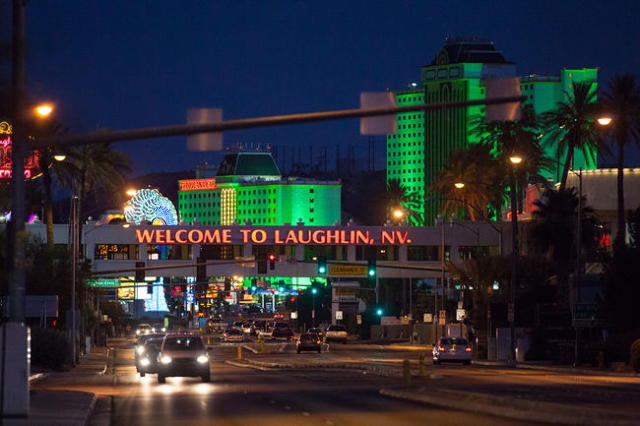 An explosion at an NV Energy plant that triggered a transformer fire left most homes and businesses in Laughlin without electricity Friday night.
The fire at the Big Bend substation was first reported after 7 p.m. and was out by 10 p.m. No one was injured.
Local crews arrived quickly at the 450 W. Bruce Woodbury Drive plant, but because a transformer is filled with oil and extremely flammable, firefighters initially waited to attack the flames, Clark County Deputy Fire Chief Jon Klassen said.
"They're just watching it burn," said Jerry Van Haur, 63. He lives in Mohave Valley, Arizona, but was visiting a friend at Don Laughlin's Riverside Resort when the explosion happened.
"It went totally dark," he said. "All the slot machines stopped and just went black, so people with money in them were stuck."
The hotel's emergency lights soon kicked on, but it was still hard to see, and the machines were still off, so he left. But outside, it was just as dark.
"I actually had trouble finding my car because the parking lot was black," he said. "The whole casino row was black. And the whole town. Not a streetlight, store light, anything."
When crews realized it was a transformer fire, Clark County sent extra engines from Las Vegas to help the Laughlin station as a precaution, Klassen said. Bullhead City also sent units.
Electricity was back earlier than expected, said Jennifer Schuricht, NV Energy spokeswoman. Initial estimates pegged power to be restored by about 2 a.m., but it was back on just after 10:30 p.m.
The outage affected about 5,300 homes and businesses, she said. The city's population is about 7,323, according to the 2010 census.
A spokesman for the Aquarius Casino Resort said the hotel-casino lost power around 7 p.m.
"Our emergency auxiliary power picked up almost immediately to provide basic safety to our guests and team members," Aquarius General Manager Sean Hammond said late Friday. "Right now our focus is on our guests and team members, and we hope that NV Energy can resolve the problem quickly so we can get back into full operations for the weekend."
A manager at the Riverside Resort said the hotel had emergency power because of a backup generator. She added the property was open and functional but was unable to confirm if there was power in the guest rooms.
The fire spewed flames about 30 to 40 feet high into the sky, and black clouds of smoke billowed up above. Klassen said the fire posed no life threat to crews or people in town, but units were initially cautious because of the transformer.
"We've had things like this before, but this (was) a pretty good size one," he said.
— Review-Journal reporters Max Michor and Pashtana Usufzy contributed to this story. Contact Rachel Crosby at rcrosby@reviewjournal.com or at 702-387-5290. Find her on Twitter: @rachelacrosby